At Carbon Beverage Cafe, You're the Bartender
Carbonation Station
At first glance, you can tell there is something different about this coffee café. Maybe it's the shiny silver taps that run the length of the bar. Maybe it's the water station that says FREE, or the cool graffiti artwork in the restrooms. Carbon Beverage Café is something fun and new in Denver because the customer determines the drink, not the barista or the bartender.
Carbon Beverage Café has only been open for a few months, but the place is already known for delicious food and drink. What makes it unique is the build-your-own drink menu where guests can mix and match flavors, tastes, and textures. The cost of the drinks is determined by size, not by what is put inside. If you want a large latte with a shot of vanilla syrup, there is no up charge. And if you don't know what you want, the staff is knowledgeable enough to help steer you in the right direction.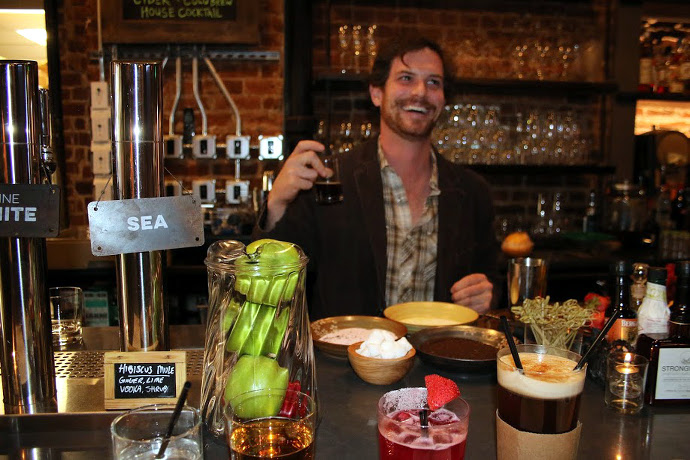 All cocktails at CBC begin with a syrup base and all syrups are made in-house with natural ingredients and served from taps at the bar. Guests are even welcome to order a shot of their preferred flavored syrup and then head to the "Carbonation Station" where they can add carbonated water to make a flavored soda. However, more preferably we think, is taking the syrup base and adding some alcohol for a cocktail.
The Hibiscus Mule is a gingery tasting cocktail with a lime kick. It's made with Colorado vodka and a pink hibiscus flower sugar rim for extra sweetness to go with the ginger/lime tang. The Rum Punch is a sweet and strong, brightly colored drink. Guests can choose light or dark rum and can drink it either hot or cold. The Signature Cold Brew Manhattan is one of Carbon's signature cocktails. The drink is a classic bourbon cocktail that features cold brew coffee from Method Roasters. The drink is frothy and tastes of smoky bourbon. Crushed coffee grounds on the rim of the glass add a roasted coffee scent and a bitterness that tempers the bite of the bourbon. You can ask for a "sidecar" of the cold brew coffee to chase it down.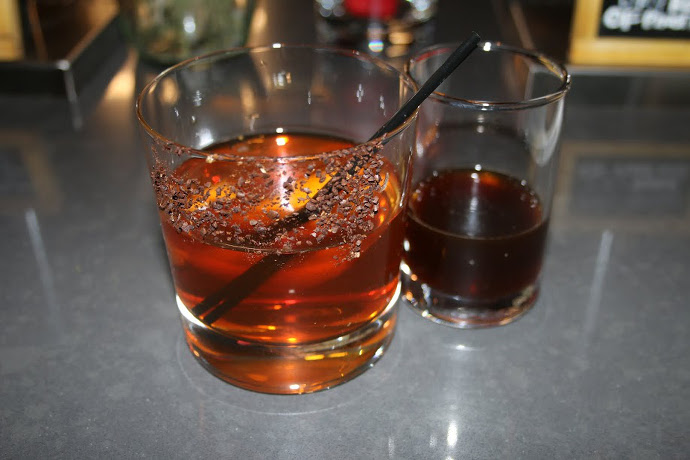 Bartender Brian Butler is ready to help anyone craft a cocktail to their liking. He uses special "Remember Your Drink" cards that can be found all along the bar. If you and Brian come up with something really tasty that isn't on the menu, Brian can write down the ingredients on the card for you to keep. The next time you visit the bar, you won't have to remember what that great drink you had last time was, especially if you had one too many.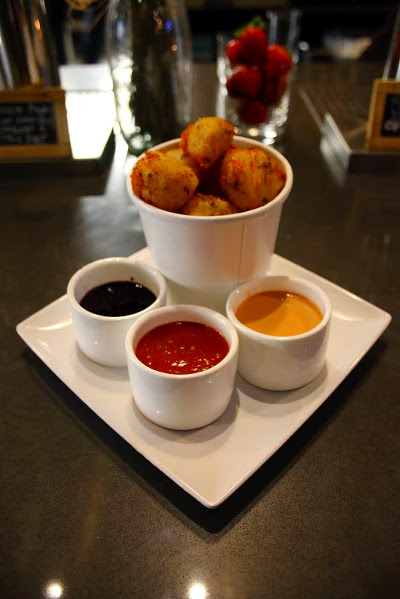 My "Remember Your Drink" card recipe was created by bartender Caleb and named the Carrieboration featuring the Hibiscus Mule base with muddled raspberry and mixed berry shrub topped with Remedy, a dry-hopped hard cider from Denver's own Stem Ciders. What will your drink be?
The kitchen serves up a variety of dishes including breakfast all day long, sandwiches, TV dinners (think meatloaf and chicken pot pie), delicious soups, and noodles. On this visit we enjoyed the Wu Tang Tots with three hits, or sauces. The sauces choices were quite eclectic, Awesome Sauce (curry hemp ketchup), DMZ Secret Sauce, and a Blueberry Bourbon Jam. The DMZ is hot and strong, in a good way, and will get your lips buzzing while the super sweet jam is surprisingly good with the savory tots. Add an ala carte order of House Bacon for extra tastiness and call it brunch.
Happy Hour at Carbon is every day from 3 until 7 PM. Tap beers, select wines, well drinks, and the house cocktail of the day are only $4. Carbon Beverage Cafe is located at 1553 Platte St. in LoHi.
Photos by Carrie Dow
Tags:
Beer
,
Cocktails
,
Coffee
,
Food
,
Outdoor Seating
,
Spirits
,
Wine
Recent Articles

Feedback
How are we doing? Tell us what you like or don't like and how we can improve. We would love to hear your thoughts!