Beer Review: Braggart's Brown Ale by Diebolt Brewing
A brew worth the brag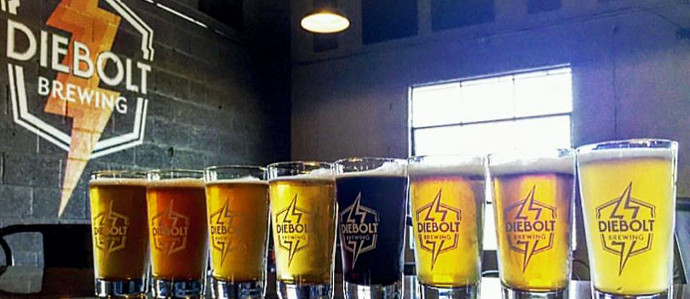 Brown ales are the offensive lineman of craft beers. Like a good tackle or guard, a brown ale accomplishes its goals out of the limelight, and you might only notice them when they're not doing their job well. But when they're on, they lead to great success, just like a team's bigs.
Braggart's Brown Ale from Diebolt Brewing in Denver's Sunnyside neighborhood may have a name that could be associated with the wide receiver position, but it's not nearly as brash and crass as some of pro football's best pass catchers.
Braggart, in fact, is a classic American-style brown ale with a color that befits the category and an off-white head I'd need instant replay to describe further. A first whiff fills your nostrils with an unrefined sugar aroma—somewhere between cane syrup and molasses—coupled with the smell of alcohol. Don't be deceived like a defensive lineman on a fake punt, though, Braggart weighs in at a manageable 5.7% ABV.
Braggart's flavor profile is decidedly malty—slightly sweet and even roasty. While the sweetness washes over your tongue initially, it gives way to a pleasant bitterness that hangs out on your palate like the bitter memory of your team's last exit from the playoffs. I'd suggest that Braggart is a hop-forward version of a brown ale because its bitterness stands out like a bad touchdown celebration. While I'm sure plenty of beer snobs would overturn my ruling on review, I'd counter by saying that Braggart weighs in at 40 IBUs, which, I'm thinking, is a bit big for a brown ale. Still, the malt manages to keep the hops to what amounts to a field goal, so it's a tasty score.
This brown ale begs to be paired with a good steak sandwich or roast beef plate, complete with horseradish. In fact, I find American brown ales go well with most sandwiches—as long as they're prepared with good baked bread and smoked meats. Braggart would also go well with turkey and pumpkin pie, so you may have found something to sip after your Turkey Day football games.
Braggart won a silver medal at the 2014 Great American Beer Festival in the American-Style Brown Ale category. That means it did well in the Super Bowl of beer festivals. Overall, Braggart is a fine craft beer—a pint with your favorite team on Sunday will carry you far away from any factory of sadness, even if you're in Cleveland.
Photo via Diebolt Brewing
Tags:
Beer
Recent Articles

Feedback
How are we doing? Tell us what you like or don't like and how we can improve. We would love to hear your thoughts!