Dive Into Max's Wine Dive's New Cocktail Menu
Meet the new full bar lineup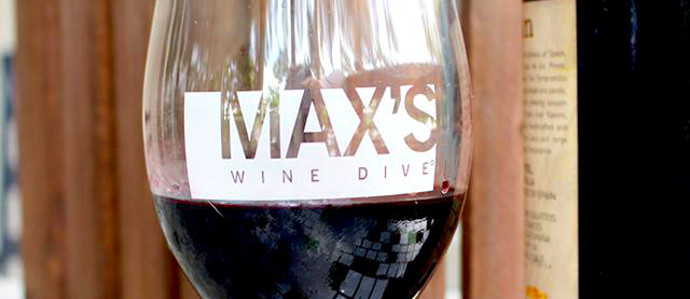 Max's Wine Dive recently opened in Denver featuring fantastic fried chicken next to an exceptional wine list and bubbly brunches on Sundays. However, if wine is not your thing, that's no reason to skip the joint. The bar is now fully stocked and serves a variety of house-made cocktails that will complement any dish. General Manager Chris David prides himself on the bar's unique twist on drinks that might seem ordinary at first. Reserve judgement until tasting.
Start a meal off with what Davis calls an Adult Slurpee, frozen mixed drinks that are kept in blenders on the bar. In keeping with the restaurant's "Dive-y" theme, Davis enjoys serving these drinks to guests and watching their surprised reactions. The frozen drinks are incredibly complex and only slightly sweet. The bar has two blenders and Davis says there will always be a Frozen Sangria available, but the flavors will change with the fruit seasons. This month the multi-colored Sangria featured white wine, brandy, grapefruit, and tangerines. A Frozen Strawberry Lemonade spins in the second blender, but when the menu changes, David may change it to a margarita.
What's a wine bar without a wine cocktail? The Champagne Cocktail features Moet Champagne, Aperol, Lillet Blanc, and lemon and gives off a citrus scent. The drink is almost like a party punch, highly sweet with alcohol, and the bubbles provide a soda-like mouthfeel. It's performance enhanced champagne.
Don't confuse the Anejo on the Rocks with a margarita. This tequila cocktail features Maestro Dobel Diamente, Cointreau, lime, and house-made honey syrup. The refined Dobel blends perfectly with the lime, more reminiscent of a Cuba Libre with tequila instead of rum. The bar uses Maldon Sea Salt from the UK on a portion of the glass.
Adding a Colorado flavor to the Lynchburg Lemonade, the Gold Rush features Breckenridge Bourbon, lemon, and more house honey syrup. This drink also has a touch of citrus in the scent and taste, lemon this time, with a smoky finish.
Mixing things up a bit, the Charging RiNo features RiNo Pale Ale from Epic Brewing. The drink looks deceptively like tea, but is actually a shandy made with gin, St. Germain, the RiNo Pale Ale, and lemon. The scent is like a flower garden with the gin and St. Germain, however, the taste is hoppy beer with a floral finish. David says there is less than a shot of alcohol in this beer cocktail making it easy to sip more than one.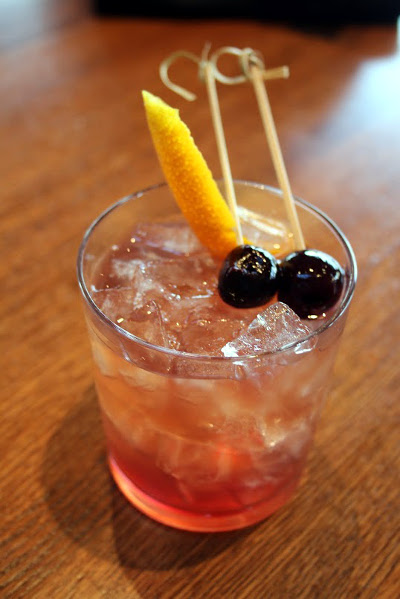 One of David's favorite cocktails is the Barolo Fashioned. David calls it a true concoction because it is a spirit mixed with "carminatives." Carminatives were considered medicinal and used in after dinner digestifs in the early days of cocktails. Similar to an Old Fashioned, the drink uses rye, but instead of vermouth, there is a dash of Italian Barolo Chinato Cocchi. Chinato is a fortified wine tonic, similar to port, that is sweet and smoky by itself. The cocktail also uses the house honey syrup and is topped with special house cherries marinated in Contrati Vermouth and simple syrup. The candy-like cherries alone make this drink worth ordering.
Do you prefer coffee or whiskey after dinner? The Puppet Master is both by mixing Tin Cup Colorado Whiskey, Varnelli Amaro Caffe Mocha cold press coffee liqueur, Cardamaro, and orange bitters topped with a singed orange peel to bring out even more of the citrus in this smoky, earthy mélange. The coffee is subdued to a caramel flavor by the whiskey making it a sipped dessert.
The sweet and sour Corpse Reviver uses Deep Eddy Grapefruit Vodka, Cointreau, Lillet Rosé, Absinthe, and lemon. The Corpse Reviver is traditionally a "hair of the dog" drink, something used as a morning hangover cure. With the grapefruit, Lillet, and Absinthe, the earthy uplifting scent alone will pick up anyone's mood. The taste is sugary with just a hint of tang from the grapefruit.
Speaking of "hair of the dog," the bar's Brunch Bloody Marys are not to be missed. Max's uses house-infused vegetable vodka flavored with carrots, red onions, celery stalks, and jalapenos. David says it takes about five days to create the infusion and he can tell when it's ready because the onions lose their color. Max's Bloody Mary mix is a secret combination of horseradish, onion, garlic, celery salt, serrano hot sauce, lime juice, pickle juice, and tomato juice. Even the pickles in the garnish are spectacular having been marinated in pepperoncini juice and a spicy vinegar sauce called Sambal. The Bloody Mary glass is rimmed with the same jalapeno seasoning that is used on the fried chicken. It tastes like a savory vegetable garden in a glass, spicy, but not hot, salty, but flavorful. Each sip uncovers layers of onion, pepper, and tomato. While not on the happy hour menu, Max's Bloody Mary can be ordered any time of day.
Happy Hour at Max's is all afternoon Monday through Friday running from when the restaurant opens at 11 AM until 6:30 PM and again from 9:30 until 10:30 PM, Monday through Thursday, and Friday until Midnight. Max's has selected house wines for $5 by the glass and select premium wines are half off by the glass. Select local draft beers are $3. The cocktails range from $9 to $14. Max's is located at 696 Sherman Street in Denver.
Top photo via Max's Wine Dive; Frozen Sangria and Barolo Fashioned photos by Carrie Dow
Tags:
brunch
,
Cocktails
,
Spirits
,
Tequila
,
Whiskey
,
Wine
Recent Articles

Feedback
How are we doing? Tell us what you like or don't like and how we can improve. We would love to hear your thoughts!