Variety Reigns Supreme at Leopold Bros. Distillery
If some is good, more is better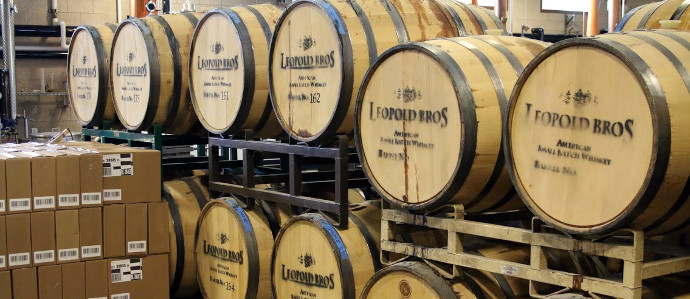 Leopold Bros. Distillery has been making fine spirits for over a decade, but what sets the distillery apart it the number of different spirits the Brothers make.
"We make everything here," says Co-owner and Head Distiller Todd Leopold. Todd immersed himself in brewing and distillation in the mid-1990s graduating from the Siebel Institute of Technology in Chicago and then from the Doemens School in Munich, Germany. After Munich, he apprenticed in distilleries around Europe where they do things a bit differently.
Unlike in the States, "distilling is an agricultural practice," says Todd. "Where I apprenticed [in Europe], they were all farms. What [products] they didn't sell at the market, they used to make eau de vie." Here in the States, distilling is a distinct practice, and most distilleries specialize in only one spirit. Leopold Bros. makes almost 20 different spirits from whisky to gin to vodka and even absinthe.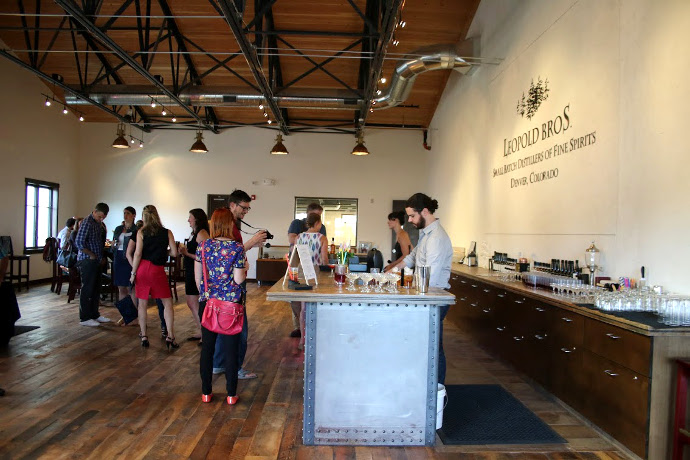 The distillery actually began as a brewery opened by Todd and his brother Scott in Ann Arbor, Michigan, in 1999. While the brewery was popular, as breweries in college towns tend to be, Todd wanted to stock a full bar. However, it proved much easier getting a distiller's license in Michigan than it did a liquor license. Then, when the building the brewery was leasing was sold out from under them, the brothers moved back to their hometown of Denver in 2008.
The list of Leopold spirits covers the tastes of pre-prohibition America. American Small Batch Whiskey is made at colder temperatures, without the aid of refrigeration. While fermentation takes longer, it results in a softer, subtler whiskey. The whiskey is barreled at the Pre-Prohibition standard of 98 proof. Also before Prohibition, fruits were often added to whiskeys as sweeteners. Leopold Bros. produce a Michigan Cherry Whiskey and a Rocky Mountain Peach Whiskey as an ode to the brothers' home states. Other fruit flavored whiskeys are also available.
The distillery has been making Silver Tree American Small Batch Vodka since 2001. Todd uses Colorado potatoes and malted in-house barley and wheat. He says the wheat gives it notes of vanilla while the potatoes give the spirit its silkiness. Silver Tree won the 2009 gold medal for vodka at the San Francisco World Spirits Competition.
Leopold's American Small Batch Gin is also traditionally made using the vodka as the base. Todd distills each botanical – juniper, coriander, pummelos, orris root, Valencia oranges, and others – separately and then blends them together. This spirit won a gold medal at the 2013 International World Spirits Competition.
Leopold Bros. began making Absinthe Verte in 2008, not long after the US ban on absinthe was overturned. Absinthe begins with a grape distillate base of imported Chilean Pisco and traditional ingredients – anise seed, fennel, and wormwood. Other botanicals, such as lemon balm and hyssop, are also added giving the spirit its emerald green color.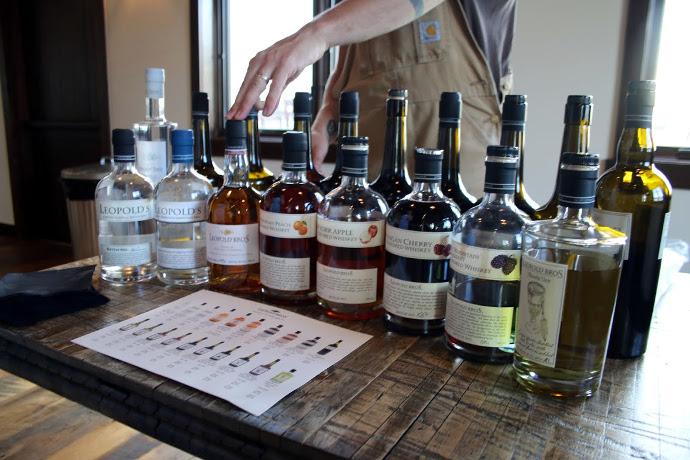 As if that isn't enough, the distillery makes an entire orchard of fruit liqueurs and an Aperitivo. Classic cocktails are where these spirits work best, like the Sazerac, Vesper, or a Negroni. For a simple drink to make at home, try a Leopold Sweet Tea. Just pour one and half ounces of Rocky Mountain Peach whiskey and four ounces of unsweetened tea over ice.
Visitors can take a tour of the distillery, but must book online in advance. Walk-ins are not accepted. The three-hour Connoisseur Tour costs $15 per person and features an in-depth discussion on the process of making and packaging the spirits and includes a tasting of most of the spirit line (spirits subject to seasonal availability). Altruistically, the distillery donates 50% of the ticket costs to four Colorado charities and guests get to pick which one gets their money. Guests can chose from Children's Hospital of Colorado Foundation, Colorado Symphony, Denver Dumb Friends League, or Food Bank of the Rockies. Sign up or find more information on the distillery's website.
Leopold Bros. Distillery is located at 5285 Joliet Street north of I-70 in Denver in the Northfield neighborhood.
Photos by Carrie Dow
Tags:
Cocktails
,
Spirits
Recent Articles

Feedback
How are we doing? Tell us what you like or don't like and how we can improve. We would love to hear your thoughts!