Where to Find GABF Events Beyond the Convention Center
Beer, beer, and more beer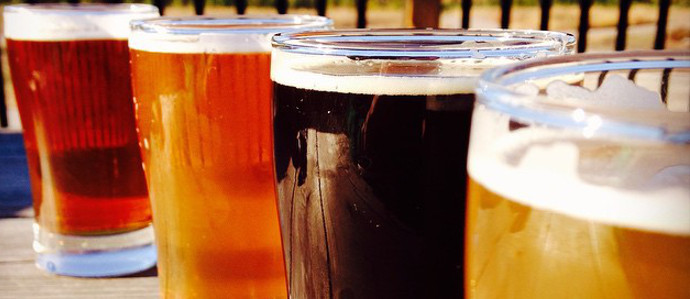 For those who didn't get tickets to the Great American Beer Festival this year, there are still plenty of fun beer events happening all over town to enjoy. Heck, even for those who did score a ticket, there is nothing wrong with more beer. Denver's restaurants and bars are rolling out the red carpet to breweries large and small, and while the festival is only three days, these tasty events are happening all week long. The question is, "Where to begin?"
Tap Takeovers and Brunch
Avanti Food & Beverage (3200 Pecos St.; 720-335-0814)
Avanti Food & Beverage in the Highlands celebrates everything beer during GABF. Here are some special events to enjoy.
Odell Brewing will host a tap takeover on Wednesday, September 23, from 8 PM to close with special tappings of Pina Agria, Myrcenary, Isolation, Mountain Standard, and more next to several standard Odell crafts. Get in on great swag giveaways too.
Dogfish Head of Delaware takes over on Thursday, September 24, from 10 PM to close. Celebrate the brewery's 20th anniversary with Founder Sam Calagione who will share some beers from his private stash. These special beers include 2006 120 Minute IPA, 2006 Fort, 2006 Raison D'Extra, and 2007 Immort Ale. Limited release beers include American Beauty, Higher Math, and Poppa Skull. Get two free Dogfish Head signature beer glasses with any "vintage beer" purchased.
Enjoy and afternoon happy hour featuring Ratio Beerworks of Denver from 1 to 4 PM on Friday, September 25. Reps will be available to discuss their unique beers. Enjoy Hold Steady Coffee, New Wave Strawberry Berliner Weisse, Wicked Grin Plum Saison, and Wild in the Streets Wine Barrel Wild Saison. This will also be the last night of fireworks at Coors Field. Enjoy the view from Avanti second story deck overlooking downtown Denver.
Cap the beery weekend off with a GABF Hangover Party on Sunday, September 26, when the bar opens at 11 AM. Get specials on BroMosas (craft beer mimosas) or enjoy an original Bloody Mary from the Avanti bar.
Thursday Night Beer Pairing Tasting Menu
Bittersweet (500 E Alameda Ave.; 303-942-0320)
Bittersweet in the Washington Park neighborhood will be offering an artisanal approach to GABF with a September Thursday Night Tasting Menu featuring four fantastic courses paired with beer instead of wine. The dinner will include four unique, international beers and costs $50 per person. The beers include Biere de Garde traditionally brewed in Nord-Pas-de-Calais region of France, Gouden Carolus Van De Keizer Rood which is a Belgian beer brewed once a year in celebration of Charles V's birthday, Duchesse de Bourgogne named for the Duchess Mary of Burgundy, and St. Louis Premium Peche which is a Belgian fruit beer.
Brewer's Breakfast
Denver Beer Company (1695 Platte St.; 303-433-2739)
After the festival has ended, get over to Denver Beer Company for a breakfast burrito and some hair o' the dog on Sunday, September 26. Enjoy a breakfast burrito and a barleywine for only $10. If barleywine is not your thing, there will be plenty of other big beers on tap. Have a 2012 Russian Imperial Stout, 2014 Wilderness Russian Imperial Stout, 2014 Gnarley Wine American Style, or the 2015 Bad Motorfinger Oak Aged Imperial Porter with espresso.
GABF Pairing Dinners and Midnight Breakfast
Euclid Hall (1317 14th St.; 303-595-4255)
For the fifth year in a row, Euclid Hall Bar & Kitchen in Larimer Square will create a series of intimate craft beer dinners each Thursday leading up to the festival. Enjoy the best craft beers around paired with imaginative dishes from the Hall's culinary team. Dinners will be unique to each brewery and a brewery expert will be available to discuss the beers. The dinners begin at 7 PM and are $55 per person including tax and gratuity. Thursday, September 17, features Crooked Stave Brewery. Tickets can be purchased on the restaurant website.
Now a tradition at GABF, the 5th Anniversary Midnight Breakfast at Euclid is Thursday, September 24. Kick off the weekend with special showcase beers right after the festival begins. Starting at 10:30 PM, enjoy a beer breakfast of epic proportions. While the final beers have not been set, guests can expect the unexpected from Colorado's own Avery Brewing. Cost is $125 per person tax and gratuity included. Tickets can be purchased online.

5th Anniversary Week Celebrations
Highland Tap and Burger (2219 W 32nd Ave.; 720-287-4493)
The Highland Tap and Burger is Denver's GABF headquarters. That's because the HTB opened up alongside the festival five years ago. Celebrate beer and HTB during the tavern's anniversary week from September 21 to 27. The party starts with the Crafty Ladies Beer Club collaboration with Odell Brewing on September 21 with a tapping of the Sassy Honey Pale Ale. This beer was created by Odell Brewing with the help of the lovely ladies of CLBC. The beer will be on tap all week long.
On Tuesday, September 22, enjoy the "4 Cs of Beer Pairing" with Stone Brewing of California. What are the four C's? Cheese, Charcuteries, Chocolate, and Craft beer! Hosted by Beer Expert Dr. Bill, the education starts at 8:30 PM. Tickets are $20 per person and available online.
Wednesday, September 23 is the 5th annual Suds and Slider Dinner where Chef Eli pairs a specially prepared slider menu with delicious beers from Avery, Epic, Left Hand, and Magnolia Breweries. The tastings starts at 6:30 PM
Thursday, September 4, is Sour Hour from 2-4 PM. Amazing sour beers will be available from Paradox, Avery, and Crooked Stave Breweries.
On Friday, September 25, celebrate Oktoberfest from 11 AM to 5 PM with Odell Brewing. The HTB dining room will be turned into a German beer hall with Oktoberfest-themed craft beer and food for devouring. Purchase raffle tickets for prizes including GABF tickets.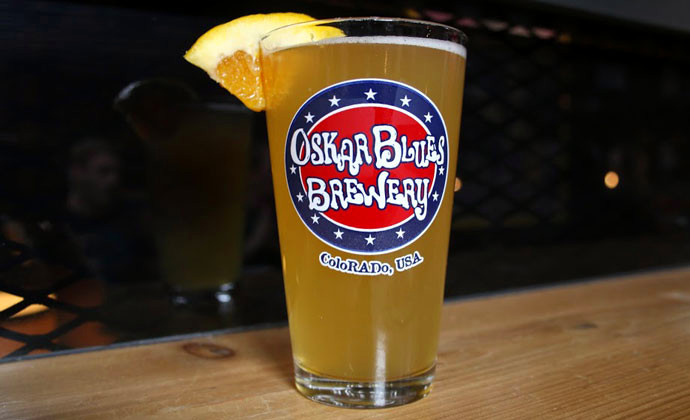 ORDEAL Bus Tours
Oskar Blues (Longmont, CO)
For the fifth year, Oskar Blues Brewery in Longmont is offering beer aficionados a chance to get on the beer bus for the GABF ORDEAL. The event is a behind-the-scenes tour of all things Oskar Blues from its delicious restaurants to the brewery to the super cool bike shop and even a trip to the farm.
The event fires up on Wednesday, September 23, with the Hops & Heifer's Pig Roast at the Oskar Blues Hop & Heifer's Farm outside of Longmont. Enjoy the beautiful landscape nestled up next to the flatirons and overlooking the Colorado plains while gorging on all-you-can-eat roasted pig with a cornucopia of country-fresh side dishes washed down with Oskar Blues' beers. Take a spin on the pump track, listen and dance to live bluegrass music, take a relaxing stroll among the hops plants, say hi to the free-range animals raised on the farm, or sit and chat next to the large bonfire after dessert. The dining starts at 5:30 PM and tickets are $65 per person. Please note, transportation back and forth between the Brewery and the Farm will be provided, but no transportation to or from Denver.
The bus revs up on Friday, September 25, with the Gospel Brunch, Farm Fun & Sneak Peak beginning bright and early at 8:30 AM. Get on the bus in Denver at the Hyatt Regency and be chauffeured in comfort to the Gospel Brunch at the hop farm. Then enjoy tours of the REEB Bicycle Shop, B. Stiff Root Beer facility, and the OB Anti-Headquarters. From there, the bus will head to the ChuBurger for snacks and beer shakes and then to the Tasty Weasel Tap Room for more tastings. Sleep your way back to Denver on the super comfy bus.
The final ORDEAL is on Saturday, September 26, with the Longmont Restaurants and Lyons Looky Look also beginning at 8:30 AM. This tour features breakfast at the CycHops Bike Cantina, a behind-the-scenes tour of the Lyons brewery, lunch at Homemade Liquids and Solids, and a final trip to the tasting room at the Tasty Weasel. Tickets to the bus tours are $100 per person and can be purchased online. Guests can also purchase separate tickets to the Gospel Brunch only for $45 per person.
Bar Ritual
The Renaissance Denver Downtown (918 17th St.; 303-867-8100)
Enjoy an exclusive beer all week while staying at The Renaissance Hotel in downtown Denver. Former Future Brewing Company of Denver is the featured brewer, and guests can enjoy the Countinghouse Cream Ale during the hotel's nightly Bar Ritual in the lobby from 5 to 6 PM, Monday through Friday. There will also be a pretzel necklace station for patrons to enjoy. That should come in handy.
New Belgium and Odell Tap Takeovers
Thirsty Lion (1605 Wynkoop St.; 303-623-0316)
On Friday, September 18, join the Thirsty Lion at Union Station for a New Belgium Tap Takeover from 3 to 5 PM. Try six New Belgium beers. Flights that include tastings of all six beers are only $10. Then on Thursday, September 24, Odell Brewing takes over with another six great beers from 3 to 5 PM. Odell beer flights are $10 too. Both nights will include giveaways and fun prizes including a grand prize of two tickets to GABF. Guests must be present to win.
Extensive Tap Takeovers
World of Beer Cherry Creek (660 S Colorado Blvd.; 303-757-0506)
Wednesday, September 23, features a special Barrel Aged Night with over 30 breweries competing for best barrel aged beer. The best part is customers get to vote! Tasting starts promptly at 6 PM. Then on Thursday, September 24, enjoy 20 specialty beers by Desthil Brewery of Illinois and meet with the brewer at 6 PM. On Friday, September 25, Denver's own Crooked Stave Artesian Brewery will take over the taps at 7 PM.
World of Beer LoDo (1555 Blake St. 303-534-2337)
Each night of GABF week will feature new and exotic beers at World of Beer LoDo. On Tuesday, September 22, Boulder's own Upslope Brewing is taking over 35+ taps at the downtown taphouse. The bar will serve nothing but Upslope until 7 PM, or until the kegs are kicked. Starting at 7 PM, the beers of Almanac take over. Rare beers for Upslope include Tequila Barrel Aged Belgian Strong Dark, Wild Christmas, Belgian Quad, Apricot Collaboration, and Pumpkin and Almanac's Pumpkin Sour, Saison de Brettaville, and Farmer's Reserve.
On Wednesday, September 23, is a quad of breweries from the four corners of the country. Avery Brewing of Colorado starts the day with Rumkin Pump(KY)n, Uncle Jabob's, and Tectum et Elix. Then at 4:30 PM, Rogue Brewing of Oregon starts flowing with XS Dead Guy, Good Chit, and Pumpkin. Rogue will also do a Rogue Nation Swearing in between 4:30 and 6:30 PM. From 5 to 7 PM, Wasatch will be serving up Polygamy Porter on Nitro, Black o Lantern Pumpkin Stout, and the Ghost Rider. Attendees can also meet the brewer at this time. At 7 PM, Coronado Brewing from California and Cigar City from Florida will be on tap with their collaboration beer, Port Barrel Aged Jurata. That's a lot of beer for one day!
Then on Thursday, September 24, Evil Twin Brewing of Brooklyn takes over 50 taps all day. Other breweries featured will be Big Choice and Cannonball Creek both of Colorado for the Hop the Vote tapping at 2:30 PM. Evil Twin beers will include Fire Water, Aun Mas Chili Jesus, From Amager with Love, Imperial Doughnut Break, and Justin Blaeber.
Friday, September 25, the Gold Coast of California takes over. Enjoy beers from Alpine, Green Flash, Russian River, Lost Abbey, Ballast Point, Ale Smith, Port, The Bruery, Bear Republic, and Moylans. Special and rare beer tappings begin at 5 PM.
On Saturday, September 26, get in those last tastings of the week with Nick & Brian's Badass Birthday Bash all day. Enjoy 15 taps of Left Hand and Odell Brewery beers including rarities such as Odell's Oak Haven, Fernet, and Brazzel and Left Hand's De Proef's Wekken Sour, Bourbon Wake Up Dead, and Great Juju.
The week is not over yet. Sunday, September 27 is the GABF Hangover Beerunch. The LoDo World of Beer will serve up unlimited Bloody Mary's, Beermosas, and Mimosas plus taster's choice of a food item for only $20. Add $5 and get access to WOB Bloody Mary Bar and build your own.
GABF Hotel Package
St. Julien Hotel & Spa (900 Walnut St., Boulder; 1-877-303-0900)
The St. Julien Hotel & Spa in Boulder will offer special GABF weekend packages for beer loving guests in conjunction with Avery Brewery of Boulder. The Boulder Brew Package includes a guestroom for two with an Avery Brewery welcome amenity that includes two Avery pint glasses and an assortment of Avery beer in the room. There is also a $50 food and beverage credit at the hotel and transportation to and from the hotel to Avery Brewery for a tour and tasting. The package is available either Saturday or Sunday, September 25 or 27. Cost is $355 and must be booked at least five days in advance. Guests must be 21 and over.
Top photo via Flickr user regan76; ORDEAL photo by Carrie Dow
Tags:
Beer
,
Festival
,
Food
Recent Articles

Feedback
How are we doing? Tell us what you like or don't like and how we can improve. We would love to hear your thoughts!