Where to Watch the Final Stage of the USA Pro Challenge, Golden to Denver
Will you Bonk or Breakaway?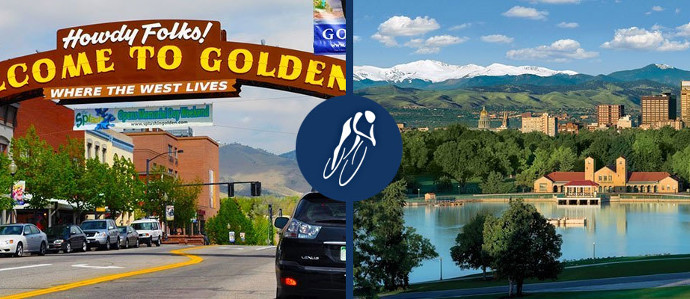 Cycle fanatics unite! For one glorious week in August, the world's best cyclists will tackle the mountains of Colorado in the toughest road race on US soil. The USA Pro Cycling Challenge will begin August 17 in Steamboat Springs and wind its way through the Rockies covering Aspen, Breckenridge, Copper Mountain, Fort Collins, and Loveland before ending in Denver on Sunday, August 23. Drink Denver has scoured the Stage 7 route for the best places for watching the racers fly by with a drink in hand. New this year is a women's race that will start at 10:30 AM. The men's race will start at 1:10 PM.
To claim your Pro Challenge bragging rights, purchase VIP tickets to watch the race and drink at the VIP lounges at both the start and finish of each race. The Start Lounge in Golden will offer a catered breakfast and get you up close to the racers as they prep for the race. Enjoy access to Autograph Alley and TVs to watch the rest of the race after the start. The Lexus Club Experience in Denver offers all this and a little more. Complimentary beer and wine are included with VIP tickets. Tickets for the Start Lounge are $125 per person and tickets to the Lexus Club are $250 per person. For places that don't take as big a bite out of the wallet, hit up these locales along the route.
Golden
Downtown Golden
With the women running a 1.5 mile time trial in the morning, anywhere along Golden's historic downtown Washington Avenue will be prime race watching. Expect places like Ace Hi Tavern, Woody's Wood-Fired Pizza, and The Buffalo Rose to be open early.
Mountain Toad Brewing
This small brewery is often filled with bicyclists looking for a cold beverage after a grueling ride up Lookout Mountain, so what better place to be when the race starts at the corner of 12th and Washington? You might want to ride your bike there because Golden will be closing down streets for the race and parking will be at a premium. (900 Washington Ave.; 720-638-3244)
Cannonball Creek Brewing Company
As the men ride north on Washington heading for Highway 93, they will pass by Cannonball Creek Brewery and its outdoor beer garden. Guests will get to see the men shortly after they start when they turn from Washington Avenue to Highway 93. The women's race will not come this far north. (393 Washington Ave.; 303-278-0111)
El Tapatio
Located on a small bluff overlooking the route as it crosses 6th Avenue from Heritage Road over to Johnson Road, El Tapatio will offer a bird's eye view of the riders from its sunny patio. Enjoy one of El Tapatio's seven flavored margaritas. You can also build your own margarita by picking your own tequila, flavor, and even size, up to 60 oz. pitchers. (714 Golden Ridge Rd.; 303-279-7565)
Denver
Three Dogs Tavern
As the riders make their way on 32nd Avenue past the suburbs of Denver, they will pass through the Highlands and this popular neighborhood pub. Get there early if you want a seat on the small patio. After the racers pass, stay for the Sunday happy hour that starts at 3 PM. (3390 W 32nd Ave.; 720-854-1277)
Tavern Uptown
This pub is located in a historic building in the Uptown neighborhood on the corner of 17th and Pearl. Brunch starts at 10 AM on Sunday and features a Bloody Mary Bar and $4 Red Beers. (538 E 17th Ave.; 303-830-9210)
Vine Street Pub
Located just a few blocks away from City Park is where this offshoot of Mountain Sun Pub & Breweries from Boulder makes its Denver home. The sidewalk patio will be the place to be when the racers come through. The racers will pass by here twice as they ride a loop around City Park before heading to the finish. (1700 Vine St.; 303-388-2337)
Photo via USA Pro Challenge
Tags:
Beer
,
Cocktails
,
Food
,
Outdoor Seating
,
Sports
,
Wine
Recent Articles

Feedback
How are we doing? Tell us what you like or don't like and how we can improve. We would love to hear your thoughts!