The Story Behind Former Future Brewing Company and its Spontaneous Ales
Born to be wild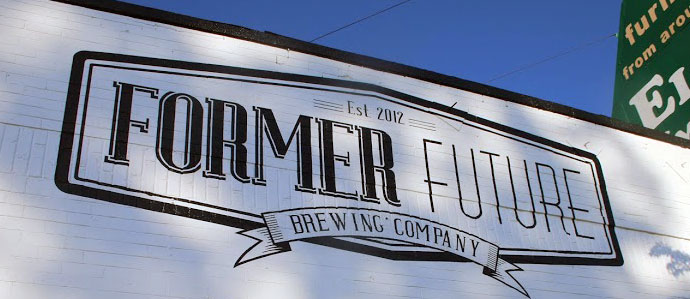 The story of Former Future Brewing Company is more than just outstanding beer. It is also a fine romance. It is the story of Sarah and James Howat and some spontaneous microbes.
James and Sarah met in 2010. She had a grad school degree from the University of Northern Colorado, Denver campus, while James taught microbiology at Adams 14 in Commerce City. Although James tinkered with homebrewing, theirs was a love that blossomed over spirits rather than suds.
"We really weren't into beer at that time," says Sarah, but they did enjoy Denver's speakeasy culture, visiting establishments to sip crafted cocktails. However, a 2011 trip to Santa Fe changed their lives in two remarkable ways. First, James proposed. Second, they visited a small tap room and were introduced to small-batch beers. Upon returning to Denver, they began visiting small breweries like Strange and Renegade.
Both had always been interested in opening their own business and thought a brewery was the best fit. James was even accepted into the prestigious brewing program at the University of California-Davis, however, there was a year-long wait. Rather than wait, they leaped.
"He said, 'you know, I'm just going to open up my own brewery'," says Sarah of James during that fateful time. "It's going to be the same monetary expense and time [anyway], so that's exactly what happened."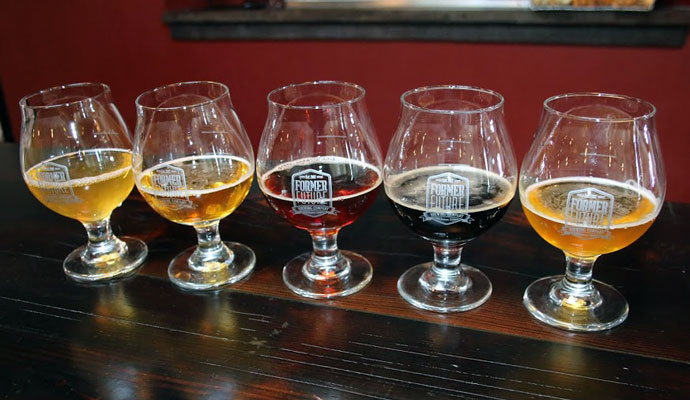 The couple married in July 2012, and James began writing the brewery's business plan in September. The couple signed the lease on their building on South Broadway almost one year to the day of their wedding. Opened in February 2014, a whirl-wind romance with beer has been growing ever since.
"We can't keep up with the very small limited wholesaling that we've been doing," says Sarah of the brewery's popularity.
James and Sarah take a unique approach to brewing beer. James says he wants to make a variety of beers for every type of beer drinker from craft beer nerds to their non-craft drinking friends that they drag into the taproom, and they both strive for the place to be a friendly neighborhood hangout. Most beers have roots in some sort of historical brewing technique. While building the brewery, James did a lot of research on old beer recipes. However, he isn't trying to recreate the past.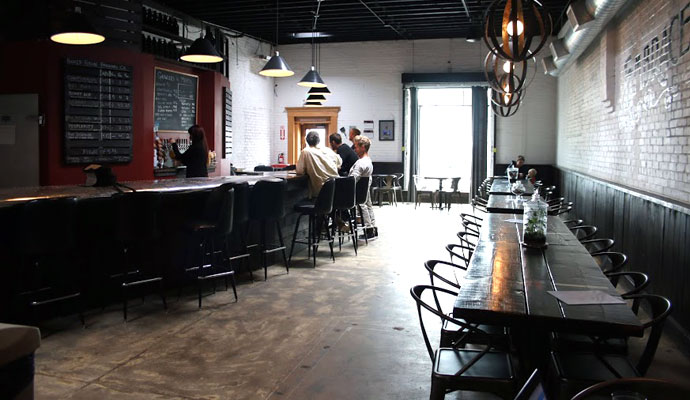 "We don't necessarily try to do anything exactly the way it would have been, but we're not trying to recreate historical recipes, we're trying to take ideas from those old recipes and do them in new and different ways." says James.
While his background is in math and science, James says he is actually more of a historian when it comes to brewing and is more interested in traditional techniques, which he thinks were more akin to art, but then he uses modern practices, bringing in the science.
"I think you can make beer 100% as an art or 100% as a science," he says, "but it's done best when you have a little bit of both." He says he even gives up some of the scientific control over the microbes by using "spontaneous" brewing practices in the brewery's Black Project series.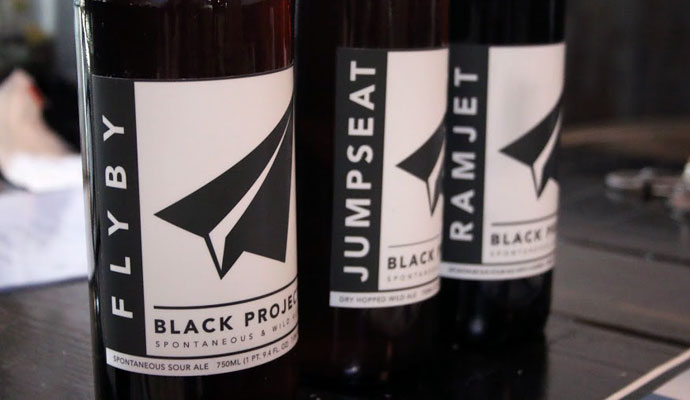 The Black Project brewing series is where beers are fermented with native wild yeast and bacteria using a coolship method (from the Dutch koelschip). No commercially available microbes are added. James calls these "Wild Caught" microbes and the beers are called "Spontaneous Ales." Former Future won a GABF bronze medal in 2014 for their very first Black Project beer, Black Project #1 Flyby, in the experimental category.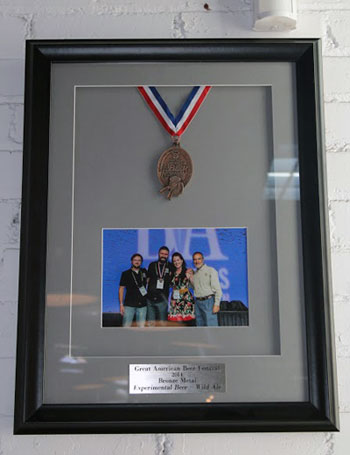 The most recent Black Project beer bottled was a Ramjet Cherry Sour that sold out in one afternoon. They hope the next batch will be ready in mid- to late August, which they are calling Dreamland Sour Farmhouse. James then has plans for a blueberry aged in red wine barrels and a sour peach aged in whiskey barrels. The beers are sold in 750mL bottles for $25 each, and release dates are announced on a special Facebook page.
Black Project beers are currently inoculated on the roof of the brewery, but they are planning to move all future project barrels to a second facility, under its own corporate banner called Black Project Spontaneous and Wild Ales. This will allow for growth of the project and to make more room in the brewery for their regular beers.
Much like a spontaneous ale, Former Future continues to grow in complexity as has the Howat's relationship.
"[The brewery] has shown us how to support each other in ways that maybe we wouldn't ever have had to address before…I think that it's shown us how to work together… and given more appreciation for us in the ways that we do spend time together " she says. "Most days we are texting each other constantly or we're in the same room talking to each other constantly and you already know how your partner's day was so how do you keep it interesting and fun?"
Like microbes in fermenting beer, it's a spontaneous and wild process. To learn more about the brewery or the Black Project series, follow along on Twitter or Instagram.
Photos by Carrie Dow
Tags:
Beer
Recent Articles

Feedback
How are we doing? Tell us what you like or don't like and how we can improve. We would love to hear your thoughts!