Brew It Yourself at Factotum Brewhouse in Denver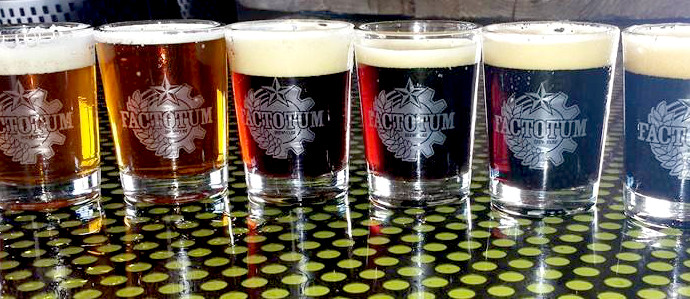 Any home brewer who's ever walked into a craft brewery asks themselves a variant of the same question: "What if I quit my shitty job, borrowed a bunch of money and started my own damn brewery?"

All you need are some decent recipes, a beard, and a dog, apparently; and the cajones to commit career seppuku.
But thanks to Factotum Brewhouse in Denver's Highlands neighborhood, everyone whose hobby is making fermented stuff can take a half-step toward their own beer destiny. You know, in case one happens to decide that the cubicle and health insurance aren't so bad after all. Or your beer sucks.
Factotum will help you brew a huge batch of your own beer. For $395, you'll get a 30–60 minute consultation on your concoction. Once you've settled on the recipe, you'll take part in a brew day with one of Factotum's brewers, who will help you overcome any shortcomings emanating from your inexperience. You'll also enjoy a free lunch and a few beers throughout the brew day since brewing is a rather lengthy process. Once your beer's finished, you'll get a "Meet the Brewer" party at Factotum where your friends, family, and lucky passersby can talk over your brew and fill your head with enough confidence to light out on your own. Guest brewers also receive a $100 bar tab or the equivalent in take-home kegs.
It's more expensive than your average trip to the craft brewery, but it's a lot more participatory, don't you think?
Housed in an old auto repair garage, Factotum opened in February and plans to have 10 brews on tap—most of which will be made by brewers who've taken part in Factotum's brewing program.
On our visit, we sampled the brewhouse's American Amber (5.3% ABV) and Dry Stout (4% ABV), both made by Factotum's owners.
Factotum's space offers very little of anything new for anyone who's been in a Denver craft brewery, but there were fresh-cut flowers on the table. People who dine at Chick-fil-A get this touch. Unlike the chicken sandwich chain, though, Factotum is open on Sunday. Overall, the room is pleasant and inviting.
Pours run $5 with tasters at $2. 64-oz. growlers are $15, and 32 oz. growlers are $8. Hours for Factotum are Tues.–Thurs., 4–10 PM; Fri., 3–10 PM; Sat., Noon–10 PM; and Sun., Noon–8 PM.
Take a trip to Factotum and your odds of finding something truly adventurous in craft beers increases exponentially—mainly due to the engagement of the home brewing crowd. You can also walk a block and hit up Diebolt Brewing, too.
Factotum Brewhouse, 3845 Lipan St.,720-441-4735
Photo via Factotum Brewhouse
Tags:
Beer
Recent Articles

Feedback
How are we doing? Tell us what you like or don't like and how we can improve. We would love to hear your thoughts!