Ratio Beerworks Continues the Trend of Great Brewing in RiNo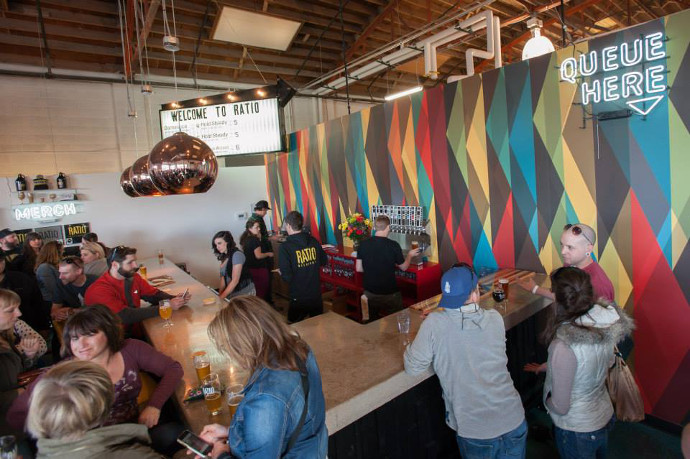 Most people literally walk over the flooring on their first trip to a brewery without so much as a glance. At
Ratio Beerworks
, however, the floor really stands out. No, it's not covered by spent grains or other detritus from beer making, it's painted a very vivid shade of blue. But thanks to the ambience and
fermentables
served on that blue floor, a trip to Ratio is a much more fun than, say, a trip to Le Pays Maudit. (For anyone too lazy to Google it, that was a subtle reference to the Smurfs.)
While I'm not sure the floor will catch on like using a Ramones tune in a movie from the 1980s, there is one feature at Ratio that's sure to land a leading role at other breweries—the queue line, where patrons line up at the bar to order or refresh their pours. It cuts way down on that annoying bit of bar culture that dictates unspoken permission to disruptively cut in between drinkers at the bar to order.
As one bartender put it, the feature is a way "to reduce dick baggery."
Nicely done, Ratio. Nicely done.
Built in an old warehouse in Denver's RiNo neighborhood, Ratio opened in February on Valentine's Day under a punk rock aesthetic with brewing prowess provided by brewers with local resumes. During my visit, Ratio was serving several regulars, including Domestica American Standard Ale (4.9% ABV), Dear You French Saison (5.5% ABV), Repeater Extra Pale Ale (6.1% ABV), Hold Steady Dark Scotch Ale (7.5% ABV) and Antidote IPA (7% IPA). Other brews included Genius Wizard Russian Imperial Stout (11% ABV) and One Great City Belgian Quad (9% ABV).
The taproom itself is very open. Overall, the space came off like a hipster beer hall, owing that to plenty of communal-style seating, the arched ceiling and the aforementioned floor. The patio is also small, but it appears to have plenty of room to expand. OK, Johnny Rotten might call the place shite, but the rest of us would think it's a fun spot with solid brews.
Pours cost $4-6 with 4-, 10- and 16-oz. sizes for sampling or oversampling. The growlers are currently old-school twist-top style. Food is provided by any one of Denver's vast legion of trucks. While the RiNo area continues to add breweries, Ratio is a worthy addition to the roster.
Ratio Beerworks, 2920 Larimer St., 303-997-8288
Photo via Ratio Beerworks
Tags:
Beer
Recent Articles

Feedback
How are we doing? Tell us what you like or don't like and how we can improve. We would love to hear your thoughts!