Life, Liberty and the Pursuit of Hoppiness at Declaration Brewing Company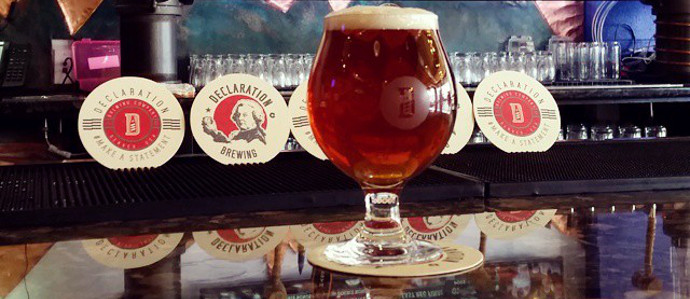 The craft beer scene in Denver keeps on growing in numbers and passion like an 18th Century independence movement.
One of the city's the newest breweries—Declaration Brewing Company—sprang up in February to quench the thirst of craft beer patriots across the Front Range. With a slightly out-of-the-way location in an industrial park near Denver's southern city limits, Declaration has made the best of its surroundings—converting its building into an open, airy taproom adjoining a huge beer garden.
I'd normally continue a new brewery introduction post by launching into a description of beers or taproom décor, but I encountered something at Declaration that had me looking like King George III after he finished reading a certain piece of parchment from the colonies—the urinals.
Some enterprising bloke took a 15.5-gallon beer keg, cut out about a third of the vessel and installed a few on the wall of the men's room. Hooked up to the plumbing, this piece of good, old-fashioned American ingenuity has to be one of the most appropriate bathroom fixtures I've ever had the opportunity to familiarize myself with. I'm thinking, with absolute certainty, founding father and famous home brewer Thomas Jefferson would have signed this modern pissdale personally with a stream of…
But I digress.
Declaration Brewing is one of a growing number of Denver beer makers to capitalize on the beer garden concept—featuring a Boston-common sized outdoor space for drinkers to sip their suds or otherwise engage in outdoor leisure activities. There's space for about 100 patrons outside and about 90 inside the tap room. Garage doors open the interior to the exterior so grabbing a pint between corn tosses shouldn't be a problem. The taproom was comfy, with drinkers getting a choice between leather couches or straight-up tables and chairs. There was a mountain sports vibe to the décor and, I cannot tell a lie, the portrait of George Washington next to the taps was a nice touch.
Eight beers were being poured during my stop, including a strawberry wheat ale (4.2% ABV) and Mile Highlander Scotch Ale at 8% ABV. Hoppy offerings included Electric Silk Oatmeal IPA at 8.2% and Hard Tack Copper Ale at 5.3%. Belgian-inspired brews included Bel-Gum at 8.6 % and Ripple Belgian Table Ale at 5.3%. Deo Kolsch and 'MRCA Wheat were the lighter glass fillers.
Pours ranged from $5-8. Declaration's current hours are Mon–Wed, 2–8 PM; Thu–Sat, 12–10 PM and Sunday, 12–8 PM. So if you're up for exercising your unalienable right to drink beer, Declaration provides solid brews and one of your better beer gardens just in time for summer—especially if you're looking to declare independence from your normal watering hole.
Declaration Brewing Company; 2030 S Cherokee St.; 303-955-7410
Photo via Declaration Brewing
Tags:
Beer
Recent Articles

Feedback
How are we doing? Tell us what you like or don't like and how we can improve. We would love to hear your thoughts!