Where to Celebrate Colorado Craft Beer Week in Denver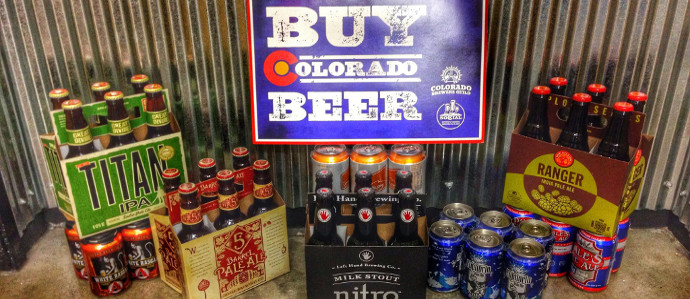 For us, every week is
Colorado Craft Beer Week
. With dozens of breweries, festivals and other beer events, the land of red rocks presents beer drinkers—old and new—much to choose from. But for people who don't fuss over their beer year round or for those people who aren't prone to making their beer love a codependent relationship, Colorado Craft Beer Week presents a wonderful way to revel in the finest fermentations from right here. Many, many events are planned for this year's beer week, but here are some of our top recommendations for enjoying Colorado Craft Beer Week:
Local Tap Takeover
All Week Long
Stout Street Social (1400 Stout St.; 720-214-9100)
For Colorado Craft Beer Week, Stout Street Social is featuring beers from metro area breweries including Station 26, Wit's End, Jagged Mountain, Fiction Beer Company and Two22 Brew. Beers on tap include Station 26's Cream Ale, Fiction's Feely Effects Green Tea Chocolate Milk Stout, Two22's Red Cinnamon Ale, Wit's End's Oatmeal Porter and Jagged Mountain's Cascading Dark.
The Collaboration Fest
Saturday, March 21, 3 PM
Sports Authority Field at Mile High (1701 Bryant St.; 720-258-3000)
The Collaboration Fest will serve up some of the best tasting beers during the week. It should at least, since these beers are the products of local breweries partnering up with other breweries from around the state and nation. To get in the spirit, bring a buddy.
Beers and Spears
Saturday, March 21, Noon
Denver Beer Company (1695 Platte St.; 303-433-2739)
There was a time when we thought the only thing that could make Pabst Blue Ribbon palatable was a dill pickle. In fact, we had stumbled on one of the best snacks to pair with beer. For an intro, check out this pickle and beer pairing event at the Denver Beer Co.
Alpine Brewing Welcome
Saturday, March 21, 7:30 PM
Falling Rock Taphouse (1919 Blake St.; 303-293-8338)
California's Alpine Brewing is coming to Colorado, and not for the weed. The brewery's official intro to Colorado's beer drinkers will be at the Falling Rock Taphouse and its Alpine Brewing's Welcome to Colorado event.
Imperial Stout Fest
Sunday, March 22, 1 PM
Falling Rock Taphouse (1919 Blake St.; 303-293-8338)
Gird your liver, the Falling Rock Taphouse is hosting an Imperial Stout Fest. We're thinking there will be some big, flavorful beers here with big ABVs.
Fuss Off
Wednesday, March 25, 5 PM
(?????)
This year marks the debut of an event known as Fuss Off. (You'll see plenty of responses to Budweiser's infamous Super Bowl commercial during the week including pumpkin-peach beers.) The venue won't be announced until the day of, but here's a chance to hobnob with Denver's beer makers.

Rye Fest
Saturday, March 28, 1 PM
Black Sky Brewery (490 Santa Fe Dr.; 720-708-5816)
A new event for this year's Craft Beer Week, the Rye Fest should be able to quench any overpowering thirst for rye beers—those dry, spicy wonders of the craft beer world. The Rye Fest will take place at Denver's own Black Sky Brewery—one of Denver's heavy/death/thrash metal breweries. (Yes, there's more than one.)

Events are planned throughout Colorado the entire week. Plan your road trip at www.coloradocraftbeerweek.com.
Photo via Colorado Brewers Guild
Tags:
Beer
,
Festival
,
Food
Recent Articles

Feedback
How are we doing? Tell us what you like or don't like and how we can improve. We would love to hear your thoughts!