Denver's Best Spots for Day Drinking
Startin' early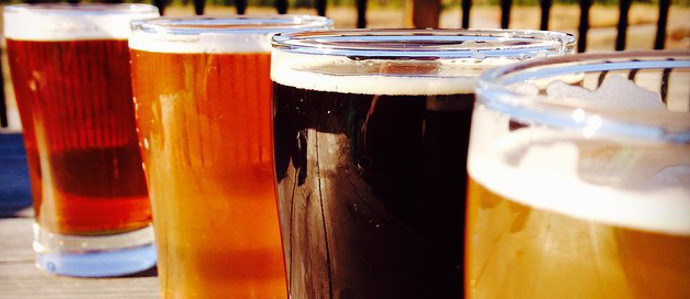 Little Big Town sang "I don't need a reason for Happy Hour" in their song Day Drinking. Well, neither do we! Drinks can, and should, be enjoyed any time of day. Let's start imbibing now at some of Denver best day drinking spots.
Sam's No. 3
Let's start with a Denver classic. The downtown location opens at 5:30 AM weekdays, the Aurora location at 6 AM and the Glendale location at 6:30 AM. All three stay open late into the night. That means a drink is available any time of day. Breakfast is served all day long, so pair those pancakes or that breakfast burrito with one of Sam's large selection of tap or bottled beers. (15th and Curtis; 303-534-1927)
Fado Irish Pub
While this pub doesn't normally open until 4 PM on weekdays, the weekends are a different story. That's because Fado's showcases live English Premier League, La Liga and Six Nationals Rugby action. However, to see these European sporting events, one has get up a tad early. The bar opens at 8 AM on Saturdays and Sundays when there is league play and the weekend brunch cocktails happen to be bottomless. Check the website for full league schedule. (1735 19th St.; 303-297-0066)
Highland Tap and Burger
Just over the bridge in the Highlands, this neighborhood pub has a deadly outdoor patio where you can easily kill an afternoon. The patio is open no matter the weather. The incredibly satisfying burgers and sandwiches can also keep you from wanting to move for a while. The diner opens at 10 AM on weekends if you want get a head start. (2219 W 32nd Ave.; 720-287-4493)
Jelly
Both of Jelly's locations open at 7 AM daily and offer a variety of classic cocktails or new concoctions to sip while enjoying a hearty breakfast. This breakfast and lunch diner is only open until 3 PM daily, so get there early to enjoy drinks like the Parnold Almer, sweet tea infused vodka and lemonade, or the S'mores featuring Fluffed Marshmello Vodka, Baileys, Ghirardelli hot chocolate and whipped cream. (Capitol Hill: 600 E 13th Ave; 303-831-6301; University: 1700 E Evans Ave.; 720-596-4108)
Machete Tequila & Tacos
The Cherry Creek location of Machete features Denver's longest happy hour. It starts when the taco bar opens at 11 AM and goes until 6 PM. Enjoy one of the bar's eleven signature margaritas for lunch. Heck, just stay for the whole happy hour and you could try them all. (2817 E 3rd Ave.; 303-333-1567)
Olive and Finch
This east side eatery has a well thought out beer, wine and cocktail menu. The café also opens for breakfast at 7 AM. So, while the adult beverages are not listed on the breakfast or lunch menus, guests can still order the drinks before 5 PM, if desired. You just have to ask. (1552 E 17th Ave.; 303-832-8663).
Snooze
One of Denver's most popular breakfast spots, Snooze opens weekdays at 6:30 AM. The cocktail menu features a variety of mimosas and bloody marys along with signature cocktails such as the AM Manhattan and the Orange Snoozious. Local craft brews are also available. The place closes at 2:30 PM daily, so get your drinking in early. (Four locations- Union Station: 1701 Wynkoop St., Ste. 150; Ballpark: 2262 Larimer St.; Park Hill: 700 N Colorado Blvd., Ste. A; Centennial: 6781 S York St.; Ste. 515)
Thirsty Lion Gastropub
This pub next to Union Station has a large and relaxing patio that is perfectly made for lounging. That means those having lunch at this establishment have to fight the temptation to sit outdoors all afternoon if the weather is sunny. This pub also opens early on weekends for European football for fans inclined to have a beer for breakfast. (1605 Wynkoop St.: 303-623-0316)
Photo via Flickr
Tags:
Beer
,
Cocktails
,
Food
,
Outdoor Seating
Recent Articles

Feedback
How are we doing? Tell us what you like or don't like and how we can improve. We would love to hear your thoughts!