What to Sip While You Slurp: A Guide to Drink and Oyster Pairings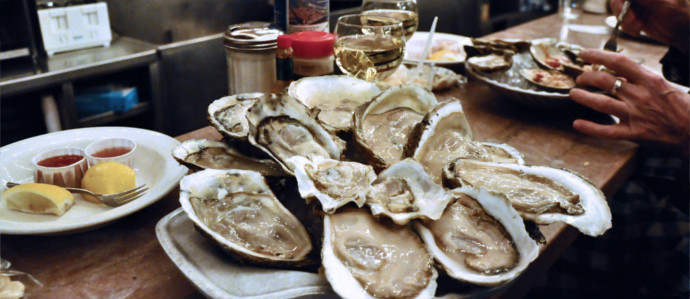 Whether they have aphrodisiac powers or not, oysters are a wonderful, pleasurable indulgence at any time, but with the romantic weekend ahead we're here to help you pick out a libation that will enhance your experience and compliment your favorite bivalve.
To start, try the oyster naked--meaning slurping it down first without adding any lemon or accoutrements to get a taste of all its flavorful nuances and textures, and then take a sip of your wine, beer or cocktail for an extra kick of umami to your taste buds. Mireille Guiliano, author of "Meet Paris Oyster: A Love Affair with the Perfect Food" recommends the interesting alternative of trying them with a bit of freshly ground black pepper. For her, it helps intensify the flavor of the oyster.
With hundreds of varieties of oysters and a multitude of wine choices, a safe bet would be to choose a dry, white wine with high acidity. If you're very familiar with the type of oyster you're eating and its flavor profile, you can more easily narrow down what drink would best compliment it. If you're in the dark, rest assured one of these libations will work for you.
The following options are usually on wine lists at restaurants with raw bars, so impress your date with your wine pairing knowledge while your slurp on delectable oysters.
Sparkling Wine and Champagne
Bubbles and oysters go together like PB & J. The bubbles provide textural contrast while the acidity helps cut through the creaminess. A great option is a glass or bottle of Crémant de Limoux; Crémant is a non-Champagne sparkling wine produced in the city of Limoux in Southwest France. It's made primarily with Chenin Blanc and Chardonnay grapes. It has a crisp acidity and small bubbles that go down nicely with Fanny Bays, Little Shemagoes or Sweet Amalias.
Chablis
Chablis, one of the best wine regions in France, is compromised of 19 different towns. This wine is made with Chardonnay grapes, and it gets its terroir, and perhaps its perfect pairing with oysters, from soil that was once an ocean floor. In fact, sea fossils can still be found there. Chablis' mineral composition and palate-cleansing acidity make it perfect for Northeastern oysters.
Sancerre
A Sauvignon Blanc with vibrant acidity, hailing from the Loire Valley in France, this wine is a safe bet for pairing with East Coast oysters. Then again, you can rarely go wrong with a selection from the Loire Valley. If you take your oyster with Tabasco or red wine vinegar, this wine is for you.
Pouilly Fume
A dry French white wine made with Sauvignon Blanc grapes, not to be confused with Pouilly Fuissé, which is made with Chardonnay grapes. This wine is also made in the Loire Valley and has a similar flavor profile to Sancerre. It's perfect for lean and briny East Coast oysters.
Muscadet
Another wine hailing from the Loire Valley, but compromised of Melon de Bourgogne grapes. Opt for a glass or bottle that's labeled 'sur lie.' The wine will have a deeper flavor, as it has been aged on the spent yeast and sediment that result after fermentation. This very dry wine pairs well with Stellar Bays and Kumamotos. Its clean and crisp flavor profile will render the need for a squeeze of lemon or mignonette null, so eat your oysters bare if you're pairing them with this wine.
Riesling
A zesty alternative to the French Sauvignon. A dryer iteration of this wine from Germany pairs well with meaty and creamy Northwest Canadian oysters.
Vinho Verde
A very affordable, easy drinking, Portuguese wine with lively acidity, effervescence and beautiful aromatics that's been making its way onto more menus recently. The name translates to "young wine," and refers to the fact that these wines are best enjoyed right after they've been bottled. It goes well with Kumamotos.
Outside of the dry whites and champagne selections, give one of these a try:
Gin
A Hendricks Martini and a Hendricks Gin & Tonic are both great cocktail choices for pairing with creamy, West Coast oysters. The subtle cucumber notes of Hendricks will compliment oysters with cucumber notes of their own, like Kumamotos, Kusshis and Miyagis.
Oyster Stout
Stouts and oysters are a historical pairing, dating back to Victorian England. The term "oyster stout" used to reference the drinking ritual of taking sips of stout beer in between slurps of oysters. A very briny oyster from the Northwestern Canadian region will perfectly contrast the bitterness of a stout while the creamy texture of the beer and the oyster will compliment each other.
Sherry
No, not the syrupy kind you're thinking of. Go for a crisp Manzanilla, one of the driest wines in the world, whose salinity and acidity are a great compliment to oysters.
Happy sipping and slurping!
Photo via Flickr
Tags:
Beer
,
Cocktails
,
Food
,
Holiday
,
Wine
Recent Articles

Feedback
How are we doing? Tell us what you like or don't like and how we can improve. We would love to hear your thoughts!