Neighborhood Pub Crawl: Historic Larimer Square
Hip to be in the square
by
Carrie Dow
on Mar 5, 2019 in
Roundups
for
Bistro Vendome
,
Capital Grille, The
,
Comedy Works
,
Corridor 44
,
Cru Wine Bar
,
Euclid Hall
,
Green Russell
,
Ocean Prime
,
Rioja
,
Russell's Smokehouse
,
TAG Restaurant
,
Tamayo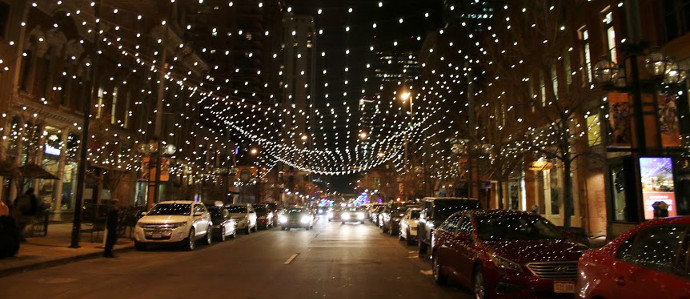 As Old West stories go, they don't get any older or more Western than Larimer Square in Denver. Founded by a group of the city's original settlers during the Gold Rush, Larimer has existed since 1858. As a place run by prospectors, solders and cowboys, Larimer had its share of saloons and dance halls. Over 150 years later, that hasn't changed a bit. Covering an area of only 142,000 square feet, it also makes for a very self-contained pub crawl. Let's take a drinking tour of historic Larimer Square.
Bistro Vendome
Situated in a courtyard oasis, Bistro Vendome is that tiny French bistro that you loved on your first visit to Paris. Enjoy French-themed specialty drinks served over a zinc-topped bar on the secluded patio. Happy hour is Monday-Friday from 4 to 6 PM and Saturday and Sunday from 3 to 5 PM. There is also a late night happy hour beginning at 9 PM daily, perfect for a late night rendezvous. (1420 Larimer St.; 303-825-3232)
Comedy Works
This is one of country's oldest, most successful comedy clubs, opened in 1981. It is also a favorite performing haunt for national acts like Dave Chappelle and Joe Rogan, so Denverites can expect a steady stream of national comics along with up and coming hot shots. With two to three shows across seven nights a week, visitors can also schedule their bar crawl around performances. Consider the early show as a funny happy hour or choose the closer to cap off the night. The two drink minimum is no joke. (1226 15th St.; 303-595-3637)
Corridor 44
Champagne rules at Denver's only champagne bar. Sip on a selection of bubbly that numbers in the dozens, from the simple to the sublime and even rare bottles. Pair with seductive foods from oysters to chocolate truffles to lamb chop lollipops. (1433 Larimer St.; 303-893-0044)
Cru Food & Wine Bar
The crew at Cru offers over 300 bottles of wines and over 40 premium wines by the glass. Happy hour here is called "Relax and Un-Wine" Hour Monday through Friday from 4 to 6:30 PM. The food menu is inspired by Napa Valley, but the atmosphere is completely Colorado. (1442 Larimer St.; 303-893-9463)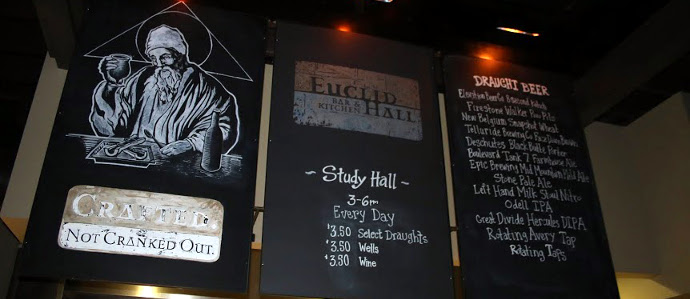 Euclid Hall
Beer is king at Euclid Hall, where 13 taps pour the finest craft from around the world. Canned and bottled beers are divided into categories ranging from Arithmetic, easy-drinking session beers, to Trigonometry, more complex beers, to Quantum Mechanics, beers over 7% ABV. The bar also features world-class pub food including house-made sausages and schnitzels. (1317 14th St.; 303-595-4255)
Green Russell
The Green Russell has no sign on the door and an interesting entrance. The entrance is inside Wednesday's Pie Shop in underground Larimer Square. Wednesday's Pie Shop is a real pie shop that sells pie only on Wednesdays starting at 11 AM. The Green Russell, however, is open daily at 5 PM. The bartenders at GR are considered some of the best in Denver, so just pass through the pie shop door to get to some of the best cocktails in town. (1422 Larimer St.; 303-893-6505)
Ocean Prime
Denver's original OP is a modern American restaurant and lounge that puts diners in a beautiful and relaxed setting. Enjoy an impressive menu of seafood, prime cuts, and signature cocktails. Happy Hour is in "The Lounge" Monday through Friday from 4 to 6 PM. Munch and sip on specially priced select appetizers, cocktails, and world-class wines. (1465 Larimer St.; 303-3663)
Rioja
The restaurant that put Denver on the culinary map, Rioja is the flagship restaurant for James Beard award-winning Jennifer Jasinski. Rioja features a different monthly themed happy hour with creative cocktails, wines and the kitchen's unique cuisine. Happy hour is Monday through Friday from 4 to 6 PM. (1431 Larimer St.; 303-820-2282)
Russell's Smokehouse
This underground meat palace serves mouth-watering slow and low cooked meats with all the savory sides. To compliment all that meat there is an exquisite bourbon and beer list and some unique house cocktails including barrel aged. Open Monday through Saturday at 11 AM and Sunday at 5 PM. (1422 Larimer St.; 303-997-7590)
TAG
Chef Troy Guard's original Denver restaurant, TAG has been pleasing both diners and drinkers since it opened a few short years ago. While TAG's claim to fame is its world-mix menu, TAG prides itself on serving drinks just as delicious and well-crafted as the food. Social hour is from 2 to 6 PM featuring $6 drinks and eats and $7 classic cocktails. (1441 Larimer St.; 303-996- 9985)
Tamayo
Denver's largest selection of fine tequilas is under Tamayo's roof and along with all that agave are some fine margaritas as well. There are 100 tequilas, mezcals and other agave-based spirits to choose from. Tamayo also has one of Denver's best views on the western facing rooftop patio. Happy hour is daily from 2 to 6 PM with $5 wine, sangria, and margaritas, and $3-6 small bites, bar and lounge only. (1400 Larimer St.; 720-946-1433)
Ted's Montana Grill
Ted's specializes in bison and other tasty Americana fare. Enjoy a meal inside at a cozy booth or al fresco on the outdoor patio. Happy hour is available at the bar and patio only from 3 to 6 PM daily. Enjoy $3 beers and bites or $6 cocktails and wines by the glass. (1401 Larimer St.; 303-893-0654)
The Capital Grille
Denver's premier steakhouse, with the occasion celebrity sightings to match, features rich dark woods and Art Deco décor that will envelope guests in elegance. The 5,000-bottle wine list will also amaze and delight patrons. Cocktail Time (AKA happy hour) is weeknights from 4 to 7 PM that features plates to share, a shellfish and oyster bar, specialty cocktails, and wines by the glass. (1450 Larimer St.; 303-539-2500)
The Crimson Room
Tucked behind a glossy red door, The Crimson Room is one of Denver's best live jazz and acoustic music destinations. Enjoy small bites and desserts with exceptional drinks crafted with house-made bitters, infusions, and fresh-squeezed juices. Stop in for sips either before or after the theater, concert, dinner, or comedy performance. Happy hour is Tuesday through Saturday from 5 to 7 PM. (1403 Larimer St.; 720-693-6987)
Photos (Larimer, Euclid Hall and TAG) by Carrie Dow
Tags:
Bar Crawl
,
Beer
,
Cocktails
,
Dinner
,
Food
,
Wine
Recent Articles

Feedback
How are we doing? Tell us what you like or don't like and how we can improve. We would love to hear your thoughts!