Punch Bowl Social has Something for Everyone
Check out the punch bowl graveyard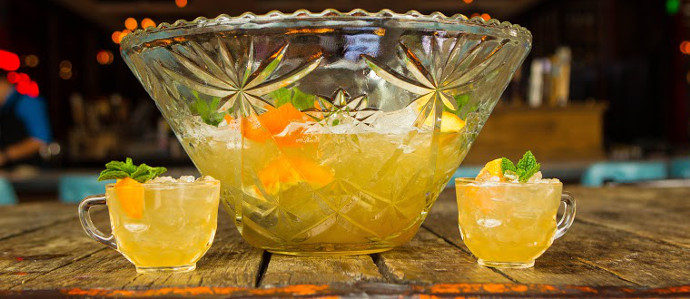 In just two short years, Punch Bowl Social on Broadway has not only supplied fun and games to Denverites, but has now grown to several other cities. Portland, Austin and Detroit all have Punch Bowl Socials with a few more on the way (including an upcoming top secret second location in Denver). What began as a unique concept, combining bowling lanes and other fun games with healthy diner food, Punch Bowl Social is now an official Denver hot spot. The bar also serves a variety of punches for social drinking.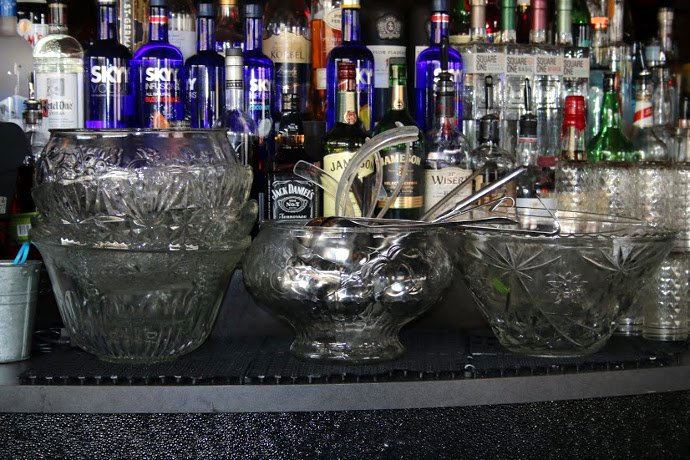 The bar takes its name from the old fashioned way of serving drinks in a giant beautiful bowl, like your grandma had at Christmas. The drinks come in decorative, glass punch bowls that the bar buys from local thrift shops. Of course, there are perils to drinking with glass bowls. Every now and then, a bowl gets broken. Instead of mourning the loss, the bar puts the wounded bowls above the bar as a badge of honor. They call it the punch bowl graveyard.
There are four punches on the current menu crafted with the help of Bar Manager, Tico. Tico says punches were designed to appeal to everyone by putting a variety of flavors in one bowl. The key is to balance those flavors.
"Punch is about balance," he says, "sweet and sour, strong and weak, plus a spice."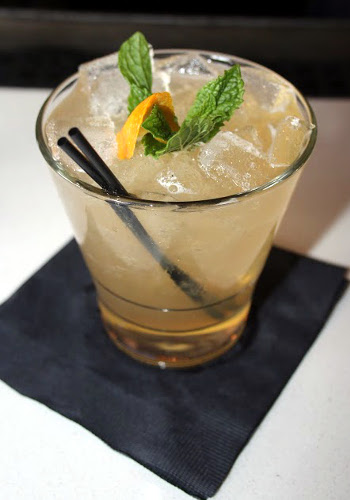 The "You must bring us…A Shrubbery" is a perfect example of balance. Made with Skyy Moscato Vodka, watermelon shrub, lemon juice, cardamom syrup and topped with a red wine float, this punch is a flavor-explosion of berry sweet and citrus sour. It's also a good looking drink with the pink of the base below the burgundy wine. The Royal Hutch Punch features Barcardi 8-year rum with St. Germain, lime juice, white Teakoe Tea from Denver and Fee Bros' peach bitters. Again there is a blended balance, but this time between sweet fruit and earthy herbs.
Punches come in small bowls that serve four and large bowls that serve eight. For those who don't want to share, punches can be ordered as individual cocktails. All punches are pre-made in large batches and served on tap. Tico does this because they go through several gallons a night, and he wants to make it easy on the staff while keeping the drinks consistent.
While punches are fun, there is a cocktail collection that will also appeal to a variety of people. The menu is divided into Old School and New School cocktails. The Blood & Sand is an Old School favorite made with Johnny Walker Red, cherry heering, Punt e Mes and orange juice. The Punt e Mes is an Italian sweet vermouth that softens up what would otherwise be a tart cherry drink. On the New School menu is Ould Tom's Cabin, which is a barrel-aged cocktail. Tico puts a batch in an old wine barrel and lets it sit to bring out the flavors. The drink is made with Colorado's own Downslope Ould Tom Gin, Maraska maraschino liqueur and Amaro Montenegro.
This 24,000 square foot funhouse has three different bars. The main bar is a large oval where the bowling lanes are with 12 beer taps serving seven seasonals. There is a long bar in the diner and a third, slightly smaller bar upstairs in the pool room. Also upstairs are two brand new karaoke rooms. Available for rent by private parties, these rooms have state-of-the-art karaoke sound systems with an infinite number of songs. Belt out that cheesy power ballad or sing along with friends without fear of judgment.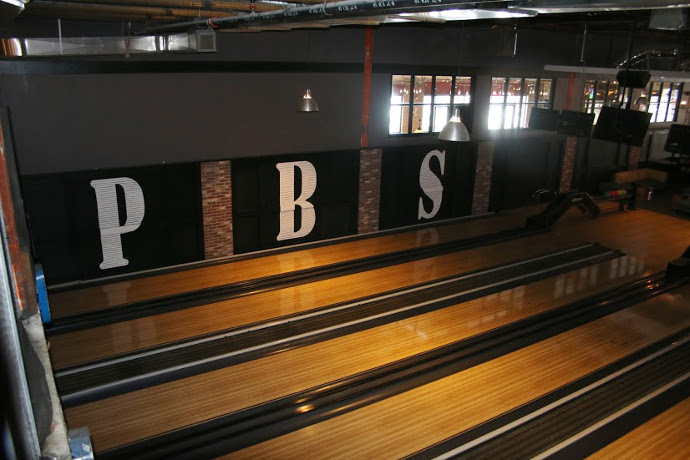 The Happy Hour menu at PBS features a number of small bites, sandwiches and burgers. Try the Street Tacos for $2 each. They are made with pressure-cooked pork carnitas on corn tortillas with radish, onions, cilantro, queso cotija and lime. Cauliflower Nachos may sound weird, but are loaded with crunchy deliciousness. House corn tortilla chips are covered in spicy roasted cauliflower, jalapeno crema, queso fondito, queso qoaxaca, cilantro, fresnos and fried kale. Happy hour specials are "Old Man Cans" of PBR, Bud, Coors, Genesee, Miller High Life, Old Style, Rolling Rock, Hamm's and Olympia for only $2. Well drinks are $4 and house wines are $5, while classic cocktails and the day's featured punch are $6. Happy hour is 3-6 PM every day.
Punch Bowl Social; 65 Broadway; 303-765-2695
Top image by Punch Bowl Social, Punch Bowls, Ould Tom's Cabin and Bowling Lanes by Carrie Dow
Tags:
Beer
,
Cocktails
,
Food
,
Games
,
Music
,
Pool Tables
,
Shuffleboard
Recent Articles

Feedback
How are we doing? Tell us what you like or don't like and how we can improve. We would love to hear your thoughts!