Beer Review: Featherweight Pale Ale by Cannonball Creek Brewing
The Contender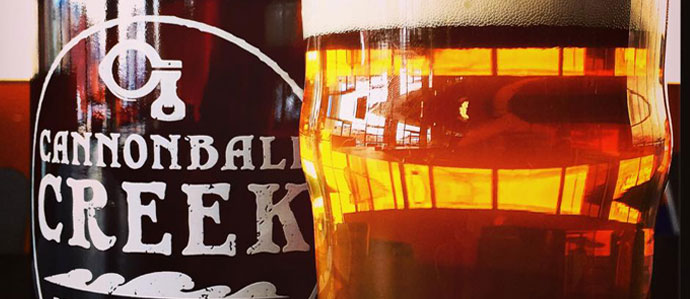 Every beer snob has a gateway brew—the ale or lager that hits them like a haymaker to the gut with the realization that lightweight yellow fizzy isn't going to cut it anymore. For me, it was Stone Pale Ale. With that in mind, I took a seat at the bar in the Cannonball Creek Brewing Company taproom looking to investigate a beer about which I had heard rave reviews for months—Featherweight Pale Ale.
In some ways, pale ales have become the journeymen of the American craft beer world as brewers stretch categories and definitions to make new brews for ever-adventurous drinkers. After my first taste of this fine beer, I must report from ringside that Featherweight is a true champ. And others agree with me—Featherweight took a silver medal at the 2013 Great American Beer Festival and a bronze medal at the 2014 World Beer Cup.
Featherweight's appearance is a classic pale yellow—my pour featured little carbonation but a white head that resembled the Italian Stallion's Siberian training facilities from Rocky IV. Featherweight's aroma was fruity—tangerine in particular with a wisp of bitterness—and flavors hewed toward citrus with little or no malty sweetness. For newbies and people from less hop-forward regions of the country, Featherweight's hoppiness is probably going to hit them like Floyd Mayweather. But for seasoned beer geeks and most Coloradans, Featherweight will land more like an uppercut from Tinker Bell. That means Featherweight's bitterness is probably just about right. With a crisp aftertaste, Featherweight is quite drinkable—in fact, the Cannonball Creek brewers call it a session pale ale. At 5% ABV, it won't take much effort to pump more than a few 16-oz. curls with Featherweight.
Featherweight would go well with any kind of beef or pork off the grill, which means a growler would be great at a backyard BBQ or a tailgate at the base of your favorite ski slopes. Featherweight is available year-round in growlers, pints and 10- and 5-oz. pours at Cannonball Creek's spacious taproom in Golden. While it's probably not possible to anoint Featherweight the Greatest, like Muhammad Ali, it is one of Colorado's greats.
Cannonball Creek Brewing Company; 393 N Washington Ave.; 303-278-0111
Photo via Cannonball Creek Brewing
Tags:
Beer
Recent Articles

Feedback
How are we doing? Tell us what you like or don't like and how we can improve. We would love to hear your thoughts!