East Coast Beer Meets Dixie Chicken at The Post Brewing Company
Beer + chicken = How-Dee
For those searching for a small town experience, you don't have to travel far from Denver. Just over 20 miles north is Lafayette. Over in Old Town inside the former VFW Post 1771 building, you'll find The Post Brewing Company, a brewery/poultry palace that opened at the beginning of the year. Apparently the town likes this combination because the booths have been packed ever since.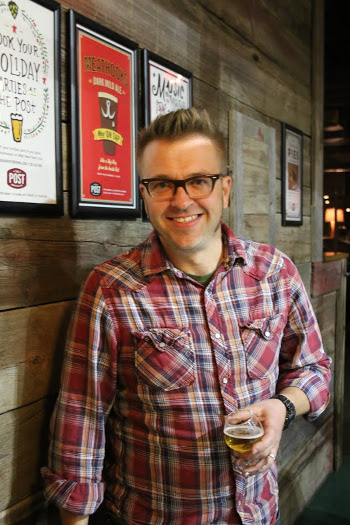 What's cool about The Post? First, the kitchen has an emphasis on chicken, not something many places specialize in considering the cattle ranches that cover the state. Second, the brewery has an East Coast mentality that gives the beers here a slightly different character from what Coloradoans are used to. We can thank Brewmaster Bryan Selders for that.
Selders has been brewing beer since college in Philadelphia in the 1990s. His goal was to brew a beer as close to his dad's favorite beer as he could. That beer was Ballentine, which ceased production in 1972 (although Pabst recently began producing it again). When his father said he had hit the mark, Selders realized beer was his true passion and went to work in breweries in Pennsylvania and eventually landed a head brewing gig at the notable Dogfish Head Brewery in Delaware, where he worked for a decade. After years in the brewing business he wanted a change and quit Dogfish to pursue a profession that actually used his college degree, but that didn't last. Brewing came calling again and he found himself applying for brewing jobs. That search led him to Colorado.
At The Post, guests will find a variety of beers, but all are beers that Selders himself enjoys making and drinking. He says he doesn't make any sours, experimental beers or anything barrel-aged.
"I'm not interested," he says. "I want to focus on what I like and what I'm really good at. I don't want to do everything and it doesn't go with the food."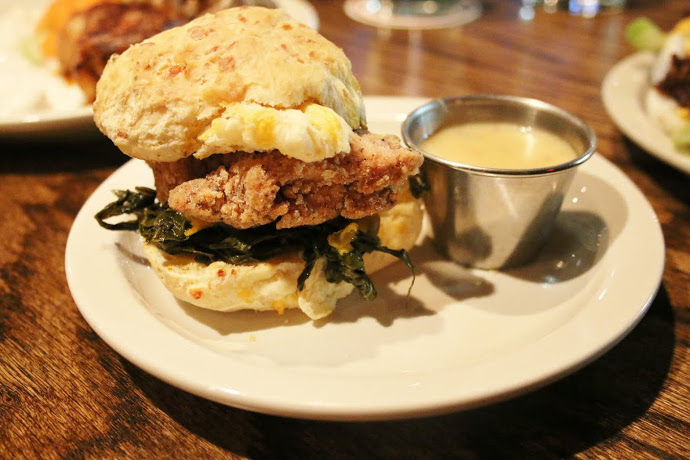 Speaking of food, The Post is comfort food heaven. With a focus on poultry and pork and a wood-fired oven in full view of the dining area, guests will leave here full and happy. For starters, get a plate of Deviled Eggs. These rich, creamy eggs are topped with crispy, savory pork cheeks. Wash them down with the brewery's most popular beer, and 2014 GABF Silver Medal winner, the Howdy Beer. Selders calls this beer a "revisionist American Pilsner." The Howdy Beer brings with it something that serious beer drinkers will get a sense of in all of his beers, a bit of nostalgia. There is something old fashioned about this light gold, summery-tasting pilsner. At only 4.5% ABV, you can drink it all afternoon.
Another popular beer is Meathooks, a Dark Mild Ale. This maltier ale made with British oats pairs perfectly with the Smoked Drumsticks and almost all of the chicken-y delights on the menu. Interestingly, Selders says he is surprised by the beer's popularity, but one sip and Meathooks will have its delicious hooks in you.
New for this year is the unveiling of Large Marge. This all-malt Double IPA is spiked with experimental hops. Taking its cue from the East Coast, the herbal-scented brew has the flowery zest of a Double IPA without going overboard and clocks in at 9% ABV. Finally, no visit to The Post is complete without a bite of the Fried Chicken Biscuit. The biscuit is coated with seasoned flour and is crunchy on the outside and soft on the inside. The chicken is also lightly seasoned and fried and rests on a bed of collard greens. Did we mention the biscuits are baked with cheddar cheese? Yeah, you need this.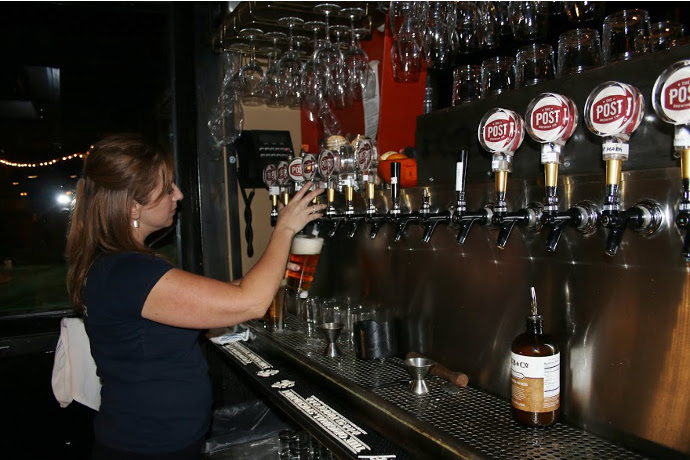 The beers of The Post are available on draft at a variety of restaurants in Denver, however, a trip to the source is always fun and who doesn't like home-cooked chicken? For next year, Selders will begin canning and will increase the brewery's capacity from 11,000 bbls to 16,500 bbls.
Happy Hour at The Post is Monday through Friday from 4 to 6 PM and features $1 off 16 oz. draft beers and $5 margaritas and mules. The Happy Hour Fried Chicken Biscuit is only $4, wood-fired Drumsticks are $2 each and Deviled Eggs are only $1 each.
The Post Brewing Company, 105 W Emma St.; 303-593-2066
Photos by Carrie Dow
Tags:
Beer
,
Food
Recent Articles

Feedback
How are we doing? Tell us what you like or don't like and how we can improve. We would love to hear your thoughts!