The Drink Denver Holiday Party Location Guide
Start planning now...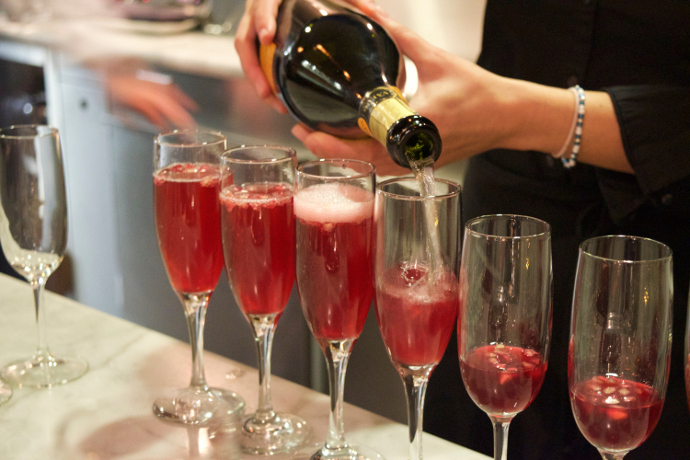 'Tis the season for company parties! For anyone who has ever been saddled with the task of organizing the company holiday party, we know how difficult that can be. Since planning a party to make your coworkers happy while staying within the company budget is tough, Drink Denver is here to help. Here is a listing of great places around town that will help you with your holiday office party and make it an evening to remember, hopefully for all the right reasons.
The Barrel Room (1695 Platt St.: 303-433-2739)
Located next door and owned by the Denver Beer Company, The Barrel Room is ready to host your private event for the holidays. The space is decorated in cozy stone, brick and reclaimed wood for a relaxing event for your office. The Barrel Room can hold 55 people seated indoors and an additional 35 people on the outdoor patio. There is a private beer bar with serving staff, A&R equipment if needed and an approved list of caterers to provide distinct dishes for your office. The Denver Beer Company can even assist with creating a beer-pairing dinner for your event and will also provide tours of the brewery for guests. To learn more, use the inquiry form on The Barrel Room's website, email barrelroom@denverbeerco.com or call 303-433-2739.
Blake Street Tavern (2301 Blake St.; 303-675-0505)
For a sporty affair, the Blake Street Tavern has four rooms available for different sized parties and also has food and drink options listed on the website. The Board Room holds 10-30 people and has a $250 minimum, the Game Room holds 25-75 with a minimum of $500, the Tailgate Room holds 25-175 people and has a minimum of $750 and the Underground Social space holds 50-250 people and has fun games like cornhole, skeeball, air hockey and Pac-Man, however, that minimum was not listed. For smaller parties that can't meet the minimum, you can still rent space for a space rental fee plus food and beverages. Taxes and gratuity not included in pricing. To reserve a space or for more information, contact Special Events Managers Cory or Shelley at 303-295-1035.
The Buckhorn Exchange (1000 Osage St.; 303-534-9505)
Denver's oldest drinking and dining establishment will provide a lot of history and character for an office party. There are three options for holiday parties, The Buffalo Room, which seats up to 20 people, the Roofgarten holds up to 60 people (not handicapped accessible) or rent out the entire establishment for 165 people. Keep in mind only the first floor of the restaurant is handicapped accessible. To learn more or to make reservations contact the Buckhorn Exchange at 303-534-9505.
Coohills (1400 Wewatta St.; 303-623-5700)
If your office is full of foodies, this restaurant in LoDo will satisfy with its farm fresh items. Coohills has private and semi-private reception or seating plans for groups as small as six and up to 40, or consider a restaurant buy-out for groups of up to 400. The restaurant has menus for casual lunch and buffets or full sit-down dinners. Pre Fixe dinners can be 3-course for $55 per person, 4-course for $60 per person or 5-course for $75. Coohills can even make a special cake for your event on request (cost is extra). There are also private party wine and cocktail menus (with pricing!) on the website. Contact Diane Coohill or Shayla Englund at 303-623-5700 or email events@coohills.com for more information.
D Note (7519 Grandview Ave., Arvada; 303-463-6683)
The D Note jazz club in Arvada is available for holiday parties. The space can hold a minimum of 50 people and a maximum of 200. Food options, some with pricing, are available on the website. A full bar is also available. To learn more call 303-GO-DNOTE (303-463-6683).
Fado Irish Pub (1735 19th Street; 303-297-0066)
Who doesn't feel at home in an Irish pub? Fado is now taking reservations for holiday parties from private dining for 12 people to complete restaurant takeovers for parties of 500 or more. Food can be customized from light appetizers to multi-course meals. Fado will even let you test out the food if you've never been there before. Simply set a time Monday through Friday with Fado before Thanksgiving and sample a few dishes for free. Go the website and fill out the private events inquiry form or call 303-297-0066 to get pricing and schedule your free tasting.
Highland Tap & Burger (2219 W 32nd Ave.; 720-287-4493)
In the Highlands, the Highland Tap and Burger is ready to host your holiday party. The restaurant has two separate areas that can accommodate up to 80 people, or combine the two for large parties. There are 17 50-inch HDTVs and a full audio and video presentation capabilities with computer input and DVD player. Most importantly, HTB provides a full bar with premium spirits and 20 beers on tap, 19 of which are from Colorado. Call 720-287-4493 or email allie@highlandtapdenver.com.
Howl at the Moon (1735 19th St.; 303-291-0880)
Howl at the Moon is a dueling pianos bar and is the perfect place for offices that want to have a rowdy time. Howl at the Moon can handle a variety of seating plans, up to 30 people with reserved seating, semi-private with reserved seating for 30-100 people or exclusive use by groups of 100 or more. Food and drink packages are sold separately. The Brew-Ha-Ha is the basic drink package with domestic and imported craft beer, house wine and house liquors or go for the Full Moon package with premium wines and liquors, Red Bull and bottled water. Drink and food packages (without pricing) are available for viewing on the website. Howl at the Moon is also loaded with fun extras to really make this office party memorable. Try a photo booth, complimentary microphone use, special company cocktails, or - our favorite – a customized company song. To learn more, fill out the Request a Proposal form on the corporate events page of the website.
The Irish Snug (1201 E Colfax Ave.; 303-839-1394)
The Irish Snug on East Colfax can host parties of up to 250 people. What's cool about the Snug is that there are no fees for space rentals. Instead the bar requires that parties spend a minimum amount depending on the number of people. Pricing for food and drink options are posted on the website. Food pricing is based on Platters, which can feed up to 10 people per platter, Buffet Style (20 person minimum) or Entrée Style. Call The Snug at 303-839-1394 for more information.
Marlowe's (501 16th St.; 303-595-3700)
Marlowe's downtown is where fine dining meets casual saloon. Marlowe's has four areas available for rent and there are three different menus to choose from (Pricing on website!). The rooms are The Mezzanine with full bar, which holds 75 people, The Loo, which holds 80 people, The Dance, which holds 40 people sitting or 75 people standing, and The Band, which holds 40 people sitting or 50 standing with room for a DJ. The food menu choices are Cocktail Reception (priced individually by appetizer), Casual Plated ($25 per person) and White Linen Menu ($50 per person). To reserve, contact Lynette Fry, Event Manager, by calling 303-595-3700 or email at lynette@marlowesdenver.com.
Ogden and Bluebird Theaters (935 E Colfax Ave. and 3317 E. Colfax Ave.; 303-832-1874 and 303-377-1666)
Both historic theaters on Colfax are available for rent for office parties of up to 1,500 people. Both theaters will provide production assistance and an on-site event planner to help set up private events. To contact one or both theaters, email dsax@aeglive.com.
Punch Bowl Social (65 Broadway; 303-765-2695)
The Punch Bowl Social in Denver is a place to play games for a holiday party. There is a bowling alley, shuffle board, billiards, darts and old school video games like Pac-Man. The Social can host parties from 10 to 1,000 people. There is pricing available on the website, however, we here at Drink Denver found it a bit confusing. Some items are per person while others are per hour. For better information, contact Event Sales Managers Jason Reimer or Deanna Regalado at 720-428-2212.
Simms Steakhouse (11911 W 6th Ave.; 303-237-0465)
Want your office party to have a bit of elegance? Consider Simms Steakhouse over in Lakewood. The restaurant has several rooms for rent with beautiful views of the downtown Denver skyline. The restaurant has four event menus (with pricing!) online. Choose from just appetizers, a casual brunch or lunch or a full seated multi-course dinner. Along with the event, the restaurant's Beverage Manager can arrange drink options from specially selected wines and champagne to creating a custom cocktail for the event. Email lkwdbanquet@ldry.com or call 303-237-0465.
All Tavern Locations: Ballpark, Downtown, Uptown, Lowry, Littleton, Tech Center, Wash Park
For those who book a holiday party at any Tavern location, spend $5,000 on food and drink (excluding tax and service charge), and receive a $100 gift card for a future visit. Each Tavern location has a unique space for private parties. To find the one that is right for your office, call 303-226-1555 or email parties@tavernhg.com.
ViewHouse Downtown, 2015 Market St.; 720-878-2015; Denver Tech Center, 7101 S. Clinton St.; 303-790-VIEW
Want to wow your co-workers? Then pair the party with a fantastic view. Both locations of the ViewHouse are taking reservations for holiday parties and planners have a variety of options to choose from. Both locations have small private rooms for parties as small at 6 people or rent out the rooftops for large parties. Companies can even rent out the courtyards for playing games. Fill out the private event inquiry form on the ViewHouse website or call David at 303-250-0054 for the Ballpark location or Kimberlee at 303-790-8443 for DTC.
Wynkoop Brewery (1634 18th St.; 303-297-2700)
The Wynkoop Brewery downtown is one of Denver's most historic buildings and has a variety of spaces for your office to party. For small intimate parties, the Presidential Dining Room is available. For medium-sized offices, The Mercantile Room or the Morey-Brown Room can handle 40-60 people. For large offices, The Landing, which is the second floor wrap-around space around the billiards room, can hold 75 people or rent out the second floor billiards hall, which holds up to 700 guests. There are food and drink minimums depending on which room is booked. Inquire by calling Banquet Sales Team at 303-297-2700.
Denver Sports Arenas:
Want to have a party at a truly unique location? All three of Denver's sporting arenas offer private events for companies. These can be casual parties to multi-course seated dinners in the boxes and suites of the arena. For a full listing of prices, information and contacts, visit the website links.
Coors Field offers a variety of receptions in the suites and club boxes and also the Sandlot Brewery. Packages start at $750 for cocktail receptions and reach upwards of $3,000 for the Super Suite Conference Center (these are just facility fees; food and drink extra). Call 303-312-2552 or email coorsfieldevents@coloradorockies.com for more information and specific pricing.
The Pepsi Center has nine special locations for private parties, including all of the Center's restaurants plus club level suites and conference rooms. Unfortunately the only information available on the website is the number of people each location can hold. However, private events can include visits by mascots and dancers and/or private tours of the facility. Offices can also tie their party to events going on at the center like concerts or sporting events. These parties include tickets to that night's event. Fill out the online form or call 303-405-1245 to get more information.
Sports Authority Field at Mile High has eight event locations for private parties and they hold anywhere from 60 to 2,000 people. While pricing is not available on the website, private party event pricing does include the following: Complimentary parking, all-inclusive rental fees, custom catering, in-house A/V and production services, and all event rentals. To find out what Sport Authority Field can do for you, fill out the Request for Proposal form on the website here.
The following restaurants have private and semi-private spaces available for holiday parties, however, the number of options is so incredible, we can't possibly list them all. Click the venue to go directly to each restaurant's private event planning pages.
240 Union (Federal Center)
The Berkshire (Stapleton)
Chopper's Sports Grill (Cherry Creek)
Comedy Works (Larimer Square and DTC)
Elway's (Cherry Creek, LoDo and Vail)
Euclid Hall (Downtown)
Humboldt (City Park West)
Ignite Burgers & Bar (Ballpark)
Jax Fish House (Cherry Creek and LoDo)
Linger (Highlands)
LoDo Bar & Grill (Highlands Ranch, LoDo and Westminster)
Lucky Strike Lanes (Denver Pavilions and Belmar)
Marco's Coal-fired Pizza (Ballpark and DTC)
Max Gill and Grill (Wash Park)
Mile High Station (Sports Authority Field)
Milwaukee Street Tavern (Cherry Creek)
The Palm (16th Street Mall)
Rock Bottom (16th Street Mall)
Root Down (Highlands)
Session Kitchen (Old South Pearl Street)
Shanahan's Steakhouse (DTC)
TAG Restaurant (Larimer Square)
Trillium (Ballpark)
Washington Park Grille (Wash Park)
Photo via Coohills
Tags:
Food
,
Holiday
,
Parties
Recent Articles

Feedback
How are we doing? Tell us what you like or don't like and how we can improve. We would love to hear your thoughts!