Fiction and Reality Blur at Fiction Beer Company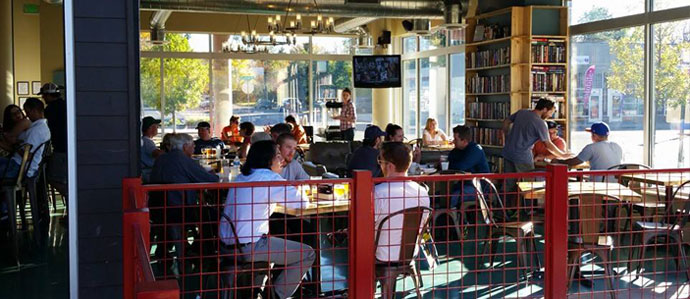 Denver's catalog of beer makers has expanded once again with the addition of Fiction Beer Company—and that's no tall tale.
Fiction, which launched softly the week before the Great American Beer Festival, may have gotten lost in all the foam-motion surrounding the biggest craft-beer celebration this side of the Library of Congress. While the low-key opening served as a prologue of sorts, it's now time for Fiction's main chapters.
Fiction's beer menu, which features enough words to conjure reminiscences of a Stone Brewing bottle, features three sections with beers that are paired with a literary inspiration.
The "Classics" section of the menu—the all-the-time beers—consists of Old Bums and Beat Cowboys Pale Ale, a 4.9% ABV offering inspired by Jack Kerouac's "On the Road" and The Dreamer IPA, a 6.6% ABV hop blast dedicated to "The Faeries' Siege" by Rudyard Kipling.
The "Mystery & Adventure" category featured Are Red Heads Supernatural, a summer seasonal at 6% ABV inspired by Tom Robbins' "Still Life with Woodpecker" and Autumn Stars Pumpkin Belgian Farmhouse Ale, a fall seasonal at 8.3% ABV with inspiration from Richard Adams' "Watership Down."
The last category is "Fantasy and Science Fiction," which showcased This is Not an Exit. A Belgian Dark Strong Ale of 8.3% ABV, Exit is made with roasted Hatch Chilis and is dedicated to Bret Easton Ellis' "American Pyscho." Somewhere Around Barstow (7.8% ABV) is an experimental IPA made with cantaloupe and grapefruit that takes its inspiration from "Fear and Loathing in Las Vegas" by Hunter S. Thompson.
Talk about a novel concept.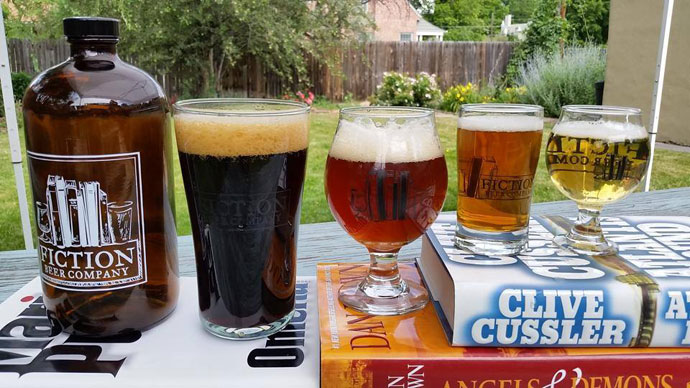 Fiction plans to rotate many beers through these categories, so the menu should have plenty of twists. Also noticeable from the taproom were four barrels—the genesis of a barrel-aging program.
Were Fiction's taproom a book, its size wouldn't exactly be compared to a tome that begins with "Who is John Galt?" However, it is a comfortable space situated on the lower level of a newish apartment complex at the corner of Pontiac and Colfax in the South Park Hill neighborhood. Its conspicuous, convenient location should allow for plenty of neighborhood foot traffic and its share of Colfax crawlers. A patio and garage door will contribute to an open-air feeling on warm days, so a visit won't resemble a trip to a fortified compound. Books abound—the bar itself is made of hardcovers whose bindings have been broken for the last time. A couple loveseats in the middle of the room provide a homey feel and sit within arm's reach of the laden bookshelves.
Fiction's beers are available for purchase on draft for $5 per pint. Growlers come in 32-, 40- and 64-oz. sizes. Snacks cost less than a comic book and food trucks park outside routinely. And of course, there's the book exchange. Began by a book worm, beer nerd and an investor group, Fiction Beer Company is still finding its way, but it will be interesting to see how the rest of its plot unfolds.
Fiction Beer Company, 7101 E. Colfax Ave., 720-456-7163
All photos via Fiction Beer Company
Tags:
Beer
Recent Articles

Feedback
How are we doing? Tell us what you like or don't like and how we can improve. We would love to hear your thoughts!