Fado Brings Ireland to the Mile High City
F'doe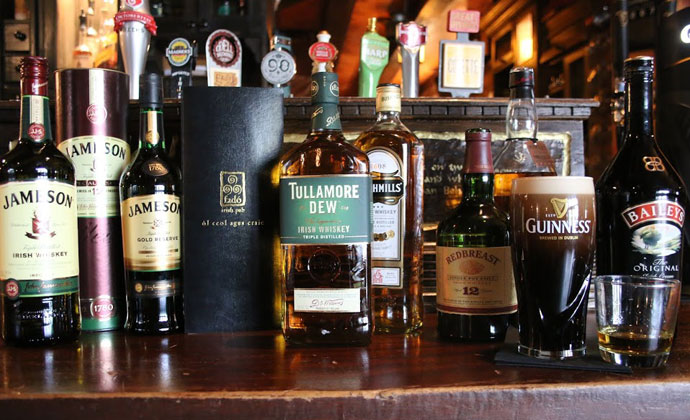 If you're looking for a true Irish drinking experience, you don't have to cross an ocean. Fado Irish Pub in LoDo has been serving Irish beverages for over a decade now. If beer or whiskey is your poison, you'll find an eclectic mix of Old World and New at Fado.
First, the bar is pronounced f'doe. It is a Celtic term that means 'long ago' and is often used to begin stories, much like we use 'once upon a time.' Something else the bar is famous for is that the interior furnishings, floors and walls were imported from Ireland giving the bar that Old World flavor with dark woods, rich fabrics and even cobble stone floors. It's a little slice of Ireland right here in Denver.
Bar Manager Wendi Ruggiero has been at Fado for nine years now and says it's an easy-going bar.
"There are no mixologists here, just bartenders," she says. "A shot and a beer are what we do best." The bar even pours whiskey like bars in Ireland using a wall dispenser. The bottles hang upside down in the dispenser and a tap drops out an exact shot, no more, no less.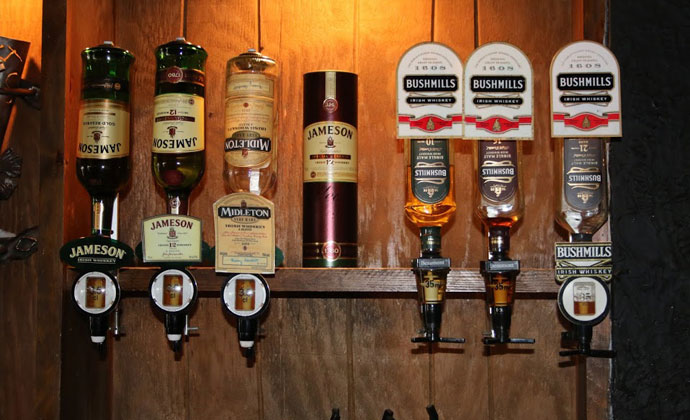 "We've had bartenders from Ireland work here and it's quite funny because they don't know how to make cocktails," Wendi mentions. "They've never had to pour!"
Obviously, the bar features Guinness front and center. The triangular-shaped bar even has three special Guinness-only taps so the beer is always at the proper temperature. The bar also pours such British Isle favorites as Bass, Harp, Newcastle, and Smithwick's as well as Strongbow Cider from England and Mangers Cider from Ireland. The bar has 28 varieties of aged Scotch and 30 Irish whiskeys alongside American Bourbons and one Rye.
However, Colorado hasn't been left out of the equation. Blue Moon, Great Divide and Odell beers are available and Stella Atrois from Belgium is very popular here. A unique way to enjoy all these beers is to try one the bar's Guinness mixes. They are:
HALF AND HALF - Harp Lager
BLACKSMITH - Smithwick's Ale
BLACK & BLACK - a splash of sweet black currant
BLACK & BLUE - Blue Moon
BLACK CASTLE - Newcastle
BLACK AND TAN - Bass
BLACK AND GOLD - Stella
BLACK VELVET - Strongbow Cider
There is also Fado Irish Coffee with Bushmills Whiskey and brown sugar in hot coffee topped with cream and cinnamon swirls and something called a Pickleback, which is a shot of Tullamore Dew Whiskey with a cold pickle brine chaser.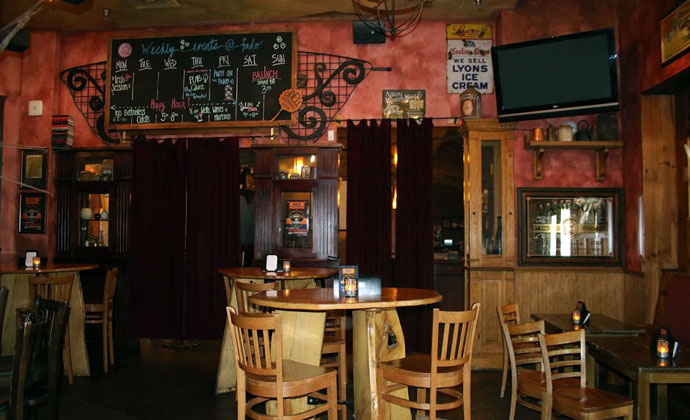 Happy hour at Fado is Monday through Friday from 5 to 8 PM and features some delicious pint snacks such as mini-Fish and Chips and Guinness BBQ Wings. The Chips and Sauces plate features thin or thick cut chips (fries) with a choice of two of these four house-made sauces; Guinness mayo, Guinness BBQ, Harp Lager Cheese Sauce and Marie Rose dressing made with brandy, cayenne and mayonnaise. Wash down the happy hour food with $10 bottomless glasses of Odell Easy Street Wheat or 90 Schilling. All pint snacks are $5 during happy hour. Fado Irish Pub is located at 1735 19th Street, (20th and Wynkoop) in LoDo across the street from Coors Field.
Fado, 1735 19th St.; 303-297-0066
Tags:
Beer
,
Bourbon
,
Food
,
Outdoor Seating
,
Scotch
,
Whiskey
Recent Articles

Feedback
How are we doing? Tell us what you like or don't like and how we can improve. We would love to hear your thoughts!