Beer Review: Crooked Stave Artisan Beer Project's Surette
Time to get sour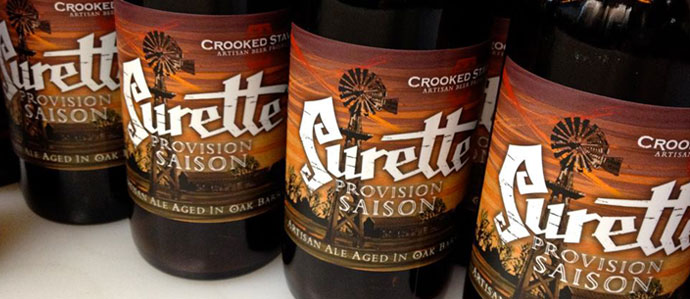 There's a legion of craft beer lovers who have a sour taste in their mouth. Not from, say, a failed relationship, but from sour beers—a category that includes mainly Belgian styles such as saisons, guezes and lambics as well as a few non-Belgian styles such as a Berliner weisse. Sour beers have grown in popularity and for some, they've even become the ale equivalent of serial monogamy—fans just can't get enough of the sour.
Here in Colorado, sour beer production was mainly dominated by larger craft breweries, but a small interloper—Crooked Stave Artisan Beer Project in Denver— has garnered almost Casanova-like status amongst sour fans the nation over. Head brewer Chad Yakobson makes many different beers throughout the year, using his microbiology degrees to help him manipulate bacteria, including brettanomyces and lactobacillus, in what seems like a constant line of experimentation. One of the most easily obtainable of his beers is Surette—a farmhouse ale aged in wood barrels.
My first impression of Surette came from its appearance in the glass—a pale burnt orange hue with moderate cloudiness. My second impression came from a sensation I could only describe as liquid tetanus. Maybe it was the hour of day (around 11 AM on a Saturday), but when Surette hit my mouth, my jaw muscles seized and froze my mandible into a locked position.
So yeah, it's tart.
However, after the initial shock wore off and I acquired the taste, Surette became very enjoyable. Any craft beer drinker can easily be overwhelmed by malt and hops flavors from other breweries, so a nice sour ale can be a welcome change of pace. As I made my way through my snifter, Surette's acidic nature grew on me. Flavors of lime and lemon eventually came through and I did detect a subtle biscuity-ness from the malt here and there.
Surette (6.2% ABV) has a finish that hangs out a while, but it could easily act as a palate cleanser and pair well with richly spiced pot roasts, steak au poivre and eisbein (pork shank). Surette is available on tap at the brewery and in bottles at liquor stores in Denver and select markets around the country.
Photo via Crooked Stave
Tags:
Beer
Recent Articles

Feedback
How are we doing? Tell us what you like or don't like and how we can improve. We would love to hear your thoughts!