The Neighborhood Catches Up with the Highland Tavern
Tots and 'tails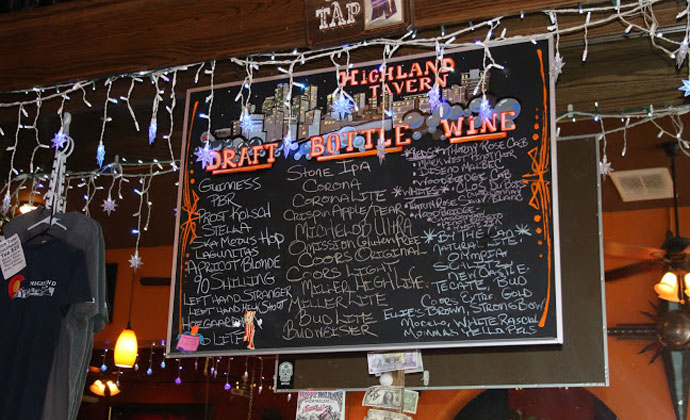 When the Highland Tavern opened in 2006, it was on the edge of an area of Denver called the Highlands. The three guys who run the Tavern, Chef Jeremy McMinn and owners Brian Sommatino and Andy Stutz, wanted to take the finest ingredients Denver had to offer and use them in traditional scratch-made pub food items like sandwiches, burgers and wings. They also like beer, so the guys put in 13 taps. At that time the neighborhood was, shall we say, sketchy? However, these guys had a vision and they saw something in the neighborhood.
Today, the Highlands area north of downtown Denver is one of the city's most desirable places to live. Home prices are up and art galleries, local theaters and funky eateries are on every corner. All this time, the Highland Tavern kept true to its roots as a relaxed neighborhood bar, a place to hangout, play some ping pong and most importantly eat and drink.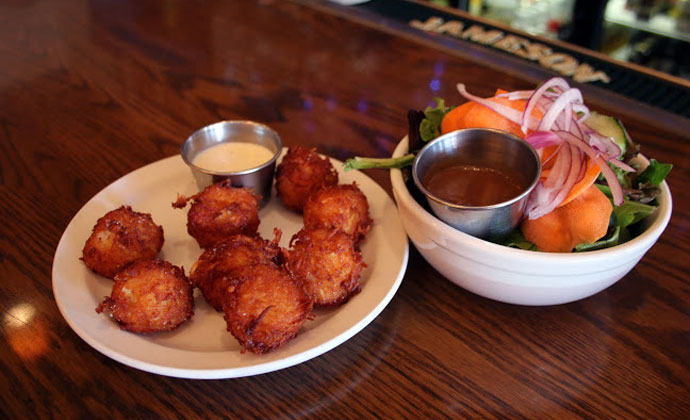 Something the Highland Tavern is famous for are the tator tots, called Tavern Tots. These little puffs of fried goodness were even featured on Diners, Drive-ins and Dives with Guy Fieri in 2013. They make the tots in house filled with all kinds of spices and fried to crunchy perfection. They are to die for. However, one needs something to wash them down. That's where the Tavern's cocktails come in handy.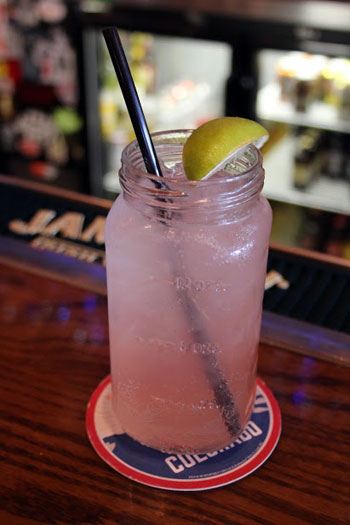 The cocktails are true dive drinks, as in strong, tall and full of flavor. The bar's most popular drink is The Pink Drink. The light fluffy name is deceptive, however, as this is one strong pour, made with Deep Eddy Ruby Red Grapefruit Vodka, soda and fresh lime. The drink is what we here at Drink Denver like to call a "patio pounder," good after a long day at work or nice and cool on a hot afternoon. This citrus-scented drink is cloudy, pink and tastes like lime and grapefruit soda with a touch of vodka bite on the finish. Guys, don't avoid this drink because it's pink. It goes down sneaky good.
The Tavern's Rum Runner brings the decadence of the Caribbean to Denver. For a second we thought we were stepping off the ferry boat in the Virgin Islands after tasting this drink. The drink smells like pineapples and oranges and looks like a sunset. One or two glasses of this tropical fruitiness will have you convinced that Denver has palm trees.
The bar prides itself on its beer selection from the 13 taps mentioned before to the almost 30 bottles and cans offered on the menu. As Bartender Brian says, the Highland Tavern is not a "beer snob" bar. You'll find people drinking $2 cans of Natural Light next to others with drafts of Hoegaarden. Brian says that several nearby brewmasters, we won't say any names, like to drop by to get away from their highly crafted beers.
"Sometimes master brewers come here for a PBR," He says with a grin. "It's a change of pace for them."
Happy hour at the Highland Tavern is from 4 to 7 PM and offers $2.50 domestic bottles, $3 wells, $4 house wines and $1 off all draft beers. There are also daily late night drink specials after 9 PM. This winter the Highland Tavern, which is housed in a brick building built back in 1901, is undergoing some construction, enlarging the restrooms (Yay!!) and adding some extra seating space. Now there will be even more Tavern to love.
Photos by Carrie Dow
Tags:
Beer
,
Cocktails
,
Food
,
Pool Tables
,
Rum
Recent Articles

Feedback
How are we doing? Tell us what you like or don't like and how we can improve. We would love to hear your thoughts!