Cold Ones from the Cold War: A Look at Comrade Brewing Company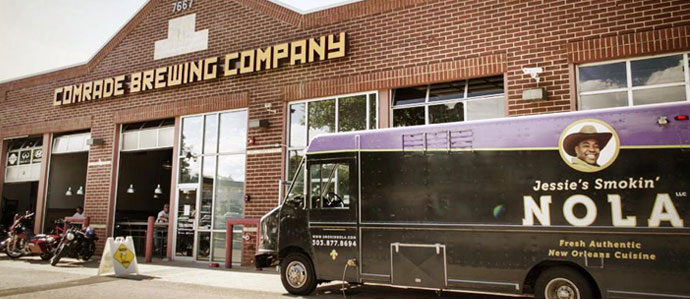 While Vladimir Putin continues to drive Russia's world standing into the ground because of his crazy desire to reconstruct the Soviet Union, the Comrade Brewing Company—a new brewery in Denver with a Soviet theme—has world-weary Coloradans forgetting the megalomaniacal Russian president's insolence like they've forgotten Yakov Smirnoff.
Comrade, which opened in May, has garnered a fast-growing audience, mainly with a great IPA (7.7% ABV) called Superpower—a favorite style of most red-blooded, American flag-waving Denver beer geeks. But there's much more—a cast of year-round brews are contained in Comrade's "Rank and File" category including Yellow Card Blonde Ale (5.8% ABV), DEFCON Red (an Irish Red Ale at 5.2% ABV) and Koffee Kreem Stout (4.8% ABV), a cream stout that's made with Mile High-roasted coffees from local legend Kaladi Bros.
Comrade's "Visiting Brass" menu—an eclectic mix of guest taps, collaborations and seasonals—serves to round out the offerings. A recent visit featured beer from an award-winning brewer at the Melvin/Thai Me Up Brewing Company of Jackson Hole, Wyo., and a collaboration with two local brewers well known for making German styles. Comrade's seasonals included Eisenhower American Strong Ale, Northwest Coast Wheat and Enhanced Interrogation Pale Ale.
At Comrade, grab your beers from one of two bars in a spacious room filled with concrete floors far more inviting than anything you'd find in 1970s-era Moscow. The taproom and brewery, actually, were surprisingly sophisticated for such a new beer maker, which occupies two spaces in an older strip mall off Iliff Avenue behind a Jiffy Lube.
Pours are measured out in "proper pints," meaning you'll get 16 full ounces of liquid—not 14 oz. and a bunch of foam. The room is BYO food, but they do feature a food truck throughout the week. Growlers are both filled and for sale. The wifi is free. A taster tray runs $5 and pints are $6. Comrade is AWOL (closed) on Mondays and Tuesdays, but is open from 12–9:30 PM Wednesdays and Thursdays, until 10 PM Fridays and Saturdays and about 9 PM on Sundays. Overall, don't let any iron curtains keep you from checking out Comrade Brewing.
Comrade Brewing Company; 7667 E. Iliff Ave.; 720-748-0700
Photo via Comrade Brewing
Tags:
Beer
,
Food
Recent Articles

Feedback
How are we doing? Tell us what you like or don't like and how we can improve. We would love to hear your thoughts!