Get Much More Than a Nickel's Worth at The Nickel's Barrel Bar
New restaurant and bar in Hotel Teatro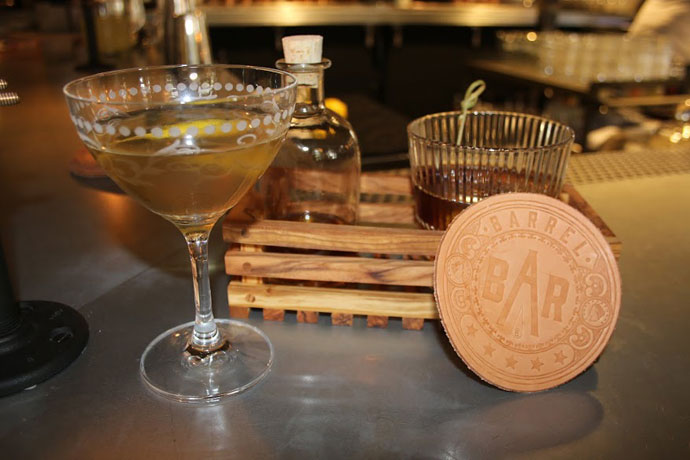 Denver's historic Hotel Teatro just opened a shiny new restaurant and hotel bar in July. Called The Barrel Bar at The Nickel, this brand new bar has a rich and deep history to go along with the hotel. The Nickel's motto is, "It's much more fun to eat at a bar than drink in a restaurant." That's where The Barrel Bar comes in.
Located on the corner of 14th and Arapahoe in the Theatre District, this beautiful white marble bar shines much like a new nickel in your pocket. The bar has both modern and rustic touches and an old fashioned take on the cocktail menu. Bar Manager Bill Endress specially selected the spirits that go into this mostly local menu. He also put a little spin on crafting and serving the drinks.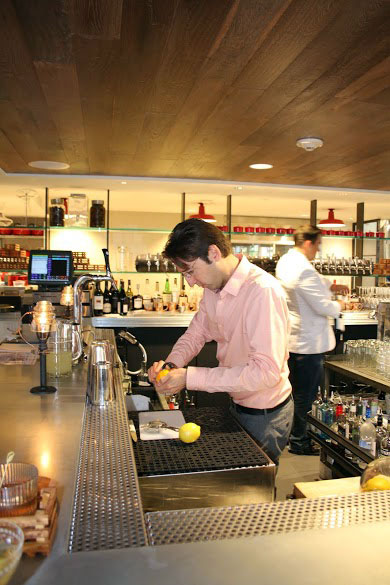 The bar has 24 taps, but only 14 are dedicated to Colorado's beloved craft beers. Four taps serve wines from Infinite Monkey Theorem and the remaining six taps are dedicated to the bars classic cocktails. Endress says he wants the cocktails to be "client focused" and so he put the cocktails on tap and he can add fresh ingredients to these drinks as the seasons change. In another unique twist, he also barrel-ages the cocktails for about three weeks in 13L batches to smooth out the different flavors.
"It really mellows [the ingredients] versus a fresh mix and blends them together for a more even tone," he says. It also guarantees consistency from drink to drink to drink.
Considered the signature cocktail of The Barrel Bar, the Standard Rock Manhattan mixes Leopold Bros. Whiskey, Doulin Rouge Vermouth and Hair of the Dog Bitters. It has a light amber color and a tea-like scent with a hint of cherries from the garnish. This well rounded cocktail is a bit smoky with more hints of cherry and a slight bite at the finish. Because of the barrel aging, even as the drink's large ice cube melts, the Manhattan holds its flavor throughout.
Also barrel-aged, The Negroni features Jackelope Gin, Doulin Rouge Vermouth, Compari and burnt orange garnish. It has a sweet citrusy scent with a reddish-orange color. The taste is sweet and syrupy, almost candy-like, with a citrus finish. Goes down easy.
For something sassy, La Perla features Peach Street D'Agave spirit, Lustau Manzanilla Sherry, and topped with a splash of Peach Street Pear Brandy. La Perla is served in a frosted saucer glass. This cocktail has notes of almond and lemon with a little smoke. The agave spirit and sherry are also barrel aged with the pear brandy added after the cocktail is poured into the glass. The brandy provides a little zing and sweetens the cocktails with each sip.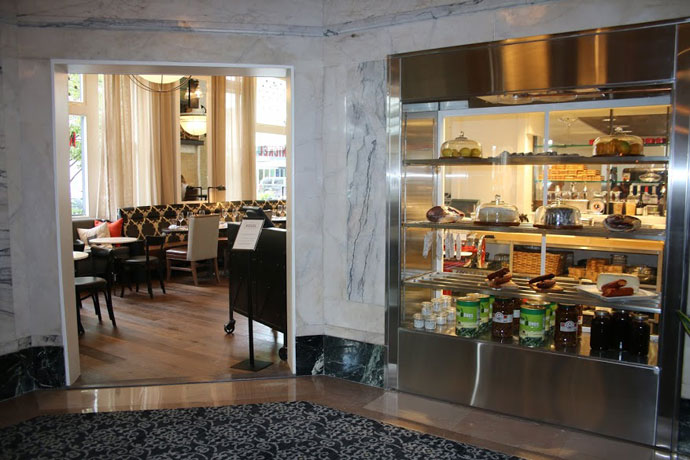 The Nickel got its name during the remodel when construction crews in the basement unearthed an old vault full of nickels dating back to the building's first use as Denver's tramway station in 1911. The cost of riding the tram back then: one nickel. Perhaps the barrel-aged cocktails serve as the inspiration for the moniker The Barrel Bar. By enjoying the restaurant and bar, guests can see how Denver changed from a Wild West town to a refined metropolis.
Bonus treat: Whether you are a traveler breezing through town or a local with a love of beer, Hotel Teatro is currently offering a Brewery-by-Bike Experience package for hotel guests. The package includes a beer-lover's welcome amenity (custom charcuterie and cheese plate paired with two bottles of local craft beer), a curated map of Denver's craft breweries filled with insider tips, a beautiful blue bike to ride and "hair of the dog" room service breakfast (choice of Michelada or Bloody Ceaser and a veggie or meat lovers omelet). Package starts at $261 per night based on availability.
The Nickel; 1100 14th St.; 303-228-1100
Photos by Carrie Dow
Tags:
Beer
,
Cocktails
,
Dinner
,
Spirits
,
Whiskey
,
Wine
Recent Articles

Feedback
How are we doing? Tell us what you like or don't like and how we can improve. We would love to hear your thoughts!