Get Ready for a Summer Denver Restaurant Week, Aug 23-29
Round #2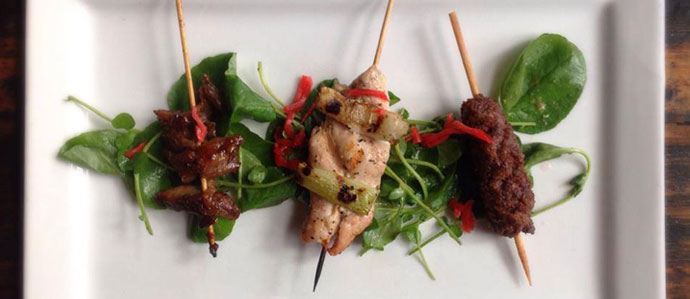 When something is good, why not have more of it? Denver Restaurant Week is back! While the 2013 event featured two delicious weeks of dining, this year, the city and metro area restaurants decided to split up the event for even more fun in the summer. This summer's event is from August 23 to 29.
Some other changes happening include the first price increase in nine years. Instead of $52.80 per two, the cost is now $30 per person. The one thing that hasn't changed is that all restaurants will offer multi-course meals, some including wine or other drinks. Denver Restaurant Week is a great way to sample that new bistro or smoke house that you've been craving or perhaps visit an old haunt you haven't been to in a while. Here is just a sample what you'll find around town:
1515 Restaurant: This Market Street restaurant has an expansive menu for restaurant week. Choices include crab cakes, Alaskan Cod, New York Strip and Kurobuta Pork. The expansive menu can be paired with a glass of wine for each course for only $15 per person. (1515 Market St.; 303-571-0011)
ACE Eat Serve: This popular eatery with an emphasis on Asian cuisine will be serving a Pupu Platter with a choice of Mapo Tofu, Mongolian Beef and Chicken Lo Mein. All meals will include a choice of these drinks: Vesta Cabernet, Vesta Chardonnay, Sapporo Lager, Mission Orange Highball or any Ace house-made soda. (501 E. 17th Ave.; 303-800-7705)
Ernie's Bar & Pizza: Ernie's is well-known for excellent pizza pies and also offers a gluten-free crust. For DRW, the bar is partnering with Grimm Brothers Brewing and Fort Collins Brewery so each meal comes with a choice of two beers from either of these fine places. For those who don't drink beer, a glass of wine from Ernie's wine menu is also available. (2915 W. 44th Ave.; 303-955-5580)
The Fort: You haven't been to Denver if you haven't been to The Fort just outside the city limits in Morrison. Specializing in cuisine of the American West, The Fort is serving a choice of Buffalo Filet, Buffalo Sirloin or two Teriyaki marinated Quail. DRW guests will also receive special pricing on select wines and Fort signature cocktails. (19192 Hwy 8, Morrison; 303-697-4771)
Humboldt: Humboldt will be serving a delicious selection of farm and fish dishes for DRW. Choices include Steak Diane, Boulder Natural Chicken, Scottish Salmon and Ratatouille Risotto. The restaurant is also adding on a glass of red wine for $8 or a glass of white wine for $7. Guests can also order specially selected bottles for $28. (1700 Humboldt St.; 303-813-1700)
Lo Loma: One of Denver's most popular Mexican restaurants, La Loma is offering a choice of Pork Tacos Adovada, Anniversary Plate, Sopes or Sizzling Fajitas for DRW. Don't forget Tres Leches Cake or Flan for dessert. The bar offers a choice of the Classic Lo Loma Margarita, La Margarita Fresca or a Mojito with every meal. (2527 W. 26th Ave.; 303-433-8300)
Satchel's on 6th: Satchel's has a large menu selection for DRW. Too many choices to list here, in fact. However, what caught our eye was the Beer Float on the dessert course menu for an extra $5. (1710 E. 6th Ave.; 303-399-2560)
Southern Hospitality Restaurant & Bar: This smokehouse owned by Justin Timberlake is serving southern-style dishes for DRW like Cajun Shrimp, Smoke Salmon and Memphis Mud Pie. DRW guests will also receive a choice of a Colorado draft beer, house wine or whiskey or a Moscow Mule with each meal. (1433 17th St.; 303-298-5398)
Ted's Montana Grill: Over in Larimer Square, Ted's (as in Ted Turner) will be serving variety of delectable meats for the carnivore such as Beef Delmonico Ribeye, Cedar Plank Salmon or the Ted's Petite Bison Filet. For the wine lover, Ted's will also have specially selected wines for only $6 a glass or $20 a bottle. (1401 Larimer St.; 303-893-0654)
Vesta Dipping Grill: This fun and tasty eatery is serving Carolina BBQ Grilled Pork, Smoke Paprika Mahi Mahi or Korean BBQ Tofu for DRW. The restaurant will add specially selected course wine pairings for $15 per person. (1822 Blake St., Ste. D, 303-296-1970)
The Weber: This steakhouse in Cherry Creek will offer a choice of grilled beef tenderloin or grilled salmon as the main entrée for DRW. A glass of wine is complimentary with each entrée. (233 Clayton St.; 303-377-8577)
Photo via Vesta Dipping Grill
Tags:
Beer
,
Cocktails
,
Dinner
,
Wine
Recent Articles

Feedback
How are we doing? Tell us what you like or don't like and how we can improve. We would love to hear your thoughts!