Beer Review: Surly Furious, the Geographical Center of the East Coast vs. West Coast IPA Debate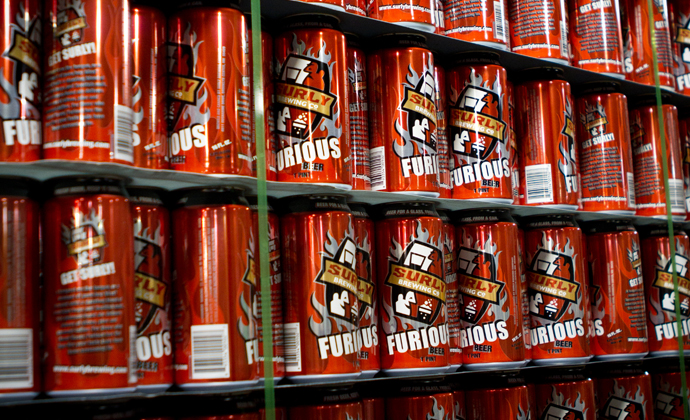 Every year in the dead of winter, I risk my life driving roads of ice from Bemidji, Minn., to Duluth in a maniacal pursuit to obtain some great beer because of the breweries' limited distribution. One of those brews is Surly Furious, which isn't available in some of the state's more remote areas. If you're thinking of a "Fargo" TV series joke right now—take off, hoser. No one in Northern Minnesota talks like the show's characters or says, "Ah, jeez," in place of a perfectly good curse word. Or six.
The reason why I take my life into my own hands is that Furious happens to be one of the hoppiest beers around—firmly plopping the Land of Sky-Blue Waters inconveniently into the geographical center of the East Coast vs. West Coast IPA debate with a blast of bitterness that registers 99 IBUs. When I first tasted Furious, I was struck by pronounced, almost overpowering, flavors of pine and citrus—it was almost as if I'd seen a man jamming a human leg into a woodchipper. While Furious is hoppy, it somehow manages a robust backbone of caramelized sugar, no doubt caused by a Mississippi River-sized dose of crystal and roasted malts, which also helps explain its crimson-brown color.
At 6.2 percent ABV, Furious isn't any more of a session beer than Paul Bunyan was a seamstress and Babe the Blue Ox was a lap dog. Offered year round from Surly's Brooklyn Center, Minn., brewery, Furious can be paired with any number of hearty dishes, though I like it with wild rice and fried fish. Perhaps the best pairing I've found so far, though, is with a 12-inch hole drilled into a frozen lake and a bitchy Northern pike.
Right now, Furious is available in most of the Land of 10,000 Lakes and a couple stores in Chicago in four-packs of 16-oz. cans and on draft. There are still plenty of drinkers in Minnesota who would avoid this beer in favor of a bad batch of Budweiser, but a four-pack on a Sunday will leave you anything but furious. (Unless you happen to be watching the Purple and Gold.) Until recently, Surly's output has been limited by some antiquated liquor laws in the Gopher State, which supplied Rep. Andrew Volstead to Congress and thus Prohibition. But after some crafty politicking in the Minnesota Legislature, Surly can now legally move forward with a huge new destination brewery. Hopefully, capacity—and the popularity of Furious and other great Surly beers—will grow like rhubarb in summer.
Photo: Flickr user motorhed
Tags:
Beer
Recent Articles

Feedback
How are we doing? Tell us what you like or don't like and how we can improve. We would love to hear your thoughts!