Oysters and Cocktails Come Together at Humboldt
Bivalves of goodness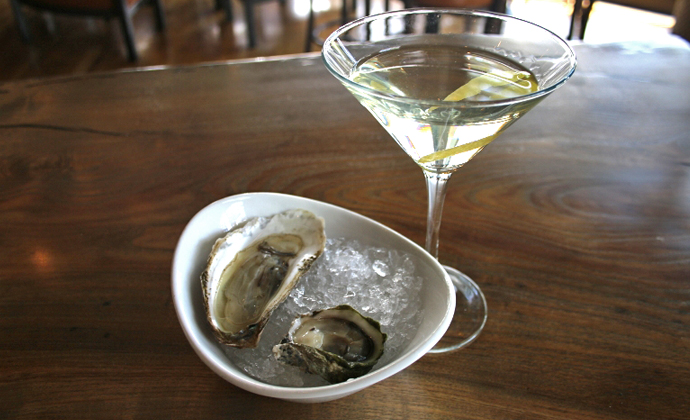 The recently opened Humboldt: Farm, Fish and Wine restaurant over in City Park West is providing something not easy to find in Denver, fresh oysters. The restaurant has oysters flown in daily from both the East and West Coasts and Denver fans are sucking them up, literally. The bar has developed a cocktail menu designed to go with all these delicious morsels and the many other fresh eats at the restaurant.
The East Coast oysters come from Washburn Island Oysters in Massachusetts. Washburn is an oyster farm and they harvest a special oyster called the Humboldt's Petite just for the restaurant. These tiny bivalves of goodness tend to get gobbled quickly. Humboldt's premium oysters are the Washburn Island Signature Oysters. The restaurant's West Coast mollusks are Kumamoto Oysters, originally found in Japan, but farmed in Washington State, and are the restaurant's most popular so they tend to run out quickly, but that's OK because there will be more the next day. Kumamoto oysters are meatier and sweet with a buttery texture, while the East Coast oysters are smaller and slightly briny. Humboldt has a few other types of oysters that they rotate on the menu depending on availability.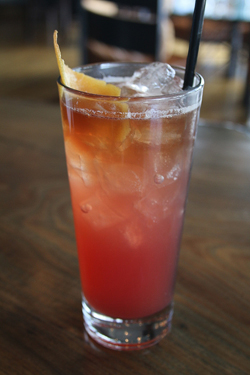 The bar has created a special cocktail to go with this saline sensitivity. Called The Union (pictured above), the cocktail features Pearl Gin and lemon bitters along with a special spray of Islay Scotch on the rim. By itself, the drink is tart and tangy and both the lemon and the gin have a bit of a bite. This might not be a cocktail to sip by itself. However, suck down a tasty oyster with mignonette (vinegar and shallots) and then take sip of The Union and the cocktail magically transforms into a savory, silky mélange. The saltiness of the oysters and the bitterness of the cocktail's lemon blend together to smooth out both, making for a delicious paring.
For those with a sweet tooth, try the Clover Club made with Broker's Gin, lemon, St. George Raspberry Liqueur and fluffed up with egg whites. Served in a martini glass, the Clover Club has a light foamy texture and the taste is fruity, like a raspberry Jolly Rancher.
For those looking for something in between, the Lower Cape (pictured right) will soon be a summertime favorite made with aged Barcardi rum, Leopold Bros. Cranberry Liquor, grapefruit juice, honey and a dark rum float. This cocktail captures summer with its lemon berry scent. The rum then punches up the summertime taste with a tropical flair. The sweetness of the honey comes through at the finish.
The Appleseed uses Bulleit Bourbon, Laird's AppleJack, Ramazotti Amaro, lemon and honey. This cocktail is all over the place with Kentucky Bourbon, New England hard cider and Italian Amaro. There is a scent of lemon tea at the top of the glass, but with some smoke. The taste is a mix of smoke and cider with the honey sweetening things up a bit. All cocktails were created by Allison Widdecombe of William and Graham and expertly mixed by friendly bartenders Ava and Dallas.
While the oysters take front and center on the plate, the Farm in Humboldt is just as important. Consider the Humboldt Burger made with Crystal River beer-bacon blended beef, crispy onion, Tillamook cheddar, onion jam and Kennebec fries. Wash it down with a can of the bar's large selection of craft beers. In an effort to be sustainable and responsible, the restaurant only serves beers in easy to recycle cans and bottles. All cans are only $4.75 while bottles start at $4.25. The Humboldt Burger is only $8 during happy hour.
Happy Hour at Humboldt is daily from 3 to 6 PM and features $1 Buck a Shuck oysters and $2 Signature Washburn Island Oysters. Select cans and glasses of wine are only $4 and select cocktails are $6.
Photos: Carrie Dow
Tags:
Beer
,
Bourbon
,
Cocktails
,
Food
,
Outdoor Seating
,
Spirits
,
Wine
Recent Articles

Feedback
How are we doing? Tell us what you like or don't like and how we can improve. We would love to hear your thoughts!