Regis University to Begin Brewing Certificate Program this August
What would the Monks brew?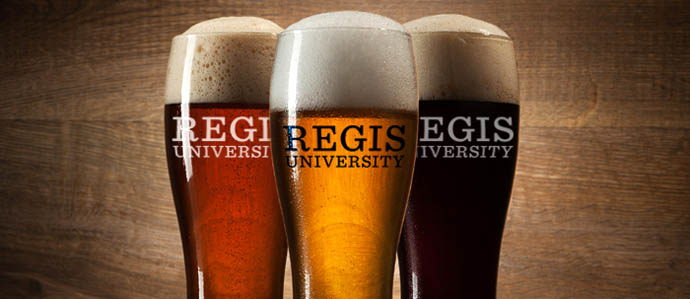 Regis University in Denver will offer its first Applied Craft Brewing Certificate classes this August and to celebrate, Regis held a mini-beer tasting and movie screening to invite people from the local beer industry as well as potential students to learn more.
On May 28, beer supporters around the metro area came to Regis to learn more about the university's first class of beer brewing. The classes will teach students not only how to brew beer, but also the business side of brewing. Regis joins Colorado State University in Fort Collins and Metropolitan State University of Denver in offering beer brewing programs for Colorado's growing craft industry.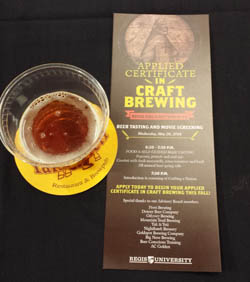 Held at Claver Hall on the northwest side of the campus, the university pulled out the red carpet and popcorn for this movie event. Inside three fabulous local breweries, Odyssey Beewerks, Prost and Yak & Yeti Brewpub offered up some of city's best beers. Odyssey brought the Heliocentric Hefeweizen and the Psycho Penguin Vanilla Porter, Prost offered the Maibock and IPA while Yak & Yeti brought the Rupee Red and the Yakity Yak Don't Talk Bock. Regis also had a great spread of finger foods to help wash down all that beer. During the beer tasting reception guests were encouraged to sign up for the university's first beer brewing classes on a row of computers. After the reception everyone was ushered into the main hall to view the film Crafting a Nation.
Katherine Klier, Associate Professor of Biology, started the presentation by telling the audience about Regis' new beer brewing program. The program would fall under the biology department umbrella and include biology and chemistry classes on both the science and the art of brewing beer followed by several business classes on how to run a brewery. Klier said that an Advisory Board panel consisting of several local breweries, including Prost, Denver Beer Company, Odyssey, Mountain Toad, Yak & Yeti, Nighthawk Goldspot, Big Nose, and AC Golden, was organized to help the university create its program. The program was designed for the Colorado beer industry and as that industry changes, the Advisory Panel will consult with Regis to make any changes or updates as the program evolves.
Classes will be held on Tuesday nights from 6 to 10 PM to accommodate those who work during the day. The program would run from August to May and end with an internship at a local brewery. According to Klier the student can choose what brewery they wanted to work for and Regis will help make that happen. After the internship, students would receive their applied certificate.
Tom Kolicko, the producer and director of the film Crafting a Nation, gave an introduction on why the film was so important to him and some of the difficulties of making the film. He compared it to opening a craft brewery because sometimes the money wasn't there or the people he needed weren't available. However, his inspiration, Matt Cutter of Upslope Brewing, helped him get through it. If Kolicko needed help raising money for the film, Cutter would tell him what he did to fund the brewery. It gave Kolicko a new respect for the people he was filming.
Classes for the Regis Brewing Program include Biology of Brewing, Chemistry of Brewing, and Business of Craft Brewing. Students must be 21 years of age by the beginning of the first program course to apply. Prerequisites include one semester of college level biology and chemistry and a 2.5 college grade point average. There is also a criminal background check. To attend this coming session, students can sign up online to begin taking classes in August and the $40 application fee will be waived if received prior to June 15. Class size is limited so sign up today. The program will cost $475 per semester hour. At 16 semester hours the total cost is $7,600 and the program does qualify for financial aid. For those who are interested in the new craft brewing certificate classes at Regis University, visit the school's website.
Tags:
Beer
,
Education
Recent Articles

Feedback
How are we doing? Tell us what you like or don't like and how we can improve. We would love to hear your thoughts!