Drink What's New on Denver's Summer Cocktail Menus
Summertime and the living is easy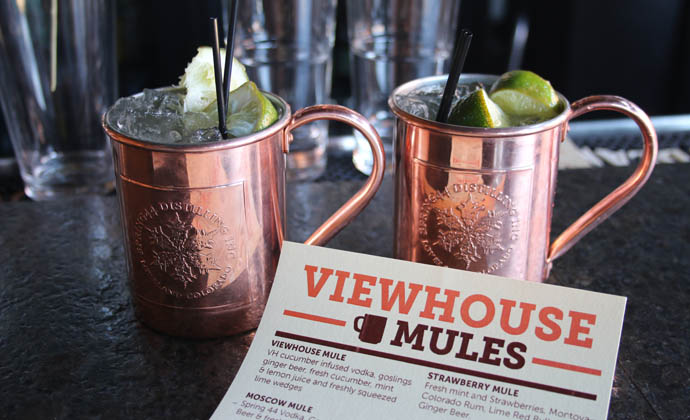 Patio drinking season is here! With a change in the weather (Hail, hail, go away!) Denver bars and restaurants are rearranging the drink menus for the long warm days of summer. Here is just a small sampling of what will be found in Denver cocktail glasses. It also happens that all of these places have inviting patios to drink on as well. Coincidence? We don't think so.
Central Smash
The Central Smash from the Central Bistro in the Highlands brings the bar's love of whiskey to a summertime cocktail. The drink features Old Forester Bourbon, Aperol, cherry bitters, tarragon and orange. The cocktail has a fruity sweet taste with the tart finish of smoke and cherry. Enjoy on Central's patio overlooking the Denver skyline. (1691 Central St.; 303-477-4582)
Sparklers
Over in Cherry Creek, Cherry is serving up some Sparklers this summer. Try the Citrus Berry Sparkler with Grey Goose Le Citron, blueberry-pomegranate juice, orange juice and M&R Rosé or the Pear Flower Sparkler with Grey Goose La Poire, St. Germain, lemon juice and M&R Rosé. If it gets too hot in the club, enjoy a sparkler out on the cool sofa-covered patio. (231 Milwaukee St.; 303-362-1145)
ViewHouse Mule
The ViewHouse next to Coors Field is showcasing the mule this summer with a mule menu that has six different mule cocktails. The ViewHouse Mule is made with the bar's own cucumber-infused vodka, Goslings Ginger Beer, fresh cucumber, mint and lemon juice. Sipping this drink is like tasting a blast of air conditioning on a hot summer day. Enjoy under one of the restaurant's new pergolas on the grass patio. (2015 Market St.; 720-204-4202)
The Harvey
Based on the Paloma, a summery cocktail made with tequila and grapefruit, P17 bar manager Charles Kollmann has put together this special drink for summer. The Harvey features muddled basil, tequila, grapefruit and house-made mint/lime syrup. The glass is tipped with special jalapeno sea salt, making the drink really pop with flavor. Enjoy on P17's summertime sidewalk patio. (1600 East 17th Ave.; 303-399-0988)
Lower Cape
Over at Humboldt, a new eatery near St. Joseph's Hospital, summertime features all sorts of crafted cocktails. However, our favorite patio pounder is the Lower Cape made with aged rum, cranberry liqueur, grapefruit juice and honey. This good looking drink will go down well with a platter of the restaurant's special oysters. (1700 Humboldt St.; 303-813-1700)
Heard It on the Grape Lime
What could be more summery than grapes? This unusual concoction features organic grapes muddled with lime and mixed with Herradura Blanco Tequila and St. Germain. Find this drink at Olive and Finch and enjoy with a salad or sandwich to cool down your lunch hour. (1552 E. 17th Ave.; 303-832-8663)
The Patio Pleaser
With a name like that, how could we resist? The Patio Pleaser is the house margarita at The Berkshire restaurant over in Stapleton and it is a refreshing citrus margarita made with tequila, triple sec, and a splash of lime, orange juice and lemonade. Sounds delish! (7352 E. 29th Ave.; 303-321-4010)
Tags:
Cocktails
,
Food
,
Outdoor Seating
Recent Articles

Feedback
How are we doing? Tell us what you like or don't like and how we can improve. We would love to hear your thoughts!