The Future Is Now at Former Future Brewing Company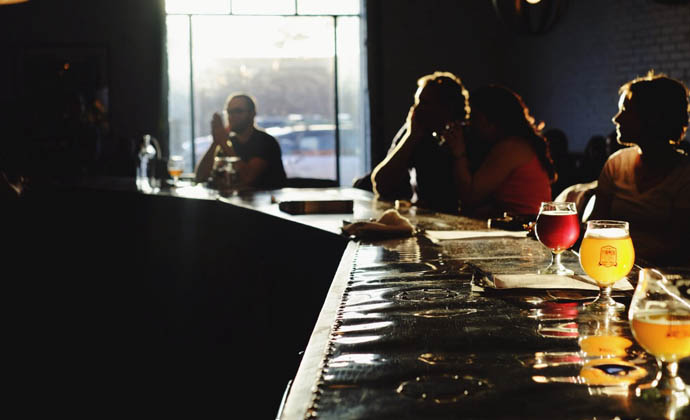 It's now a craft beer canard: Four ingredients, endless possibilities.
And in Denver, where craft breweries continue to multiply like bubbles in a well-carbonated ale, some new beer makers exploit the endless possibilities in order to set themselves apart from the rest of fermented crowd. That innovative spirit is a big reason why Denver beer geeks aren't ones to rest on their thirsty laurels, either.
Enter Former Future Brewing Company, where owner and head brewer James Howat's angle is to "take historical recipes, deconstruct them, and then place their own futuristic interpretation into them." Howat's take on brewing has resulted in some of the more distinctive beers on the Denver scene. It's no surprise, really, because Former Future's brewery and taproom—adorned with an aluminum-colored bar top made from a polished-down wing of a Cessna 210—opened in January amongst a bumper crop of new breweries.
Nestled in a gentrified stretch of Broadway south of Interstate 25, Former Future's modus operandi is to feature around eight brews at a time—a cast including five regular taps and several rotators.
One of the regular brews is Perplexity Farmhouse IPA, an India Pale Ale made with 100 percent Brettanomyces yeast. This beer, at 6.8 percent ABV, keeps the tap handles tilted as the brewery's biggest seller, according to the people pulling those taps. The brew mixes hoppy bitterness with a funky farmhouse flavor from the yeast that my server described simply as "barnyardy."
Former Future features two "pre-Prohibition" style ales: Prim and Proper Robust Porter at 6.5 percent ABV and a cream ale at 4.8 percent ABV that's as sessionable as any beer out there. Singularity Principle is an American pale ale made with just one type of malt—Maris Otter—and a single hops strain—Cascade. It's 5.4 percent ABV. The cast of regulars rounds out with Brimful, a "rustic dark saison" at 7.2 percent ABV.
Recently, Former Future's rotators included Ryetly So Rye ESB and Chock-a-Bock Doppelbock, but the roster changes constantly.
Former Future offers most of its beers in full pours, with short pours and taster sizes as well. The taproom itself is spacious with knowledgeable servers willing to answer the odd homebrewing question or sell you a pint glass. Parking can be a bit tough during busy times on weekends, but it shouldn't be much of a bother most other times. Former Future does hold a regular brunch on Sunday featuring plenty of food and a cocktail made with one of their beers.
Combine the brewery's best ingredients: tasty regular beers, adventurous rotators, a comfy taproom and the ability to put your glass down on a part of an airplane, and the outcome should be clear. A trip to this new brewery should be in any beer lover's near future.
Former Future Brewing Company,1290 South Broadway, www.formerfuturebrewingcompany.com
Photo: Bearded Runner/Tumblr
Tags:
Beer
,
Food
Recent Articles

Feedback
How are we doing? Tell us what you like or don't like and how we can improve. We would love to hear your thoughts!