Where to Drink for the Rockies Home Opener
Play ball!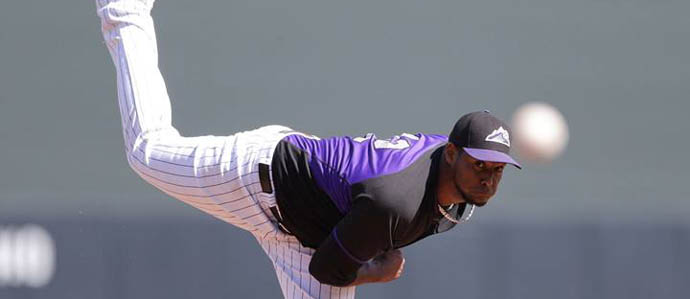 The Rockies home opener is Friday, April 4, at Coors Field. Game starts at 2:10 PM To get ready for another exciting baseball season, hit these ballpark bars before, during or after the game. Friday's game is against the Arizona Diamondbacks. Now get out there and play ball!

Blake Street Tavern (2401 Blake St. #1; 303-675-0505)
Located one block north of Coors Field in the Ballpark Neighborhood, the Blake Street Tavern has 80 free parking spaces and a rooftop patio with views of the stadium. They even have a game room for the kids.
Breckenridge Colorado Craft (2220 Blake St.; 303-297-3644)
Also in the Ballpark Neighborhood, this brewpub is across the street from Coors Field. This is the new name for the restaurant formerly known as Breckenridge Brewery & Pub. The brewery is moving to a new, larger location in Englewood, but the eatery is staying put. Try one of their five crafted brews such as the Avalanche or the Lucky U IPA before or after the game.
Denver ChopHouse & Brewery (1735 19th St. Ste. 100; 303-296-0800)
In the mood for something more refined on opening day? Denver ChopHouse & Brewery serves up steaks, chops, and seafood along with their handcrafted ales and small batch bourbons. Try the Pilsner, the Dortmunder Lager or the Dry Stout. The ChopHouse has hosted the Avalanche Stanley Cup and Broncos Super Bowl parties in the past. Here's to hoping they have a World Series party in their future.
Falling Rock Tap House (1919 Blake St.; 303-293-8338)
The Falling Rock Tap House is well known for its 80 different beers on tap and over 130 types of beer in bottles, but it is also only a half block from Coors Field with lots of outdoor seating.
Giggling Grizzly (1320 20th St.; 303-297-8300)
Located one and half blocks south of Coors Field, the Giggling Grizz is a great place before and after the game because happy hour is all night long on Fridays.
Lodo's Downtown (1946 Market St., 303-293-3555)
Legend has it that Lodo's Bar & Grill popularized the nickname given to Lower Downtown when it opened. Just one block away from the stadium, Lodo's rooftop patio is 5,000 sq. ft. with views of both Coors Field and the Rocky Mountains.
Jackson's (1520 20th St., 303-298-7625)
This bar and grill is right across the street from the stadium and even has its own parking lot. There is both a rooftop bar with a view of the stadium and an outdoor patio. Jackson's is so eager for baseball they have had a countdown clock on their website counting down the days since the end of last season.
Sports Column (1930 Blake St., 303-296-1930)
Recently named Sports Illustrated's Top 20 sports bars and picked as ESPN.com's Top 10 Baseball bars, the Sports Column is celebrating 19 baseball seasons in Lodo. The rooftop patio at the Sports Column has a great view of Coors Field's main entrance. Opening day will feature drink specials and door prizes.
The Tavern Downtown (1949 Market St.; 303-299-0100)
Also across the street from Coors Field, The Tavern has downtown's largest rooftop patio at 11,000 sq. ft. It also has water misters for those hot summer days. With both an indoor and outdoor space on the roof, there is plenty of room to meet your friends before the first pitch.
ViewHouse Eatery & Bar (2015 Market St.; 720-878-2015)
The ballpark's newest bar and grill is the ViewHouse next to Coors Field. Not only does this place have a huge rooftop patio overlooking the stadium, they also boast Lawn Bowling courts in their grass-covered backyard.
Photo: Colorado Rockies/Facebook
Tags:
Beer
,
Food
,
Spirits
,
Sports
Recent Articles

Feedback
How are we doing? Tell us what you like or don't like and how we can improve. We would love to hear your thoughts!