Beer Review: Russian River Brewing Co.'s Pliny the Elder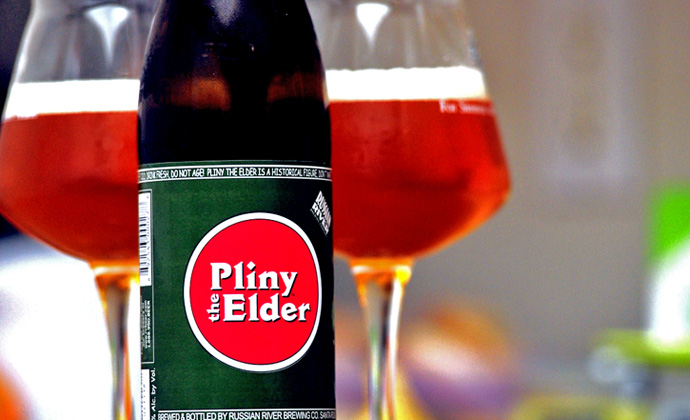 Pliny the Elder was an ancient writer, politician and naval commander who died during the violent eruption of Mt. Vesuvius. Nearly two millennia later, the polymath's name adorns a remarkable double IPA that is itself an eruption—an eruption of flavor that is.
But before taste, there's aroma—and the experience of an Elder begins long before lips touch glass. Its bouquet mixes citrus—namely grapefruit—and sugar plus a mild dankness. All of these players re-appear in the flavor profile, too, in addition to a profound but not overpowering blast of hops. Many double IPAs struggle to mix hops and malt—some are so bitter they hit taste buds with all the subtlety of a pyroclastic flow while others are so sweet they should come with a shot of insulin. Elder's grain bill, however, measures up to the abundance of hops admirably. In fact, Elder is surprisingly drinkable for a double IPA. A slight alcohol burn shows up as a pint warms, but most craft beer drinkers won't sip an Elder long enough for that to be a problem.
Like the residents of Pompeii, I was caught off guard. Instead of flying pumice balls, however, I was entreated to a distinct texture of resin, which hung out in my mouth long after the actual liquid began its descent into my gastro-intestinal tract. In the glass, Elder looks like an amber jewel topped by a half-inch head of Baby's Breathe. If volcanoes produced as little carbon dioxide as an Elder, climate models would be far more accurate.
Elder—along with its kin-beer, Pliny the Younger—is often cited as one of the very best brews in the world. It's easy to taste why. The beer is well-crafted with attention to detail in all the right places. There are those who claim that brewers use hops to mask imperfection or poor brewing practices, but there just isn't very much to nitpick in an Elder. The real-life Pliny the Elder is credited with formulating the structure of today's encyclopedia and under any reference book's entry for "Double IPA," there should be a picture of this explosively good beer.
Photo: Flickr user adambarhan
Tags:
Beer
Recent Articles

Feedback
How are we doing? Tell us what you like or don't like and how we can improve. We would love to hear your thoughts!