Beer Review: West Flanders Brewing Co.'s Recreational Smoke
It's a real hit!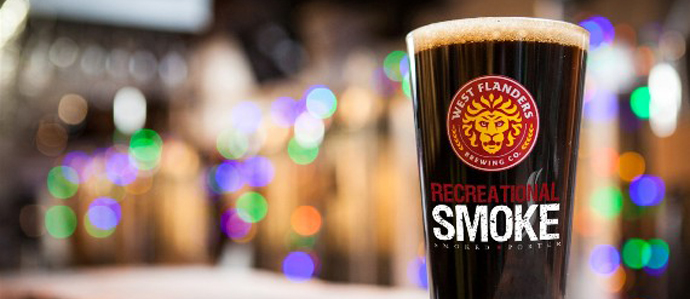 Craft brewers often look to their surroundings for inspiration. Names, ingredients and even attitudes for beer and beer makers all can be traced to local sources. Now, thanks to voters in the Centennial State, Colorado brewers can take inspiration from an addition to our newly expanded list of controlled substances: marijuana.
And one of the first concoctions to draw on the Colorado's weed tolerance is West Flanders Brewing Company from (where else?) Boulder.
Brewers at West Flanders began pouring Recreational Smoke—a nod to the Colorado law that made pot legal for "recreational" use—in January. A porter made with a bong load of smoked and toasted malts, Recreational Smoke sports the classic leather hue of a standard porter and a one-inch tan head of foamy goodness that sticks around about as long as a hippie hangs out with a dude who's not holding.
The stank on this beer is of peaty, roasted malts. At first taste, though, one gets a solid hit from cannabis sativa's cousin, humulus lupulus (aka hops). Recreational Smoke, in fact, is much more bitter than a standard porter. It's also heavy on the smokiness, which overpowers the hops bill on the way to a mildly dank finish. Once and a while, chocolate and corn syrup wash over your taste buds through a pint, making for all-around tasty beverage.
To pair munchies with Recreational Smoke, I'd suggest contrasting it with sweeter offerings. Barbecue pork or beef with sweet sauces or rubs comes to mind, but it would also go well with sharp, pungent varieties of cheddar and blue cheese. Smoked fish would be the easy way out and of course, Recreational Smoke probably wouldn't go too poorly with a fat bowl of grass and a cheap pizza.
For a Recreational Smoke, take a trip to the West Flanders Brewing Company and score a pint or growler—it's the only way (so far) to partake.

Photo: West Flanders Brewing Company
Tags:
Beer
Recent Articles

Feedback
How are we doing? Tell us what you like or don't like and how we can improve. We would love to hear your thoughts!