Where to Watch the Broncos Playoff Game in Denver
Go Broncos!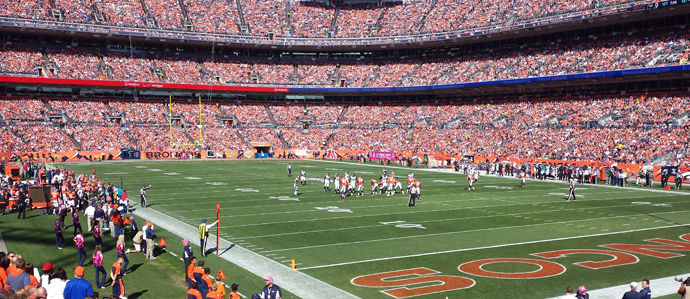 Playoffs!?!?! We're talkin' 'bout playoffs! The National Football League playoffs continue on Sunday, January 12, featuring the home team Denver Broncos vs. the dreaded San Diego Chargers. Game starts at 2:40 PM local time. The game is sold out so what's a Broncos fan to do? Head to one of these places. It's almost like being there, except maybe a little warmer.

Blake Street Tavern: Over in the Ballpark Neighborhood, this baseball bar is getting ready for some football with Prime Rib Sandwich Sunday and drink specials. They also have free parking on weekends (2301 Blake St.; 303-675-0505).
Brooklyn's Colfax/Pepsi Center: Just across the parking lot from Mile High is the original Brooklyn's where Broncos fans have enjoyed pre-game eats and drinks for decades. Take Light Rail to the Decatur/Federal Station within walking distance of the pub. Not too far away is Brooklyn's at the Pepsi Center, both locations offering specials for fans (2644 W. Colfax Ave.; 303-572-3999 or 901 Auraria Pkwy; 303-607-0002).
Choppers Sports Grill: With 50 flat screens, guests won't miss a minute of the game all while enjoying their favorite burgers and sandwiches at this Cherry Creek institution. Even the restrooms have TVs. Chopper's also serves up over 50 Colorado craft brews. Although the place is huge, get their early to get a seat on Sunday (80 S. Madison St.; 303-399-4448).
The Cooler: Over in Sloan's Lake Bronco's fans can hang out at The Cooler. Enjoy Sunday brunch until 2 PM and game day drink specials. Check out the state's largest selection of canned beer and if the weather holds, enjoy one on the lakefront patio (2045 Sheridan Blvd.; 720-536-4836).
Federal Bar & Grill: This new bar in the Highlands/Jefferson Park area is less than a mile from Sports Authority Field. The bar features 20 taps of Colorado's best beers, a few national craft favorites and imports like Hacker Pschorr of Germany. The Fed also offers gluten-free brews from New Planet. Prefer cocktails? Try the Denver Cooler featuring Denver Dry Gin, fresh cucumber, mint and lime, simple syrup and tonic (2544 Federal Blvd; 303-728-9479).
Hopper's Sports Grill: DrinkDenver didn't forget about the suburbs. Over in Wheat Ridge just off I-70 at Kipling is Hopper's Sports Grill with all sorts of tasty fried food and the bar's claim to fame is something a little unusual, an outdoor sand volleyball court. While no one will be playing ball during the Broncos game, it might be fun at half time (10051 N. I-70 Service Rd., Wheat Ridge; 303-233-1331).
Mile High Station: This special events center normally fills up with weddings and corporate parties. However, on Sunday the former Midwest Steel and Ironworks building will host the Broncos Bash. Starting at 10 AM Mile High Station offers burger, brats, wings and wraps with lots of beer and cocktail specials. For those who don't have tickets, 22 plasmas will show the game and 104.3 The Fan will be broadcasting before and after (2027 W. Lower Colfax Ave; 720-946-7721).

Skybox Grill & Sports Bar: You can almost see the game from this 14th floor bar and grill in the Hotel VQ next to the stadium. However, it might be hard to concentrate on the game with the incredible views of downtown and the Rocky Mountains (1975 Mile High Stadium Cir.; 800-388-5381).

Sports Column: Over in LoDo Sports Column will have plenty of drink specials before, during and after the game. Located near another sports field icon, Coors Field, the folks at the Column know how to handle a crowd. Look for $4 beers from Dale's, Breckenridge, Blue Moon, Colorado Native and New Belgium along with bottomless mimosas and a Bloody Mary bar until 2 PM (1930 Blake St.; 303-296-1930).
Strange Brewing Company: This small brewery with big beers will open three hours before game time and those without tickets can watch the game in the tasting room and a food truck will be available to feed the hungry. Strange Brew is near the 10th and Osage light rail station and half a block from the bike path, weather permitting (1330 Zuni, Unit M; 720-985-2337).
The Tavern: Sports fans can enjoy The Tavern at seven locations all around the metro area, including one located inside Sports Authority Field. The Tavern Mile High will open prior to the game on Sunday. Other locations include Downtown, Uptown, Lowry, Tech Center, Wash Park and Littleton (Lower North Concourse, Gate 4; 303-226-1555).
Tags:
Beer
,
Cocktails
,
Spirits
,
Sports
,
Wine
Recent Articles

Feedback
How are we doing? Tell us what you like or don't like and how we can improve. We would love to hear your thoughts!