Beer Review: Black Shirt Brewing Company's Red Porter
Beer geeks undoubtedly know red ales, but a red porter?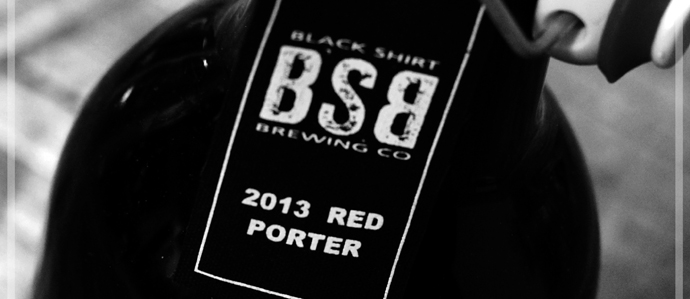 Once in a while, lovers of ales and lagers see something on a tap list that upsets the bubbles in their beer. Sometimes, it's a beer's name (see: Raging Bitch, Men's Room Red, Ass Kicker).

But during a stop by Denver's Black Shirt Brewing Company recently, I was taken aback by two words that unceremoniously appeared at the bottom of the brewery's solid list of offerings: "Red" and "Porter." Beer geeks undoubtedly know red ales and porters, but a red porter? That's a contradiction in ales, and one that deserves a taste.

Almost all of Black Shirt's beers are red in color, but Red Porter shows up in the glass with a standard porter hue of dark brown. Hold it to the light in the taproom, though, and alluring rays of ruby shine through this well-carbonated creation. But it's another characteristic of this ale that makes Red Porter a "must-drink" in Denver's ever-growing beer scene, and it's something beer reviewers often overlook: mouth feel. Red Porter slides over the palate almost like running your hand across a mink coat. There are very few beers this dark and flavorful as smooth and easy to drink.

In terms of flavor, there wasn't a detectable off-note from hops, malt or yeast. A conspicuous absence of any alcohol burn also contributed to Red Porter's drinkability—a feat for a brew that's 7.5 percent ABV. Hints of dark-roasted coffee and cane sugar come through with a finish that hangs around like Rockies' fan favorite Todd Helton—pleasant, even familiar; but it won't last forever.

Red Porter would seem a good dessert beer, I wouldn't think twice about drinking this lovely brew with apple crisp or even crème brulee. There are far worse beers to pair with oysters, too.

Check Black Shirt's Facebook page for Red Porter's availability. And the next time a beer's name produces a quizzical look on your face, it should be because you're looking at a Black Shirt Red Porter.
Tags:
Beer
Recent Articles

Feedback
How are we doing? Tell us what you like or don't like and how we can improve. We would love to hear your thoughts!