GABF Know-How: 10 Insider Tips for a Great Great American Beer Festival
Beeriously...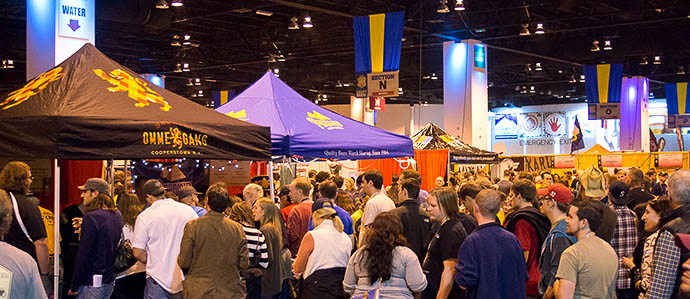 With more than 700 breweries and 3,500 beers on tap, the 2014 edition of the Great American Beer Festival can easily overwhelm attendees with all things water, hops, malt and yeast. So allow us to provide some tips that will heighten your beer-drinking experience.
1) One Word: Accessorize. Bring food with you. Firstly, you won't get as drunk. Secondly, eating something salty—such as pretzels—cleanses your palate between samples and prevents one beer's flavor from intruding on another's. People make necklaces out of pretzels while some and some have gotten more creative with food/accessories. See what you can get away with.
2) In the Bag. It's important to bring your own bag for your free schwag—stickers, pens, coasters, bottle openers and other sundries abound. Don't be one of those annoying drunkards sloshing around the hall asking others where they got a bag.
3) Channel Michael Jackson. This isn't about wearing one glove or dangling your baby out of a balcony. The other late Michael Jackson was a writer known for traveling the world sampling beer. You can Jackson your GABF simply by listing the brewers you want to visit and mapping your away around the convention hall, which is divided into geographic regions.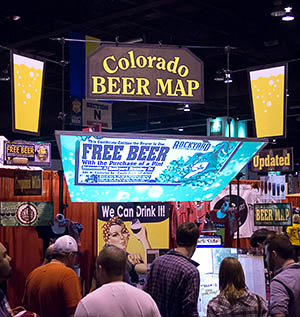 4) Thin Air. Nothing can be done about acclimating to Denver's thin air. You will get drunker faster. Adjust accordingly.
5) Weather or Not. All I can tell you about the weather is bring a jacket, and a pair of shorts. But you should wear comfortable shoes—the hall is huge and you'll be there for 4.5 hours after you've been waiting in line just to get in the place.
6) Groan Fest. If you drop your sample glass, everyone around you will begin groaning, which will carry through the hall as others join in. Don't be alarmed. You won't be the only one. It's an enduring—and endearing—convention hall tradition. (Saturday afternoon attendees receive real glasses for sampling. You'll just have to come to grips with the fact it gets replaced with a plastic one.)
7) Program Your Session. Check the program for events and presentations during each session. They allow you to get away from the rest of the commotion as well as learn something, meet top brewers and get samples not available to everyone else.
8) App It. The Brewers Association has Apple and Android apps available for your smartphone.
9) Had Enough? There are myriad brewers in Denver during GABF week. As such, there are dozens of events around the city to get some truly great pours. Check out our post for people who don't have tickets for a look at the best of the best.
10) Here's a Taplist. Don't even try to make it to every brewery at the festival. You won't succeed. But here are 10 worth searching out and trying:
Allagash, Maine (New England region)
Devil's Backbone, Virginia (Mid-Atlantic)
Sun King, Indiana (Great Lakes region)
Lucid, Minnesota (Great Lakes region)
Laughing Sun, North Dakota (Midwest region)
Grimm Bros., Colorado (Mountain region)
SanTan, Arizona (Southwest region)
La Cumbre, New Mexico (Southwest region)
Marin, California (Pacific region)
Hale's Ales, Washington (Pacific NW region)
A Note on Controlled Substances. Yes, weed is legal here. But remember, it was legalized for private, in-home use. You can still be ticketed and fined for walking down the street smoking a joint or getting stoned under the big blue bear. And while Denver may be a cool town, DUIs, public intoxication and indecent exposure are still frowned upon by the local constabulary. Denver has a great public transportation system, so make use of it or call a cab.
Denver Yellow Cab: 303-777-7777
Metro Taxi: 303-333-3333
Photos by Danya Henninger
Tags:
Beer
,
Festival
Recent Articles

Feedback
How are we doing? Tell us what you like or don't like and how we can improve. We would love to hear your thoughts!