Denver Brewery Guide: Golden
The wild west of suds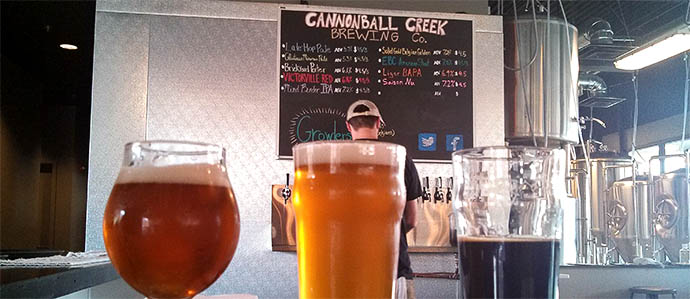 Golden, CO, is where it all began. You may have heard of it — it's the home of Coors, the Banquet Beer and Coors Light, the Silver Bullet. Adolph Coors brewed his first barrel of beer in Golden in 1873. Now, 140 years later, there are serveral more breweries in Golden, each unique and out to conquer this rugged mountain town. If you're wondering, it is possible to walk to all these breweries, except maybe Cannonball Creek because it's on the northern end of town and uphill the entire way. Bikes are the best way to go to visit all four. Shuttle buses to Coors Brewery and downtown Golden are also available for those who take light rail into Golden from Denver.
Golden City Brewery: With a slogan of "The Second Largest Brewery in Golden," this brewhouse was founded in 1993 by Charlie and Janine Sturdavant in a machine shop behind their historic Golden home. Still located behind the house, the couple has expanded by making the old carriage house the tasting room and turning their back yard into a beer garden. Golden City brews five beers: Mad Molly's Brown Ale, Evolution India Pale Ale, Lookout Stout, Clear Creek Pale Ale, and Legendary Red Ale. They also offer soft pretzels — but tread lightly with the spicy mustard. Everyone must have their ID checked and receive a hand stamp before consuming beer (920 12th Street, Golden; 303-279-8092).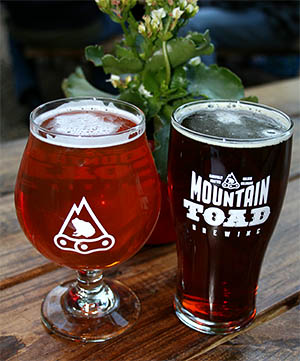 Cannonball Creek Brewing Company: Using the former name of Clear Creek, this brewery opened in January of this year and things have been non-stop crazy ever since. Cannonball brewers Brian Hutchinson and Jason Stengl were both former brewers at Mountain Sun whowanted to do their own thing, and felt Golden wasn't too small a city to open another craft brewery. They were right. Cannonball started off with four beers – an American-style IPA, an English-American pale ale hybrid, a Belgian-style golden and a Belgian Abbey Dubbel – but many other styles have been added and rotated in. The brewers recently added an outdoor patio and host a different food truck each evening (393 N. Washington Ave., Golden; 303-278-0111).
Mountain Toad: Golden's newest brewery just opened on Memorial Day weekend near downtown, on Washington Avenue. The brewery was created by four locals, all alumni of the nearby Colorado School of Mines. The Toad's beers include Apex Amber, White Ranch Wit, Mt. Zion IPA and Ryrish Stout. The brewery also serves beer by the pint, half pint or pitcher and has growlers to take some home. Rotating food trucks are be available nightly and the dog-friendly, bike-friendly and kid-friendly patio is shaded by trees to keep it cool all summer long (900 Washington Ave., Golden, 720-638-3244).
Coors Brewery: Here's the granddaddy of American beer. Yes, it is part of a large corporation, MillerCoors, and the company may be the maker of Keystone, but let's ignore that and focus on the original. The Golden brewery is the world's largest single-site brewery, and this location produces a variety of beers, including Colorado Native, Red Dog and Batch 19. The Coors Brewery in Golden offers tours every day from Memorial Day through Labor Day. The tours are self-guided with headphones, and at the end of the tour is a tasting room where each guest gets two free pints of the Coors beer of their choice.
Photos by Carrie Dow
Tags:
Beer
Recent Articles

Feedback
How are we doing? Tell us what you like or don't like and how we can improve. We would love to hear your thoughts!