Simms Steakhouse Discovers Colorado Honey Whiskey
Colorado Proud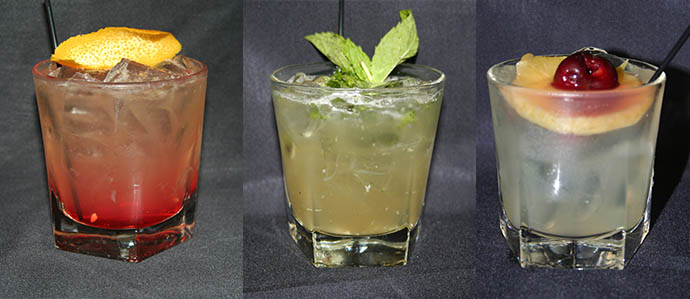 Simms Steakhouse in Lakewood has all the ingredients for a great evening: fabulous food, a huge wine list and wonderful views of downtown from the floor-to-ceiling windows and outdoor deck. The Sixth Avenue Lounge (the steakhouse bar) is capitalizing on those features with a new summer cocktail menu, full of special ingredients that are "Colorado Proud."
Beverage manager Mark Foret insists on Colorado-made liquor in all the specialty cocktails. Not only does he think these spirits make great drinks, he also wants to promote the great craft distilling happening in the region. It's because of this insistence that he stumbled upon a new (and soon to be favorite) Colorado creation.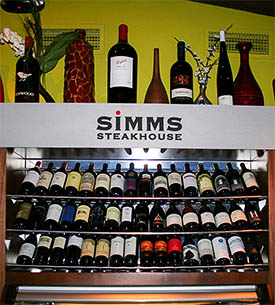 When Foret and his staff were developing the summer cocktail menu, his bartenders spent a lot of time trying new and different things. Since honey whiskeys are all the rage, one of his bartenders made a drink called the Honeycomb using a national honey whiskey you may have seen advertised on TV. While the drink was delicious, Foret couldn't put it on his Colorado cocktail list. So he did a little research.
"I googled Colorado honey whiskey and this webpage came up," he says. It was the Honey House Distillery in Durango, where a local bee farm created a distillery to expand its customer base. When Foret contacted them, the proprietors were surprised — they hadn't even bottled their first batch yet. Apparently, Honey House was unaware a webpage was up and running. However, when Foret explained what he wanted, Honey House was more than happy send him one of their first cases.
This wonderful spirit is now used in the Durango Honeycomb, made with Colorado Honey whiskey and housemade sour mix. The drink is a great mix of sweet and sour, with the honey lingering on the tongue after each sip. "We are the only place in Colorado that serves Colorado Honey," says Foret. "It's not even for sale yet."
A variety of Colorado spirits are represented on his Colorado Elixirs menu. The Ginger-Ridge Cooler features Breckenridge bourbon, Golden ginger beer, fresh bing cherries and lime juice. The drink's colors are gorgeously blended and the taste is more lime than cherry, with just a hint of ginger at the finish. The Loveland Tropic uses Dancing Pines Rum from Loveland and DeKurper Crème de Banana, pineapple juice and house-made sour — one sip will take you to the islands. Foret didn't skip Colorado's first distillery since prohibition, Stranahan's, using it in a cocktail called Strani's Lemonade with Domaine de Canton Ginger Liqueur, lemonade, fresh mint and muddled ginger. A cocktail on the lounge's classics menu features Spring 44 Gin, also made in Loveland. The Cucumber-Mint Gimlet is made with house-made sour, muddled cucumber and fresh mint, a cocktail perfect for sipping on Simm's umbrella-covered outdoor deck.
Happy Hour runs every day from 4–7 PM and features reduced-price appetizers and $6 glasses of wine. The Sixth Avenue Lounge inside the restaurant also has its own bar menu for when you just want a quick bite with your cocktail. There are three beers on tap, but Foret hopes to double that soon. The current drafts are Odell's 90 Shilling, Crazy Mountain 'Cara de Luna' Black Ale and Coors Light.
11911 W. 6th Ave., Golden; 303-237-0465
Photos by Carrie Dow
Tags:
Beer
,
Cocktails
,
Food
,
Outdoor Seating
,
Spirits
,
Wine
Recent Articles

Feedback
How are we doing? Tell us what you like or don't like and how we can improve. We would love to hear your thoughts!