Crafty Ladies June Meeting Featured Spring 44 Spirits Instead of Beer
CLBC's first spirits event with Spring 44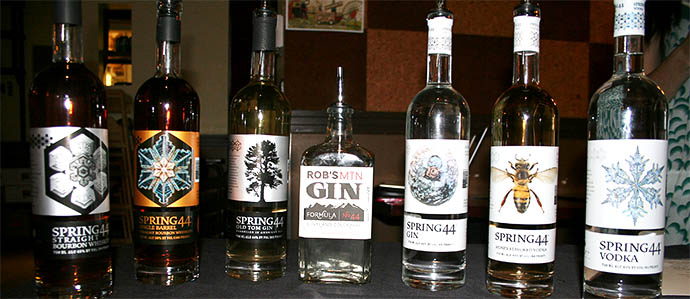 For the June monthly meeting, the Crafty Ladies Beer Club at the Highland Tap and Burger tried something different — focusing on drinks that aren't beer. Instead of brew, Spring 44 of Loveland came to town with samples of several unique Colorado spirits.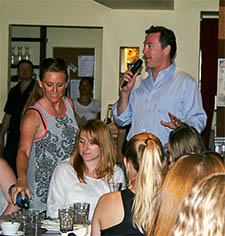 Spring 44's vodkas are quickly spreading through the US market, joining other craft distillers in fighting back the glut of foreign brands that have been top sellers for decades. The secret to Spring 44's success is in the company name — it's named after a natural water spring located at 9,000 feet in the remote mountains of northern Colorado. After prodding from friends, Jeff Lindauer had this water tested and it was proven to be some of the purest water on earth, so he founded a liquor company to make it into amazing booze.
Lindauer and head distiller Rob Masters explained these exceptional products while CLBC members sipped on cocktails and enjoyed HTB's fine food. Spirits from Spring 44 at the event included vodka, honey vodka made with Colorado honey, Rob's Mountain gin and Old Tom gin. Lindauer and Masters also offered samples of a not-yet-released bourbon.
The regular vodka has a flowery sweetness to it from the naturally-occuring minerals in the water, with a slightly oily mouthfeel, while the honey vodka has a sugary sweetness from vanilla beans and agave added for color and extra flavor. A portion of the honey vodka's sales are donated to help bee pollination programs.
The bourbon was especially fun to try since it has only been an official company spirit for three weeks. The liquid has a heavy scent of alcohol, but a surprisingly light caramel taste with a slight smokiness. Masters let on that Spring 44 will begin making a single malt whiskey using the bourbon barrels after the bourbon has properly aged.
The spirits were also presented in cocktails. The Rosemary Greyhound featured vodka with fresh grapefruit juice and rosemary simple syrup on the rocks. The Spring 44 Gin Mule was made with Old Tom gin, fresh lime juice and ginger beer. Spring 44 used the new bourbon in a bourbon sour with simple syrup and fresh lemon juice. The drink has a cinnamon-like taste even though no cinnamon was used in the drink.
Spring 44 is located in Loveland and offers free tours to the public every Saturday, for which you can sign up online, or you can simply drop by the tasting room on Saturdays starting at 2 PM.
Tags:
Cocktails
,
Food
,
Spirits
Recent Articles

Feedback
How are we doing? Tell us what you like or don't like and how we can improve. We would love to hear your thoughts!