Denver Brewery Guide: Boulder
Great beer in the shadows of the Flatirons
Many Denverites refer to Boulder, CO, as "The Republic of Boulder" because of its liberal policies. But it could also be called the Republic of Beer. Boulder is home to some of Colorado's finest breweries, and for most people, it's just a 30-minute ride to Beervana. Here are eight you don't want to miss (along with two great taphouses we couldn't resist throwing in).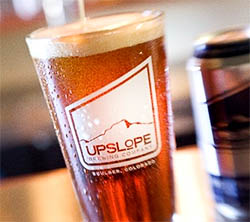 Upslope Brewing Company: This North Boulder brewhouse has carved out a loyal following via a constantly packed taproom and prominent sixers in Front Range liquor stores. Visitors will usually find a food truck outside the brewery, which is situated in a plain-looking row of storefronts and small businesses along Foothills Highway. (Watch out for cyclists along this stretch, they litter the roadside like beer cans in Alabama.) Upslope's fine roster includes Craft Lager, Pale Ale, India Pale Ale, Brown Ale and seasonals including Christmas Ale and various experiments throughout the year. The Craft Lager, in particular, is a great summer beer (1501 Lee Hill Rd.; No. 20, 303-449-2911).
West Flanders Brewing Company: This brewery opened less than a year ago in a prime location on Boulder's Pearl Street Mall. The brewpub offers a great selection of beers and a menu that caters to enthusiasts and also people who just want something good to eat. West Flanders is leading a trend of incorporating spent grain from the beer-making process into food, which — here, at least — turns out to be very tasty. The beer is every bit as good as the food. Brewmaster Brian Lutz takes particular pride in producing beers with balance. Look for Third Kingdom India Pale Ale, The Daisy Cutter Belgian-Style Strong Ale, Trippel Lutz, Hoffmeister Pilsner, Es Bueno, Lion Heart Stout, St. Mark's Dubbel, Angry Monk, Canniption Pale Ale and WoodShed Smoked Porter (1125 Pearl St.; 303-447-BREW).
The Mountain Sun: This microchain of brewpubs has been a stalwart of the Boulder and Front Range scene for quite some time. In Downtown Boulder, the original Mountain Sun serves great pub food with a local twist plus a huge roster of housemade beers. On Boulder's south side rests the Southern Sun, a second outlet for lovers of these fine brews and foods. The place doesn't accept cards, so bring cash (or make use of the on-site ATM). Highlights from the include Colorado Kind Ale, Isadore Java Porter, Annapurna Amber, Illusion Dweller IPA, Quinn's Golden Ale, Big Krane Kolsch, Hogback Doppelbock, Claymore Scotch Ale, Raspberry Wheat, XXX Pale Ale, Chazz Cat Rye, Belgian Dip Chocolate Stout as well as seasonals and experimentals. As a general rule, try anything Mountain Sun serves on a nitro tap (Mountain Sun: 1535 Pearl St.; 303- 546-0886; Southern Sun: 627 South Broadwa;, 303-543-0886).
Avery Brewing Company: One of the best and most-well-known craft breweries in the country carries out its fermentation in an industrial park in East Boulder. While the setting may be nondescript, Avery's beers are anything but, and a visit to the taproom is therefore required drinking for anyone who considers themselves a serious beer geek. With a long history of excellent quality and daring experiments, few have done as much to advance the Colorado beer scene and craft beer in general. Year-round beers include India Pale Ale, White Rascal Belgian Wheat, Ellie's Brown Ale, Out of Bounds Stout and Joe's Pilsner. Seasonal beers include New World Porter, Karma Belgian Pale Ale and Old Jubilation Ale. Avery's Dictator series — Maharaja Imperial IPA, Kaiser Imperial Oktoberfest and Czar Imperial Stout — are some of the best bombers on liquor stores shelves anywhere (5763 Arapahoe Ave., Unit E; 303-440-4324).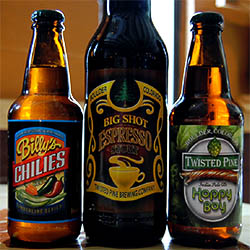 Twisted Pine Brewing Company: The brewers here are committed to experimental beers, and one of their most interesting is also one of their best named: Ghostface Killah, which is made with a blend of six chilies including the infamous ghost variety. (Tip: This beer is HOT.) Twisted Pine hosts one of the better anniversary parties around Boulder, during which the brewery puts out daring concoctions, aged favorites and interesting standards. A sampling of the seasonal and regular beers includes Hoppy Knight IBA, Hoppy Girl India Pale Ale, Black Swan Saison, Big Easy Offbeat Brown, West Bound Braggot, Sacred Spice Chai Porter, Hoppy Man Imperial IPA, Big Shot Espresso Stout, Pearl Street Porter and Hoppy Boy IPA. Hop for hop, though, try the Northstar Porter Baltic Imperial Porter — it's one of the best (3201 Walnut St.; 303-786-9270).
Boulder Beer Company: Founded in 1979 by two professors from the University of Colorado, this outfit has the distinction of being the first craft brewery in Colorado. Over the years, the brewery has constructed a solid stable of beers and a destination brewery/taproom/restaurant with a heckuva patio. Year-round beers include Hazed and Infused Dry Hopped Ale, Mojo Risin' IPA, Sweaty Betty Blonde Wheat Ale, Flashback India Brown Ale, Buffalo Gold Golden Ale, Single Track Copper Ale, and Planet Porter. Some seasonals include Kinda Blue Blueberry Wheat, Hoopla Pale Ale, Never Summer Ale and Killer Penguin Barleywine. One of the brewery's true standouts, though, is Cold Hop British Style Ale — it's a must-purchase-six-pack-every-time-it-comes-out type of situation (2880 Wilderness Pl,; 303-444-8448).
Asher Brewing Company:This brewery is located near a "suburb" of Boulder called Gunbarrel — no matter how you feel about firearms, take the trip over and give these beers a shot. Committed to organic brewing, Asher uses sustainably grown ingredients, which brewers say makes for a better-tasting beer. The brewery itself is wind-powered, so drink in peace if you're an environmentalist or wish to reduce your carbon footprint. Regular beers include Greenade Organic Double IPA, Green Monstah Organic Strong Ale, Green Bullet Organic IPA, Green Lantern Organic Kolsch and Tree Hugger Organic Amber. Asher also outputs a reliable stable of seasonal offerings (4699 Nautilus Ct., Suite 104; 303-530-1381).
Fate Brewing Company: Opened late in 2012, Fate is a relatively new player in the Boulder beer game. Coupled with a first-rate eatery, the brewery occupies a space that formerly housed Playa Azul and Jose Muldoon's. Beers include Kolsch, IPA, Belgian Pale Ale, Roggenbier and American Stout. The brewery stands out for the number of collaboration brews made with other area breweries. Past partners have included Boulder Beer, Wild Woods Brewery, Twisted Pine Brewery, Asher Brewing Company, Crystal Springs Brewing Company, Echo Brewing Company, BRU Handbuilt Ales, Shine Restaurant and Gathering Place, Mountain Sun Pub, Big Choice Brewing Company and Lone Tree Brewing Company (1600 38th St.; 303-449-FATE).
Taster's Note: Two of the best beer selections in Boulder can be found at the West End Tavern and Backcountry Pizza and Taphouse. The West End (926 Pearl St.; 303-444-3535) is a cozy pub on the end of Boulder's Pearl Street Mall with plenty of interesting beers on tap (and plenty of bourbons on the bar) coupled with an exciting menu. At Backcountry, (2319 Arapahoe Ave.; 303-449-4285) solid slices accompany one of the best beer selections in the Front Range, with more than 50 beers on tap and even more in cans and bottles.
Tags:
Bar Crawl
,
Beer
Recent Articles

Feedback
How are we doing? Tell us what you like or don't like and how we can improve. We would love to hear your thoughts!