Beer Review: Ellegance, Colorado's First Beer Brewed by Women Only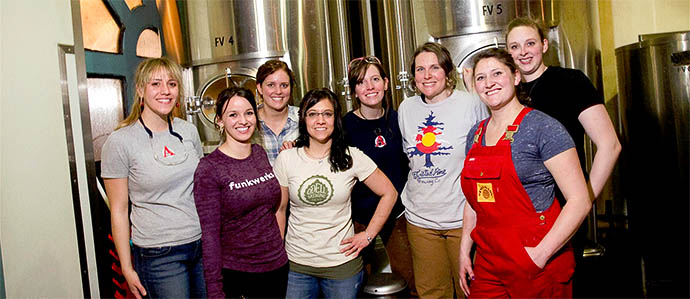 Brewers in Colorado are redefining the term "chick beer."

Ellegance — a brew made by a crew of all-female craft brewers from Denver and Colorado — made its debut during Colorado Craft Beer Week and has since found its way into a number bars in the Mile High City. As far as anyone can tell, it's the first collaboration beer made exclusively by professional Colorado brewers with zero Y chromosomes involved.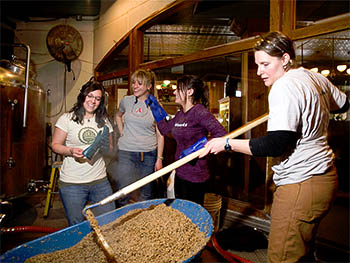 Served in a tulip glass — a highly appropriate vessel for this Colorado-made yet Belgian-inspired ale — when held to the light, the beer reveals a deep garnet color mingled with its dark brown hue. What head there was looked to be tan or light brown. Deemed a Belgian brown ale, Ellegance is a well-balanced affair, marrying pronounced Belgian yeast flavor with assertive hops, and, despite its color, a subdued malt sweetness.

There is such a strong hop taste, in fact, one might honestly call the brew a dark Belgo-pale ale. Only very light hints of chocolate filter to the top after the initial blast of sour and bitter, but the the surprisingly clean finish is an unexpected delight. At 5 percent ABV, Ellegance could easily serve as a session beer for Belgo-philes out there.

The idea for the beer was to unite Colorado's female brewers, and many Colorado breweries pitched in. Wynkoop Brewing Company in Lodo provided the brewhouse, while Denver's TRVE and Prost, Fort Collins' Odell and Funkwerks and Boulder's Avery and Odell brought ingredients.

"It was pretty cool. We all have different brewing styles and we all come from a range of places," says Ashleigh Carter, a brewer at Prost Brewing Company who participated in the collaboration. "We all make different styles, and I learned a lot from it and about how all these different women ended up in the brewhouse."
The initial batch was 20 barrels so find this belle of the ball in a hurry. Carter says the beer ladies plan to complete another collaboration, perhaps as soon as this month, and then start making collaboration beers with more female Colorado brewers probably twice a year. And if they continue to make brews as interesting and tasty as Ellegance, beer drinkers in Denver and Colorado will be happy to benefit from a woman's touch.
Recent Articles

Feedback
How are we doing? Tell us what you like or don't like and how we can improve. We would love to hear your thoughts!