Get Ready: 2018 GABF and Denver Beer Week Events Are Happening Now
Where will you be this week?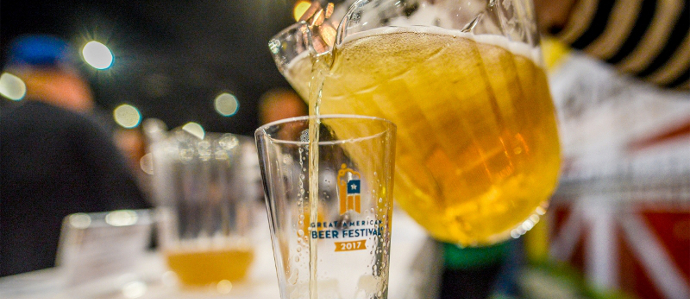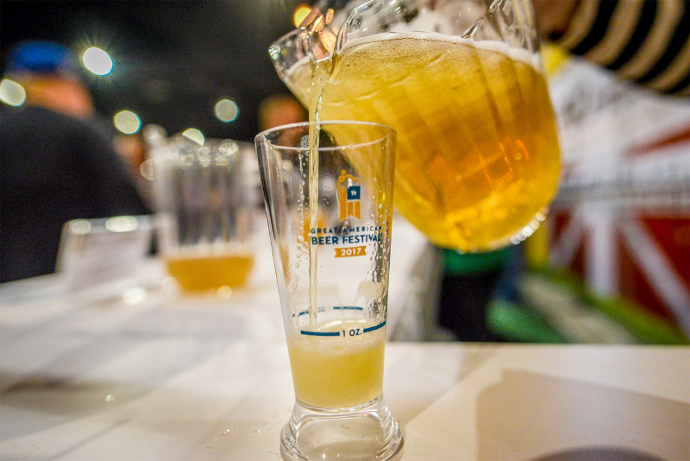 Friday, September 14, kicks off Denver Beer Week and we couldn't be more excited. Enjoy a week of sipping and suds that will culminate in the 36th annual Great American Beer Festival next weekend, September 20-22. So many beer-centric events will happen over the next 10 days we won't know what to do with ourselves. Oh, wait, yes we do. We will drink beer! Here are just a few of the many events that will be happening all week long. To learn more about these events or see the full list of beery happenings all over town, visit GABF website and search under Events.
Euclid Hall GABF Beer Dinner with Roadhouse Brewery, September 19
Local favorite restaurant Euclid Hall has always had special dinner to kick off GABF and this evening is no exception. Roadhouse Brewery from Jackson Hole, WY, will be pouring alongside a delicious meal created by Executive Chef Sarah Cloyd. Cost is $75 per person and includes beer, tax and tip. Visit Euclid Hall website for tickets. (1317 14th St.; 303-595-4255)
Avanti GABF Kick Off Party, September 19
Avanti will feature four local breweries to start GABF, Ratio, Outer Range, New Image and Elevation. Tasting stations will be set up throughout the building pouring signature brews and new releases. Guests can meet the brewers and learn about their favorite beer. The event is free to enter, but beers must be purchased. (3200 Pecos St.; 720-269-4478)
Tap Fourteen Fort Collins Breweries Tap Takeover, September 20
Fort Collins is bringing its best beers to Tap Fourteen for a Tap Takeover on Wednesday, September 19, starting at 4 PM. Enjoy beers from 17 breweries, some of which do not distribute to Denver yet. (1920 Blake St.; 303-297-8279)
Julep Beer Can Chicken Dinner, September 20-22
Each night of GABF Julep will offer a special Beer Can Chicken Dinner. Cost is $65 and serves two people. Menu includes appetizer, main course with biscuits and two seasonal sides, and dessert. Optional beer pairing is available for an additional $15. Reservations recommended. (3258 Larimer St.; 303-295-8977)
ViewHouse turns into ViewHaus for GABF, September 21-23
The ViewHouse Ballpark will host its first Oktoberfest celebration the weekend of GABF featuring beer, schnitzels and bratwurst. In the outdoor courtyard there will be Oktoberfest games and contests such as yodeling, stein hoisting, and keg rolling. There will giftcard giveaways, live music and dancing. Tickets are $25 per person and include food and drink vouchers and an authentic glass German beer stein. Proceeds from ticket sales will benefit Boys and Girls Club of Metro Denver. Events are Friday evening and Saturday and Sunday afternoon. Visit the website for contest details. The event will also be held the following weekend, September 28-30. (2015 Market St.; 720-204-4202)
Thirsty Lion Gastropub Legacy Flight, now until September 23
Starting now and running through September 23, Thirsty Lion Gastropub at Union Station will offer a Legacy Flight of GABF gold medal winning beers. The flight features award-winning beers from Dry Dock, Funkwerks, Breakside, Odell, Telluride and Left Hand. (1605 Wynkoop St.; 303-623-0316)
Canarchy Tap Takeover at Hyatt Regency and Late Night Happy Hour at Stout Street Social, September 20
Oskar Blues and all the breweries in the Canarchy Collective will have a Tap Takeover at the Hyatt Regency from 3 PM to close on Thursday, September 20. Canarchy Breweries include Oskar Blues, Cigar City, Squatters Craft, Perrin, Wasatch, Deep Ellum, and Three Weavers. After the Thursday night GABF session enjoy a Late Night Happy Hour across the street at Stout Street Social. (Hyatt, 650 15th St.: Stout St. Social, 1400 Stout St.; 720-214-9100)
MOXY Hotel Cherry Creek Pug Ryan's Kick-Off Party, September 20
Get GABF off to a good start at MOXY in Cherry Creek with a Kick-Off Party on Thursday, September 20, from 4 to 8 PM. Pug Ryan's of Dillon, CO, will be pouring beers. The beer garden will be open and free swag will be given away. (240 Josephine St.; 303-463-6699)
Bruz Beers Old World vs New World, September 20
On Thursday, September 20, Bruz Beers will have a special Old World vs. New World beer pairing. From 11 AM to 1:30 PM enjoy a special food menu from Merchant Du Vin paired with Belgium (Old World) and Colorado (New World) beers from Bruz. Cost is $30 and space is limited to RSVP on the brewery website. (1675 W. 67th Ave., Ste. 100; 303-650-2337)
Great Divide Dessert Beer Pairing at Barrel Bar, September 20
Great Divide has joined forces with Denver's Good Sugar Baking to pair four dessert with four beers. Cost is $16 per person and a percentage of each ticket will go to a non-profit organization. The event is from 6 to 8 PM on Thursday, September 20 (1812 35th St.; 303-296-9460)
Hops & Pie California Brewery Takeover, September 21
Over in Berkeley Hops & Pie will host a California brewery Tap Takeover featuring Cellarmaker, Fieldwork, Moksa, The Rare Barrel, Sante Adairius Rustic Ales, and Alvarado Street Brewing. The pouring begins at 11:30 AM Friday, September 21 (3920 Tennyson St.; 303-477-7000)
Wynkoop 30th Anniversary Party, September 21
The same weekend as GABF, Denver's first brewery Wynkoop will celebrate 30 years in production on Friday, September 21, starting at 7 PM. Since the brewery opened in 1988, the party will have an 80s theme so 80s dress encouraged. Other breweries that opened in 1988 will also be pouring including Deschutes, Goose Island, and North Coast. All beers will be at 1988 prices. (1634 18th St.; 303-297-2700)
Tap Fourteen GABF After-Party, September 21
Sponsored by Florida breweries TANK Brewing and Cigar City Brewing, Tap Fourteen will host GABF's first ever Studs and Stogies party on Friday, September from 8 to 11 PM. Cigar enthusiasts and beer lovers will enjoy smokes and Florida's best craft brews from the rooftop views of Tap Fourteen. Tickets are $25 per person and include two beers from TANK and two beers from Cigar City, and one cigar each from Altadis, Rocky Patel, Plasencia and General. (1920 Blake St.; 303-297-8279)
Oskar Blues Mile High Canarchy, September 21
Enjoy live music and Canarchy beer at Oskar Blues Black Buzzard music club on Friday, September 21 starting at 6 PM. Featured band is Slim Cessna's Auto Club and all Canarchy Collective beers will be pouring. (1624 Market St.)
Oskar Blues/ Canarch GABF Wrapup party at The Sports Column, September 22
On Saturday, September 22, Oskar Blues and Brews will host a GABF Wrap Up Party at The Sports Column beginning at 6 PM.
Call to Arms GABF Hangover Brunch, September 23
Get over your GABF hangover at Call to Arms Brewing featuring food by The Noshery. Nosh on biscuits and gravy, green chili, bacon, donuts and breakfast burritos. Wash all that down with Ballroom Micheladas or Sweet Bloom Coffee IPA. Call to Arms beers will be $1 off with the purchase of brunch. Brunch is from noon until 3 PM and the brewery will show the Broncos game. (4526 Tennyson St.)
Photo via ©Brewers Association
Feedback
How are we doing? Tell us what you like or don't like and how we can improve. We would love to hear your thoughts!