No Ticket? No Problem! Plenty of Beer-Centric Events Surround the Great American Beer Festival
Can't make the GABF? No problem!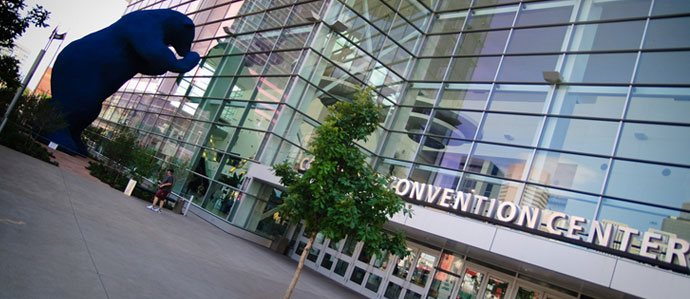 So you couldn't get tickets to the GABF this year...again. Well the week surrounding the Great American Beer Festival isn't called the Denver Beer Fest for nothing. Bars and restaurants around town are partnering with breweries from around the country to bring you delicious beer pairings, beer dinners and tasting events. It's a celebration of all things sudsy here in Denver and Colorado. So don't sulk, get out there and drink some beer!
Ales, Lagers and Beyond
Monday, September 29, 5:30 PM
MSU Denver (1190 Auraria Pkwy.; 303-721-1313)
At Ales, Lagers and Beyond, you can get some education that will help you get more out of the days to follow. Beer expert Scott Kerkmans will lead a two-hour class that will teach you about pairing beer with food, exploring beer flavors and selecting glassware. The event, put on by Metropolitan State University of Denver, should give you enough information to taste with the best of them.
Highlands Pig Roast
Tuesday, September 30, 12 PM
Prost Brewing Company (2540 19th St.; 303-729-1175)
Celebrate GABF with pig and German beers. Prost Brewing Company stages the Highlands Pig Roast, where you can find out just how well local German beers go with pork. (Surprisingly well.) They'll be serving pig starting at noon.
Crafty Ladies Beer Club Pre-GABF Dinner
Tuesday, September 30, 6:30–9PM
CR Goodman Warehouse (14402 E 33rd Pl.)
The Crafty Ladies Beer Club from the Highland Tap and Burger is having a special event on Tuesday, September 30. The club will partner with Stone Brewing Company of California for a special beer and food pairing seminar with proceeds to benefit The Gathering Place in Denver. The seminar will be run by Certified Cicerone and Stone Brewing's Craft Beer Ambassador, Dr. Bill Sysak. Guests will be sampling and pairing food with some superb Stone beers.
This event is taking place in Aurora at the CR Goodman Warehouse where there will be plenty of parking, but the Crafty Ladies will also work with Uber to provide discounts on rides to and from the event. More details on that to come. Tickets are $25 per lady and they are transferrable.
5th Annual Beer Re-Union
Wednesday, October 1, 5 PM
Lyons Fork (450 Main St., Lyons; 303-823-5014)
The 5th Annual Beer Re-Union is a fundraiser with a great beer line-up this year. Breweries include: Avery, BJs Boulder, Boulder Beer, City Star, Fat Heads, Maui, Mission, Odell, Stone, Upslope and West Flanders to name a few. The Re-Union starts at 5 PM with music, food, and of course, beer. Proceeds from the evening benefit the family of Kellner Schoenke & the Lyons Community Foundation.
Oskar Blues Day-Long ORDEAL
October 1-3
Oskar Blues Brewery (1800 Pike Rd., Lyons)
For the fourth year in a row, Oskar Blues will host the ORDEAL Bus Adventure from Denver to the brewery's homes in Longmont and Lyons. The daily trips will take place October 1-3 with each day bringing a new adventure. Stops include CycleHOPS Cantina, The Tasty Weasel Tap Room, ChuBurger, and Home Made Liquids & Solids. Get the full schedule of stops, food and beers from the Oskar Blues website. Sit back at let the folks at Oskar Blues do the driving. Tickets for the all-day events is $100 per person.
Old Major Kicks Off GABF with Magnolia Brewing
Thursday, October 2, 10 AM
Old Major (3316 Tejon St.; 720-420-0622)
San Francisco's Magnolia Brewing and Old Major will kick off the Great American Beer Festival with a 3-course beer brunch on October 2, at the restaurant. The food of Chef Justin Brunson will be paired with three special Magnolia beers while listening to the music of The Grateful Dead. Ticket price is $55 per person and includes tax and gratuity. Guests can also choose from several different seating waves with the first wave starting at 10 AM and the last at 12:15 PM. Tickets can be ordered online.
Ska x Cigar City Tap Takeover
Thursday, October 2, 7 PM
Freshcraft (1530 Blake St, Suite A, 303-758-9608)
Freshcraft will host a doubleheader tapping on October 2 featuring Colorado's Ska Brewing Company and Cigar City Brewing Co from Florida. Cigar City beers aren't distributed in this part of the world, and they generally are one of the most popular and visited breweries at the GABF. On tap will be beers like Cigar City's Invasion Pale Ale, Lemongrass Ginger IPA, Hunahpu's Imperial Stout, Ska's Modus Hoperandi, Cru D'Etat, a special Ska Brewing/Freshcraft collaboration brew, and more. Tapping starts at 7 PM.
Midnight Breakfast at Euclid Hall
Thursday, October 2, 10:45 PM
Euclid Hall (1317 14th St.; 303-595-4255)
Join Euclid Hall Kitchen and Bar and Avery Brewing for the annual Midnight Breakfast on Thursday, October 2. The doors open at 10:45 PM and the food starts at 11 PM.
Called "A late night beer breakfast of epic proportions," Euclid Hall will pull out all the stops to make this an evening to remember (unless you drink too much beer). Avery will bring along their special brews like Meretrix, Uncle Jacobs, 2003 Czar and others. Tickets are $125 per person (tax and gratuity included) and can be purchased online.
Pints for Prostates Rare Beer Tasting VI
Friday, October 3, 1 PM
McNichols Civic Center Building (144 W Colfax Ave.; 704-340-2840)
A fundraiser for Pints for Prostates, the Rare Beer Festival will feature at least 50 beers on tap from breweries in Colorado and around the country. The event will take place on two floors of the McNichols Civic Center Building from 1 to 4 PM.
VIP Tickets are already sold out, but General Admission tickets are still available. The GA tickets cost $110 per person and include a t-shirt, commemorative tasting glass, program and pen. A buffet lunch is also included in the price, which is a good thing if you attempt to try all of these beers. Ticket holders will also be entered into a drawing sponsored by BeerTrips.com for a 10-day trip for two to Belgium, the Czech Republic and Germany on a beer tasting tour. Proceeds from event will help fund Pints for Prostates and their programs for men's health.
Beers Made by Walking at Wynkoop
Friday, October 3, 12–4 PM
Wynkoop Brewing (1634 18th St.; 303-297-2700)
On Friday, October 3, Wynkoop is the scene for this unique and intimate beer tasting in its fourth year. Beers Made by Walking involves beers that have a sense of place, what the brewers call a "drinkable portrait of the landscape." There will be 30 place-based beers for connoisseurs to try and over 20 of these beers will be from Colorado breweries. Some participating breweries include Aspen, Bonfire, Boulder, Copper Kettle, Coopersmith's, Crazy Mountain, Former Future, Fossil, Horse and Dragon, TRVE, Wild Woods, and many more.
The uniqueness of these brews is that they were specifically made for this event and the brewers were inspired by the landscapes in their area. According to the Wynkoop, brewers hiked 14,000 ft. mountains, trekked through lush canyons, strolled through community gardens and camped in national parks to provide the spark for these beer flavors. The brewers categorize these beers in the Indigenous Style Category.
Tickets for this event are $40 per person and are on sale now online. Proceeds of the event will be donated to the Cottonwood Institute in Denver, a non-profit organization that inspires young people to initiate positive change by strengthening their civic engagement, environmental stewardship and leadership skills.

Surly Brewing Company Tap Takeover
Saturday, October 4, 7 PM
Freshcraft (1530 Blake St, Suite A, 303-758-9608)
Freshcraft will be tapping several beers from one of the most hyped breweries in the country, Minnesota's Surly Brewing Company. Surly beers tend to be big and bold, and they're not available in Colorado. You won't find their brews inside the Colorado Convention Center, either. They won't be pouring for festival attendees this year. This might be your only chance to grab a sip of these Surly brews. Stay tuned for what will be on tap.

Photo via Flickr
Feedback
How are we doing? Tell us what you like or don't like and how we can improve. We would love to hear your thoughts!