Go Retro at The Corner Office's Disco Brunch
Get some pancakes and get down!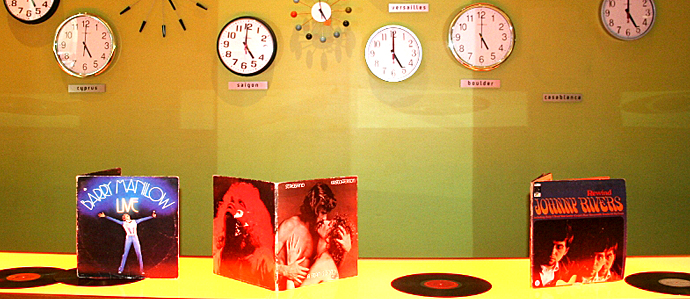 Start off the New Year by heading into the past at The Corner Office downtown. On the first Sunday of each month, the restaurant celebrates the 70s with Sunday Disco Brunch from 7 AM to 3 PM. Enjoy the restaurant's eclectic global brunch menu along with two bell-bottomless libations, mimosas and one of the city's largest Bloody Mary buffets. Enjoy all that decadent food and drink while listening to the most decadent music of the decade, disco.
To get into the spirit of the event, LP album covers from some of the decade's best acts like Pablo Cruise, the Bee Gees and Leo Sawyer grace the tables and a DJ plays the best hits of the disco era. Guests have permission to dance near the bar if they like. Next to the Bloody Mary buffet is a rack of disco accessories such as polyester jackets, feathery boas and shiny vests so guests can get their groove on. Or just bring some from home; everyone has a leisure suit or knit dress in the attic, don't they?
First things first, order up a bottomless Dyn-o-mite Bloody Mary ($15). The server brings a glass filled with several ounces of vodka and ice. Then guests cozy up to the Bloody Mary buffet where they will find such savory tidbits as pickled green beans, pickled eggplant, pickled jalapenos, kamala olives, fresh celery, peppers, baby onions, and meaty treats like ham and cheese skewers, fried pork belly and bacon strips. Top it off with some spices such as black pepper, sea salt and our favorite, Old Bay seasoning. Fill the glass with house-made spiced-up tomato juice and then put as many tasty accessories as you can fit into the glass. For those who prefer sweet to savory, order the Boogie Oogie Oogie Mimosas ($10), which servers pour by the pitcher.
If a cocktail is what you prefer, the brunch cocktail menu includes these favorites from the bar, the Corner Cosmo, the Corpse Reviver made with gin, Cointreau and absinthe, or Breakfast with Tiffany made with bacon bourbon. On the food side, diners will find everything from American comfort food like the Mojo Denver Omelet and Velvet Revolver red velvet pancakes to global favorites like Baja fish tacos and the Bibimbap, a Korean dish with egg, beef, veggies and rice.
The first Disco Brunch of the New Year already boogie-downed on Sunday, January 5, but returns again on Sunday, February 2. No matter what time you go the brunch, notice all the clocks in the restaurant are set for 5 PM. Take the hint and order up a bell-bottomless libation while you dance the afternoon away at the Corner Office.
Feedback
How are we doing? Tell us what you like or don't like and how we can improve. We would love to hear your thoughts!