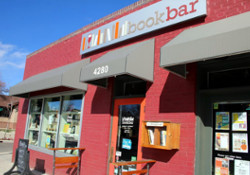 Address
4280 Tennyson St.
(43rd Ave. & Tennyson)
720-443-2227
www.bookbardenver.com/
Neighborhood
Northwest
About
From BookBar's website:
The idea of combining a book store and wine bar came to owner, Nicole Sullivan, like a bolt of lightning one day while reading a book and drinking a glass of wine. Who among us does not like wine and books and books with wine? About a dozen years later, after meandering through a few different careers, culinary school, marriage and motherhood, BookBar began to take shape.
Monday
Happy Hour (3:00 pm - 6:00 pm): $2 off wines, beers and pizzettas
Tuesday
Happy Hour (3:00 pm - 6:00 pm): $2 off wines, beers and pizzettas
Wednesday
Happy Hour (3:00 pm - 6:00 pm): $2 off wines, beers and pizzettas
Thursday
Happy Hour (3:00 pm - 6:00 pm): $2 off wines, beers and pizzettas
Friday
Happy Hour (3:00 pm - 6:00 pm): $2 off wines, beers and pizzettas
Saturday
Happy Hour (3:00 pm - 6:00 pm): $2 off wines, beers and pizzettas
Sunday
All Day (10:00 am - 8:00 pm): $15 bottomless mimosas