Wynkoop Brewery and Moe's Pair Up for a Quad
B.B.Q.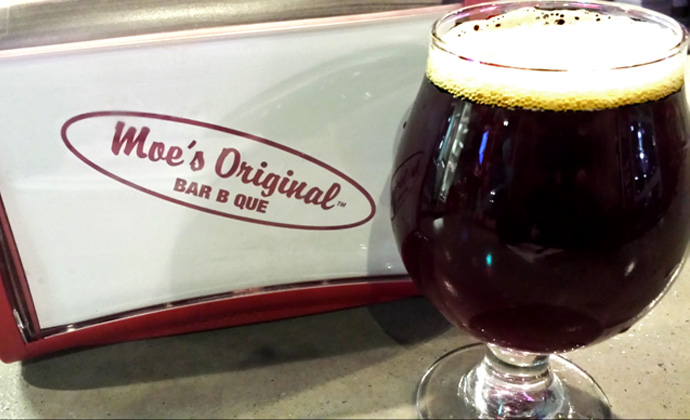 The Wynkoop Brewery and Moe's Original restaurants have teamed up to create a beer served exclusively at Colorado area Moe's. The Moe's Original B.B.Q. is now on tap and this beer is smokin'.
Moe's Original is Colorado's, by way of Alabama, own home-grown BBQ joint offering the best smoked meats around town. And what goes best to wash down all that meat? Beer, of course, but not just any beer. The gang at Wynkoop worked with the guys at Moe's to create a brew that brings the best of Alabama and Colorado together. The Bourbon Barrel Quadrupel (B.B.Q.) is made with pit-smoked rock sugar from Moe's and aged in bourbon barrels at the Wynkoop.
Moe's smoked rock sugar over applewood in a smoker for almost five hours. Then the sugar was used in a new Belgian quad featuring yeast from the Westmalle Trappist brewery in Belgium. The new beer was then blended with an existing quad the Wynkoop had already been aging in a cellar for several years. The result is a big Belgian quad that packs an 11% ABV.
This dark brown beer has a frothy head and chocolaty scent. The texture is light, not creamy like expected, and the taste has hints of chocolate, caramel and raisin, but what all drinkers will notice is the bourbon bite at the finish. The bite is not overwhelming, just enough to remind drinkers of the bourbon barrels used in the aging. According to the Wynkoop, the Quad is "typically the strongest and richest type of beer made by Trappist Monks." The brewery also says that by having Moe's smoke the sugar, it allowed the brewers to boost the alcohol content of the beer. They weren't kidding.
The B.B.Q. will pair well with any of Moe's smoked meats, everything from pork loin to chicken wings. We paired it with the sandwich of the day at the Lakewood/Bear Creek Moe's, pulled pork with sides of baked beans and spicy Cajon chips. Beer, Bourbon and BBQ go together well. Shannon Berner of the Wynkoop says that the beer is currently available at both Boulder locations, Lakewood and Englewood restaurants and will soon be available at the Denver locations. Enjoy this beer while it lasts.
Feedback
How are we doing? Tell us what you like or don't like and how we can improve. We would love to hear your thoughts!