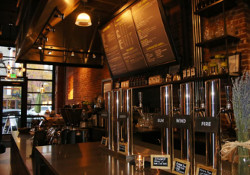 Address
1553 Platte Street
(16th and Platte)
720-428-8565
www.habitcarbon.com
Neighborhood
Highland
About
Drinkpoint.com
From the website:
"A unique beverage bar where guests can build their own drinks with the cost based on size, not ingredients. Tax is also already included in the beverage price. Guests can make their own sodas and cocktails by mixing and matching the bar's base ingredients, which change seasonally, and then add their own spirits and carbonated water."
Events
05/13 - Whiskey, Wine and Cigars with Avanti and Carbon Cafe
Time: 2-6 PM
This is a fun tasting event.
Monday
Happy Hour (3:00 pm - 6:00 pm):
$5 select wines, $1 off all beers and 25% off all cocktails and food
Drinkpoint.com
Tuesday
Happy Hour (3:00 pm - 6:00 pm):
$5 select wines, $1 off all beers and 25% off all cocktails and food
Drinkpoint.com
Wednesday
Happy Hour (3:00 pm - 6:00 pm):
$5 select wines, $1 off all beers and 25% off all cocktails and food
Drinkpoint.com
Thursday
Happy Hour (3:00 pm - 6:00 pm):
$5 select wines, $1 off all beers and 25% off all cocktails and food
Drinkpoint.com
Friday
Happy Hour (3:00 pm - 6:00 pm):
$5 select wines, $1 off all beers and 25% off all cocktails and food
Drinkpoint.com
Saturday
Happy Hour (3:00 pm - 6:00 pm):
$5 select wines, $1 off all beers and 25% off all cocktails and food
Drinkpoint.com
Sunday
Happy Hour (3:00 pm - 6:00 pm):
$5 select wines, $1 off all beers and 25% off all cocktails and food
Drinkpoint.com